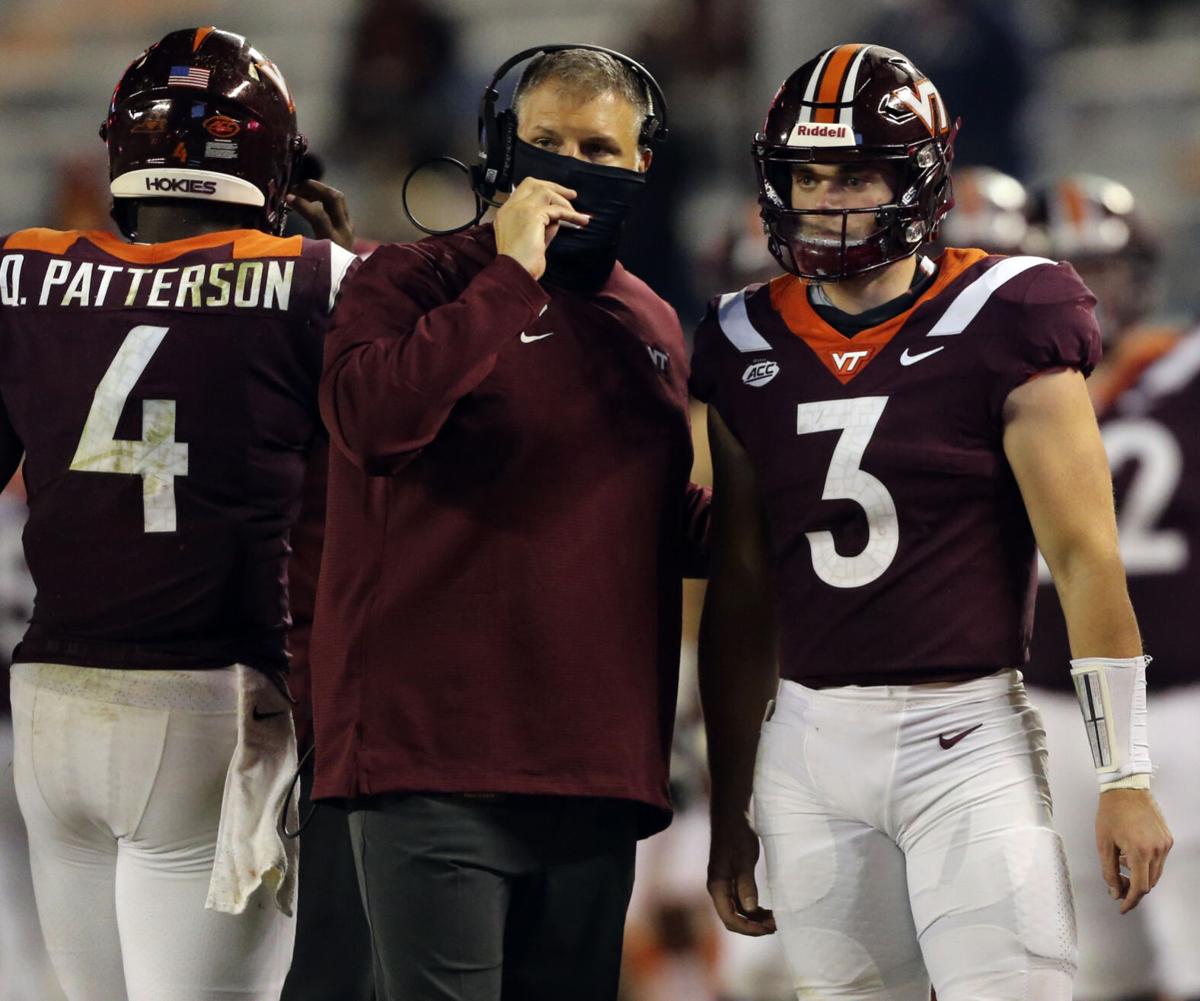 BLACKSBURG — In a year of the unsought and undesired, Virginia Tech football coach Justin Fuente can add another 2020 curiosity to the list.
"I've never seen a hand look like Braxton's," Fuente said.
That would be quarterback Braxton Burmeister, whose eventful Tech debut included a maternal mustard save that ranked among the highlights of Saturday's 45-24 victory over N.C. State at Lane Stadium.
He probably wouldn't want a "Mustard Man" moniker to stick, so perhaps we should deem Burmeister "The Claw." That might be the best description of the quarterback's right, throwing hand after he was sacked by Isaiah Moore early in the second quarter.
"His hand was all — I don't know, mangled? Curled up?" said Fuente, whose initial fear was that Burmeister had snapped his wrist. "He couldn't straighten it back up. And when I saw it, it kind of took me back. I thought, 'Oh, my gosh, what has happened?' "
Burmeister didn't know, either. The Oregon transfer had never experienced anything like it.
"I kind of landed on it funny, and it just locked up on me," he said. "I didn't have any control of my fingers; my hand was just closed. I was pretty nervous about it, but over time, we got some fluids in it and it started to feel better."
He also got something else: yellow mustard, which he figured might help because of its high salt content.
The coveted condiment arrived courtesy of his mother, who brought it down from the stands.
"Yeah," Burmeister said. "It was packets."
That's some space-age medical care right there.
But it worked. Burmeister was able to return to the game in the third quarter, and he rushed for 14 yards on his first play back.
Burmeister's mobility and acceleration, praised often by Fuente in the preseason, showed itself multiple times in this game. He averaged 5.1 yards on nine carries (a figure dinged by two sacks), including a 22-yard gallop in the first quarter.
Burmeister also completed 7 of 11 passes for 106 yards. He was the pilot for the opening three scoring drives that gave Tech an early 17-0 lead.
When Burmeister was trying to get his hand to open on the sidelines, third-stringer Quincy Patterson filled in admirably (4 for 6, 75 yards, two TD passes), ensuring that Burmeister still had a comfortable lead when he returned. The two quarterbacks rotated in the second half as the Hokies managed their margin and (quite literally) salted away the victory.
"He did an awesome job and stepped in and played great," Burmeister said of Patterson. "We're really close. We talked about what each other was seeing and just kind of bounced back with each other."
In the end, it was a positive Tech debut for the new QB. Scheduled to share snaps with Hendon Hooker — who missed Saturday's game with an undisclosed health issue but was expected to return to practice Sunday — all season long, Burmeister didn't show any ill effects from a year away from game action.
"I felt comfortable out there," Burmeister said. "My O-line opened some big holes for me and our running backs. I thought it was a great team win."
Be the first to know
Get local news delivered to your inbox!