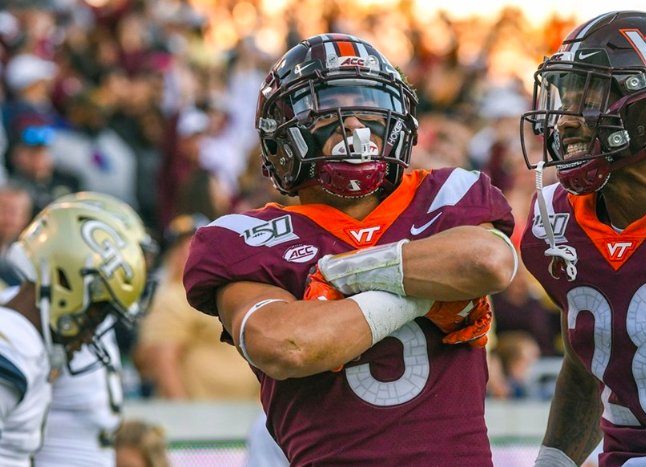 So we have a choice here.
We could try to forecast the NFL Draft the old-fashioned way, combing through mock drafts and prospect rankings. But with so many of them out there, which one should we trust? And what happens when the inevitable trade occurs and shakes up the draft order?
Nope. We're beyond that now. Never forget: As of 2021, we are a gambling commonwealth! We follow the money!
There are no guarantees in this, of course. Just like point spreads only provide a perceived snapshot of the difference in quality between two teams, the NFL Draft odds merely give us a framework of what we'll see on Thursday night and beyond. There will be upsets. That's part of the fun.
But here are six things the NFL Draft odds tell us are likely to happen (odds via sportsbettingdime.com):
1. Virginia Tech will have two first-round picks in the same year for the third time in its history.
Offensive tackle Christian Darrisaw is such a lock to go in the first round that there aren't even odds posted on whether he will. Tech's other candidate, cornerback Caleb Farley, is -1000 to join him in the opening round. That means if you want to bet that he will, you'd have to wager $10 just to win $1.
Of course, we don't have to jog our memories too much to remember the last time Tech had two first-round picks. It was just three years ago, when Tremaine and Terrell Edmunds went to Buffalo and Pittsburgh, respectively.
The other time it happened was in 2004, with DeAngelo Hall (eighth overall to Atlanta) and Kevin Jones (30th, Detroit).
2. Darrisaw will be the third or fourth offensive linemen off the board.
Hokies fans shouldn't fret for Darrisaw when two tackles are taken before him. Oregon's Penei Sewell is -560 to be the first offensive lineman chosen. If he's not the one to go off the board first, it'll be Northwestern's Rashawn Slater (+250), whom some scouts consider to be the best player at his position in this draft.
At +3300, Darrisaw is tied with USC guard Alijah Vera-Tucker for the third-best odds. That's a huge gap between Nos. 2 and 3.
3. Darrisaw will be selected around No. 15 overall.
Every player projected to go in the first round has an over-under set on where he will be picked. For Darrisaw, that number is 15.5.
4. Farley will go later than ESPN predicts.
ESPN.com had three prominent mock drafts up on Wednesday, and all of them had Farley going in the top 18 overall picks.
The NFL Nation panel of reporters predicts he'll go to the Panthers at No. 8 overall. Mel Kiper Jr. (16th, Cardinals) and Todd McShay (18th, Cardinals, after he projects Miami and Arizona will swap picks) also are bullish on the former Tech corner.
If you feel the same way, you might be able to make some money. The over-under on Farley's draft spot is 21.5.
5. Justin Fields' stock is plummeting.
The former Ohio State star was once considered a shoo-in to be the second quarterback taken after Clemson's Trevor Lawrence. Now he's at even odds to be taken inside the top five. You can get +1600 on him if you still think the Jets want him at No. 2 instead of BYU quarterback Zach Wilson.
6. Fans in Cleveland will relish booing Roger Goodell in person after a one-year hiatus.
There are actually no odds on that. Not even sports books would touch that much of a sure thing.