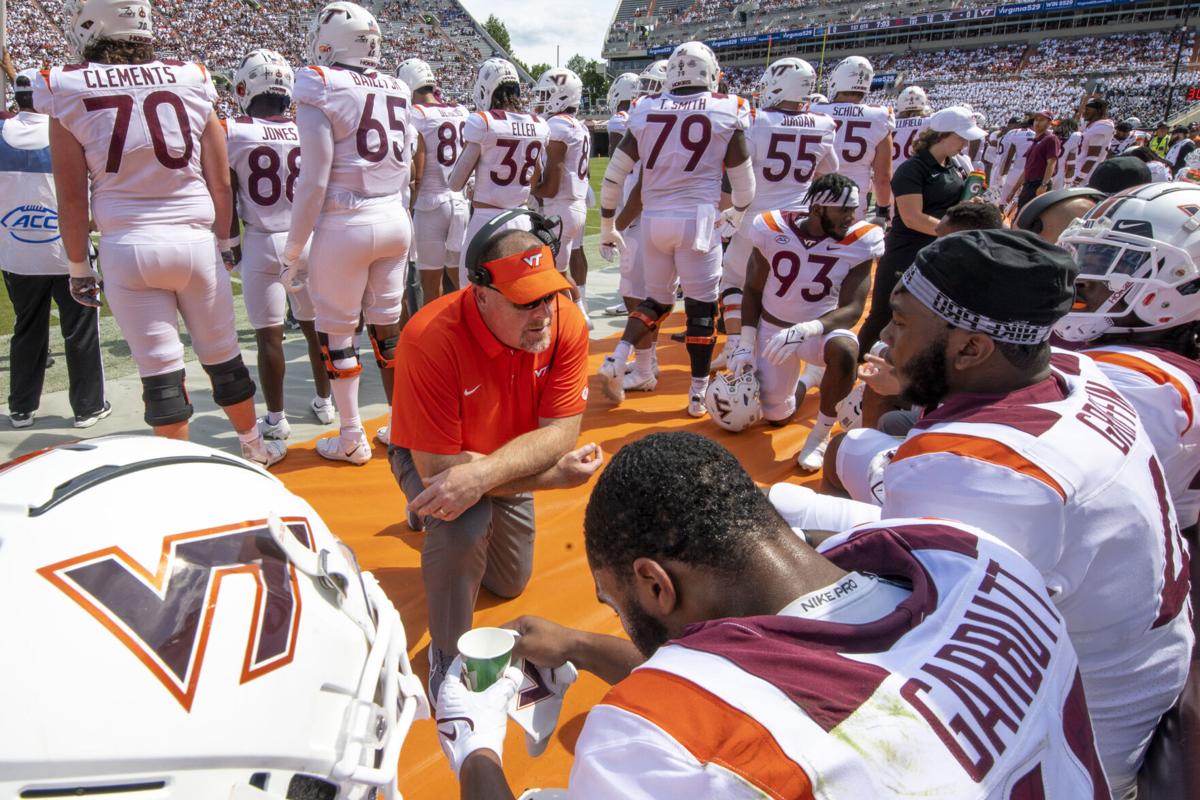 Interim Virginia Tech coach J.C. Price says the Hokies' story isn't written yet, but we can already pick out a working title.
2021 Virginia Tech Football: The Response.
That's been the theme all season, hasn't it?
How would the Hokies respond to a high-profile opener against a top-10 team?
How would they respond to losing their best offensive player in James Mitchell?
How would they respond after each heartbreaking loss? As the fan base grew angry? As the walls closed in on their embattled head coach? As their goal of a Coastal Division title devolved from realism into fantasy? As they saluted seniors in a season gone askew?
We've gotten answers to all those questions. Some were positive, others not. But the next one – probably the last one – might be the most interesting of them all: How will the Hokies respond now that the man who recruited them to Blacksburg is gone?
Not that the answer to this question will be particularly impactful, mind you. In the big picture, these two weeks are for entertainment purposes only. The weeks that preceded this and the weeks that follow have a much greater effect on the direction of the Hokies.
But the human element of this two-week period against two of Tech's longstanding rivals could be fascinating. Price's press conference on Tuesday certainly was.
There we saw a humble alumnus speak about his deep love for this university, his appreciation for being chosen to lead the team and, yes, the pain that came when his boss, Justin Fuente, lost his job on Tuesday.
"Obviously, we're all hurt," Price said. "I told the players, I told the coaches: 'Whatever way you're feeling, whatever sort of way you feel, it's OK, and it's right. Whatever emotion you're having is the correct emotion because it's yours.'"
He's right. Some players might be happy, others angry, others sad, others self-reflective in the role they had in this season going the way that it has. This loss of a coach isn't like the losses to Notre Dame or Syracuse, where everybody walked out of that stadium feeling the same way.
They all had their individual relationships with Fuente, surely some closer than others, and opinions on the way this should have gone may vary.
Price's task is to capture all of those sentiments and funnel them into one united front against Miami on Saturday and Virginia next week. Adding another layer to this is that Tech's best effort might not be good enough against either of those opponents. The Hokies are on the road in each of these games, and they'll be underdogs in both.
It's impossible not to root for Price. The passion he showed as a defensive tackle during Tech's mid-'90s rise to prominence still oozes from him.
While becoming a head coach – especially one at his alma mater – has been a long-held dream, he didn't ask for this. He was anointed by athletic director Whit Babcock on the same morning Fuente parted ways with the team.
"People tell you congratulations; it feels like they're ripping my heart out," Price said. "I didn't want it under these circumstances. But once again, it's humbling to be the guy that Whit has decided to lead us the last two weeks. And I'm just going to be me and do everything I can for these kids."
That's included making some subtle tweaks to the preparations while keeping most of the routines in place. Players and coaches are creatures of habit, after all, and blowing it all up would just add to the chaos.
His primary duty is to manage the team's motivation level, ensuring it stays high. The Hokies can still reach a bowl. They can still beat their biggest rival. And before that, they can surprise some people with a victory in Miami.
"I'm just impressing on these guys that our story is not written," Price said. "Our book's not finished. What's it going to say?"
Great question. And now we start getting some answers.