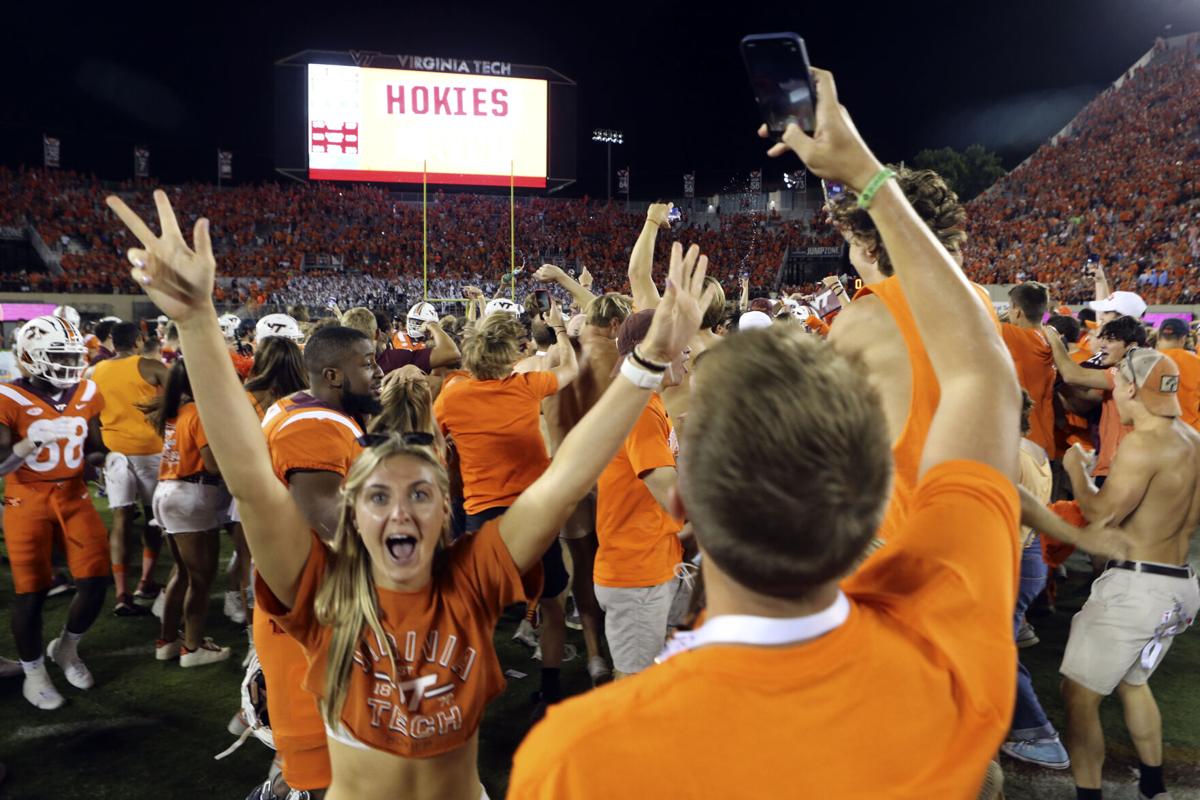 He's not going to like it in its totality. Justin Fuente already can sense that.
The Virginia Tech coach looked at the 2021 schedule when it came out and thought the same thing the rest of us did: What the heck? Four of the last five games on the road? Back-to-back trips to Atlanta and Boston, followed closely by a flight to Miami?
Hey, ACC slate slingers, ever heard of balance? Equilibrium? Fairness?
Yes, Tech's wackadoo football schedule is about to open its jaws awfully wide — but not yet. As sizzling Pitt comes to town Saturday for the most important game of the year, this is where having six home games out of your first seven has to be your ballast, where creature comforts beyond just the stadium pulse must empower you.
The comfort ought to be compounded by now. Here we are in mid-October, and the Hokies have traveled less than 300 total miles (to Morgantown, West Virginia) this year as the crow flies. That has to add up in ways both obvious and not-so-obvious.
We know the Hokies love hearing the opening riff of "Enter Sandman" and the support of their backers throughout the game. That helps, for sure. But consider, too, what they aren't dealing with. Airport security. Traffic jams. Foreign hotels. Unfamiliar meeting spaces, beds and meals.
"This is just my opinion: It does suck sometimes to travel," said Tech offensive lineman Lecitus Smith, who at 6-foot-3 and 315 pounds might experience a few more commuter irritations than many of us. "Especially when we're talking a long bus ride, a two-hour bus ride or we're talking a late game. We're flying. You've got to get to the airport. You've got to sit on the bus and wait. Everybody gets checked onto the plane.
"You've got to get on a plane and get there, get on another bus, find the hotel — so yeah, there's a lot we go through when it's time to travel."
Not this week, though. Or last week. Or the two weeks before that. Before squaring off against Pitt on Saturday, it's a pleasant night at Hotel Roanoke and a quick zip down Interstate 81.
Just as it has been almost this entire season.
"I think just when we go to the hotel, we're familiar with it," Tech quarterback Braxton Burmeister said. "We know exactly where to go; there's not as much wasted time. We can get to meetings and get to sleep pretty quick."
The blessed simplicity continues once the Hokies get to their home stadium. The locker rooms and training rooms are familiar. Tasks as mundane as identifying where the play clocks are located on the field become unnecessary.
Tech has to hope all of this matters, because the Panthers are good. They lead the nation in scoring, rank third in total offense and stand fourth in passing offense. They are, in Fuente's words, "awfully scary" on offense.
But here's the good news for the Hokies: In recent history, Tech doesn't have an annual ACC series where venue has mattered as much as this one. The home team has covered the Vegas spread in eight of the past 10 meetings between the Hokies and Panthers.
Often, those results have been unexpected. The underdog — Tech's label here — has covered in 10 of the past 13 meetings in this series.
Heinz Field has been a miserable place for Tech to visit. Meanwhile, the Hokies are 2-0 against Pitt under Fuente at Lane Stadium, winning by an aggregate score of 48-14.
Why do unpredictable results happen in college football every week? There could be myriad reasons for it. A bad night of sleep for a couple of key players. A meal that doesn't sit well. General fatigue.
Games don't happen in a vacuum, where positional mismatches determine everything. The Hokies understand that as well as anybody, having lost some games in which they had physical advantages at almost every position.
No, Fuente isn't going to love the 2021 schedule overall, nor should he. It's weird.
But this is the time to lean into it, to appreciate it, to weaponize it. Home is where the hope is.