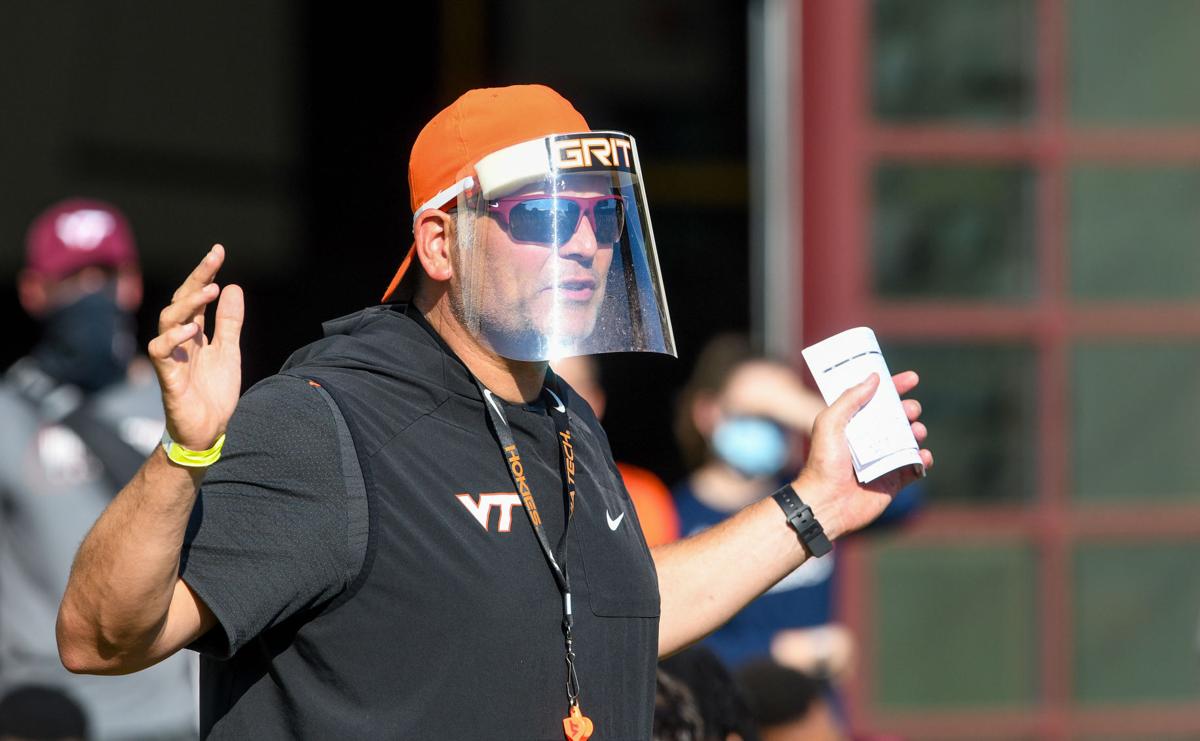 Virginia Tech coach Justin Fuente has already seen the widespread damage that a pandemic can wreak on preparation, even though his team has yet to play a game.
All he's had to do is turn on his television.
On Saturday, Iowa State, Florida State and Kansas State all went down as double-digit favorites. Texas Tech, a 40-point favorite over Houston Baptist, was a field goal away from joining the ranks of the massively upset.
But the lessons came even earlier than that. On Sept. 7, Navy was run out of its own stadium by BYU in prime time, 55-3. The Midshipmen were only a 1-point underdog. That was supposed to be a competitive game.
"I mean, Ken Niumatalolo at Navy is one of the best coaches in the business," Fuente said. "And the team that he put out there had not done crossover. I'm not sure they'd met in the same room. They hadn't been able to scrimmage.
"Through whatever their protocols were, I thought that it was very obvious early in the game that they were pretty far behind from a preparation standpoint. I'm not sure if I've seen a bigger example of what I'm talking about than that game, but I'm sure there have been some other ones."
He doesn't want the Hokies to be the next. But when they're struggling simply to put a team on the field, there's no telling what they'll look like if and when they do play.
The good news for Tech is that up until a couple of weeks ago, preseason practice was running quite smoothly. Then came the student body to campus. Then came the predictable COVID-19 spike in Blacksburg and Montgomery County.
Then came the spike in Tech's own locker room, forcing the Hokies to postpone their game against Virginia that had been scheduled for this coming weekend.
"Certainly if there's one thing we've proved, it's that this is a highly contagious virus," Fuente said. "People debate the severity of it, but nobody debates about how contagious it is. There are some things that are within our control, and we must do the best that we can to control those things. But there are some things that are beyond us. You can find yourself in a pretty difficult situation pretty quickly."
The Hokies continue to be in one. Now slated to begin their season Sept. 26 against N.C. State, they will not practice until at least Wednesday, as they've paused football activities because of the COVID-19 issues on the team.
Even when they do resume practice, Fuente doesn't know how many players will be available. The program's positive tests and subsequent contact tracings occurred at various times. The end of quarantines will, too.
"It's not going to be that on Wednesday everybody's good, now you get a week and a half to prepare," Fuente said. "That's not how this works. All these kids — almost all of them — their timetables are different. Some guys have a chance to get out next Wednesday. Some guys have a chance to be on the field on Tuesday, some of them Thursday, some of them Saturday. It's all over the place."
Fuente phoned UVa coach Bronco Mendenhall on Saturday to express his regrets that the game had to be postponed. Tech's coach said he feels a personal responsibility to keep his players healthy and available, and that didn't happen.
"I see here every day the emphasis our coaches have on it," Fuente said. "I see what our players are doing. I'm not with them 24 hours a day, seven days a week, but I see how important it is to them. They fully understand. They're all here because they've chosen to be here. They've all been given a free pass out.
"We had Caleb [Farley] decide to go play professionally, but they're all here because they want to do this. Practicing is not particularly fun, and that's all that they've done. They desperately do want to play. But I think we all take it personally."
The Tech coaches have had hundreds of conversations — both individually and in group settings — with players. Not only have they re-emphasized following the COVID-19 protocols off the field, but they've also discussed ways to handle their situation psychologically.
"We're not going to stop addressing it, I can tell you that much," Fuente said. "It's on our minds and weighs on us 24 hours a day, seven days a week. If you test three times a week, you're three taps on the shoulder away from not being able to play because you're around a person in a particular setting or because you were positive.
"So the mental stress and the emotional stress that's on all of us all the time about this certainly is relevant."
And it could be a factor whenever the Hokies take the field. For now, though, they'll all settle for just getting that opportunity.
Be the first to know
Get local news delivered to your inbox!