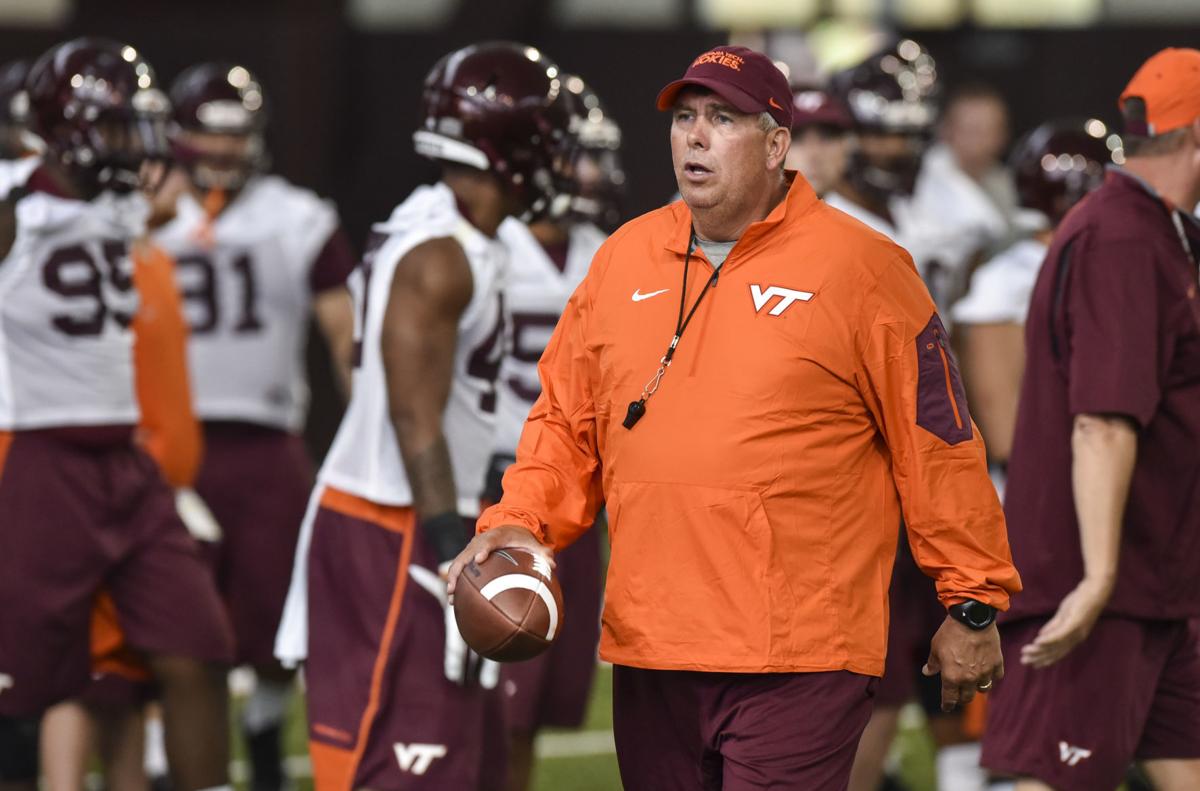 BLACKSBURG — Former Virginia Tech defensive line coach Charley Wiles has turned the page on his time spent in Blacksburg.
Wiles spoke to reporters in a virtual press conference on Wednesday as he readies for a return to Lane Stadium in the same role with NC State.
He became synonymous with former defensive coordinator Bud Foster's lunch pail defense as he spent more than two decades coaching the team's defensive front. The Hokies recorded more sacks (893) than any team in the country during their time together.
Wiles was told the team was going in a "different direction" back in December when Justin Hamilton was promoted to replace Foster after his planned retirement. Wiles was let go alongside defensive backs coach Brian Mitchell, who also ended up landing at NC State.
"Oh you know, every good thing has to come to an end, it probably worked out about perfect," Wiles said with a laugh when asked about his departure. "I have no regrets. I have no regrets."
The homecoming might have been more emotional for Wiles if retired Tech coach Frank Beamer and Foster were still on the sidelines, and the game was going to be played in front of 67,000-plus fans at Lane Stadium. Attendance in the game on Saturday will be limited to 1,000 spectators due to the coronavirus.
"That'd be totally different," Wiles said.
The only other person to receive permanent possession of a lunch pail during Foster's tenure is Darryl Tapp.
"Man I tell you what, that blew me away," Wiles said. "I have to be honest. It blew me away....He got up, had the Lunch Pail in his hand and talked about it, and what it meant and he said that coach Beamer had received a whole lot of accolades, and deservedly so, and he said, I have received a whole lot of credit for what we have done here, but Coach Wiles had so much … played a huge part in our success and what we had done and he went on to talk about that, and really it was unbelievable."
Wiles, who keeps the lunch pail in his home office, briefly considered bringing it with him to the game on Saturday.
"Somebody just here in the defensive staff room said you ought to bring the Lunch Pail to Blacksburg with you when we come up, put it in the bag," Wiles said. "I thought, wow, hey, that's not a bad idea but probably not. I'd like to do that, but I'm not going to do that. That was kind of a clever idea, right?"
Wiles is able to smile about it all having found the perfect landing spot in NC State. He knew he still wanted to coach after parting ways with Tech, but wasn't interested in just any opportunity. The familiarity he had with the state of North Carolina — the players, coaches and area — plus staying within the ACC ticked all the boxes for Wiles.
"Never a doubt I wanted to coach, but it was like, 'Hey, what's going to present itself?' You know? Fortunately, this worked out exactly and it worked out pretty quick," Wiles said.
The start to his tenure has been anything but normal with the coronavirus interrupting spring practice and forcing him to build relationships with his players in virtual team meetings. The start of fall was also a challenge with players arriving for fall camp only seven days before the start of classes and a coronavirus outbreak forcing the team to pause football activities.
NC State opened the season with a 45-42 win over Wake Forest last week and his defensive line sacking the quarterback six times with Wiles happy to be doing what he loves. 
"You never really know what it's like somewhere else," Wiles said. "I hadn't really been anywhere else for a long time. And it's been really cool."
Mike Niziolek is the Virginia Tech football beat writer for The Roanoke Times. Follow him on Facebook and Twitter.
Be the first to know
Get local news delivered to your inbox!