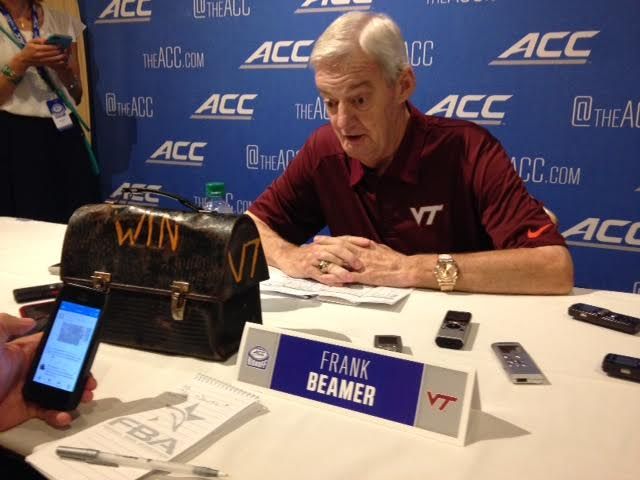 The ACC Kickoff is officially over.
Beamer touched on a number of different topics during his 54-minute session with the print media. Here are some highlights of what he said ...
-- Beamer sounded optimistic about this year's team, especially with what he thinks will be an improved offense complementing Bud Foster's usually stout defense.
He made several mentions of the fact that offensive line play will be critical.
"When you're having problems there, you're throwing before you want to throw, you're getting sacked," he said. "A 5-yard run turns into a 1-yard run, so it affects everything. It affects how quickly your defense is going to get back on the field."
-- Beamer acknowledged the Hokies' shortcomings recruiting the o-line a few years back, which got them into their current predicament. But he thinks Tech is starting to get the right kind of guys in the program to change the direction of that group.
"The first thing you start out with is for the most part, we're very athletic," he said. "And for an athletic guy that can get over there and block a guy, at least you're starting out with that. You can take a non-athletic guy and I don't care how many reps you get, he may not be able to get over there and block that guy. So at least now, we're capable of doing what we need to do. Now it's just a sense of learning and reps, get that part done. I think we've got the makings."
He noted that guys like Wyatt Teller and Augie Conte have the look and athletic ability of the type of linemen they'd like to have.
"Talent-wise, we're good," he said. "Now it's a matter of how quickly can we be real good."
-- O-line depth remains a huge question heading into the season. Beamer said the next guy up on the line "remains to be seen."
"That'll be a challenge in preseason: how many backup offensive linemen can we develop," he said.
-- When asked what he thinks of Teller's mullet hairstyle, Beamer had a good response: "As long as Wyatt keep sticking people right in the mouth, I'm not too concerned about his hairstyle." 
-- Those hoping for clarity on running back Shai McKenzie and rover C.J. Reavis' statuses will have to wait. Beamer declined comment on both.
He said McKenzie's situation is "pending," likely tied to the completion of his house arrest and community service requirement.
As for Reavis' appeal of a student conduct committee decision to dismiss him from school, Beamer said he thinks that will be decided soon, although that is completely out of the hands of the athletic department.
-- What's the contingency plan at rover for if Reavis does not return? It's to be determined. Beamer said the coaching staff talked about that some before he came down for the ACC Kickoff and will do so more when he returns.
The versatility of someone like Chuck Clark gives the Hokies some choices, however.
"He's the one that to me gives you some more flexibility right now," Beamer said. "And he's got size. He can do a lot of things. Plus, he's a smart guy. And being football smart is not always the same, but with him it is. And I think he gives you some options."
-- Getting Brandon Facyson back healthy at cornerback would be a boost. Beamer's hopeful on that front.
"To me he's quite a player," Beamer said. "... And I remember that interception down at Georgia Tech a couple years back. Great anticipation. Diving. Good hands. Another tall guy that plays smart, football smart. He's a guy that he and Kendall [Fuller], it doesn't get much better than that right now."
-- Beamer was open about Fuller's possible -- almost definite, most would say -- leap to the NFL after this season. 
"We'll sit down and talk about it," he said. "Again, he's smart about his things. The best thing he can do now to help his value is to play great. So preparation, playing. If you're going to be a first-round draft choice and can make quite a bit of money, that's a thing that I think you need to take advantage of. If you need to come back and improve your stock a little bit, that's the way to go.
"The thing with him too is he's got such a great mom and dad. There's a lot of good common sense in that family and making decisions in that family. So they're going to make the right decision for them and the right decision for him will be the right decision for Virginia Tech."
-- Beamer said he apologized to running back J.C. Coleman for underestimating him as an everydown back in the past. 
"In my mind, he showed all of us something," Beamer said. "I don't think there's any question that he can be an everydown back.
"I told him after the year, in staff meetings, it's third down and let's get a big guy in there that's a little bit better to block or whatever, but you know, I should have known. He's always been tough. He's always had great hands. Thought about getting him out in space a little bit. That's his role. But when he had to, he showed up in every area: blocking, catching, running, knack for running, getting tough yardage. He's 5-7, but he's got a lot of power in 5-7."
-- Beamer noted that the Hokies have four backs on their roster -- Coleman, Trey Edmunds, Marshawn Williams and McKenzie -- who have rushed for 100 yards in a game before.
He still has this goal for the running game, however: "Making sure that we've got a system that they're not in and out. I think at tailback you've got to get back there and get in a flow and don't be in one play and out the next play. So that's what we've got to be sure of going into the season."
-- Every time Beamer was asked about the indoor facility, he made sure to note to the assembled media that he thinks the Hokies' recently opened $21.3 million building is the best in the country.
"That's my story and I'm going to stay with it," he said.
Beamer doesn't know what he could possibly ask for next from a facilities standpoint.
"I spent a whole year going to our alumni meetings and Hokie Club meetings and said, 'Look, let's get this indoor facility built. It's going to be the last thing I ever ask you for,'" he said. "So for right now we'll stay with that. I'm going to think a little bit about it."
-- What does Beamer think of facing Ohio State's trio of talented quarterbacks in the season opener?
"I kind of hope they're down there fighting in the end zone before the ballgame," he joked. "Which one's going to start? Which one's going to play second?"
-- Beamer knows his defense's strength is on its defensive line. Having four starters capable of getting to the quarterback and at times probably worthy of demanding a double team can be hugely beneficial.
"It's just a fact that the more pass rush you get from four guys, the better off you are in a complete game," Beamer said. "And the more time you've got to bring that fifth guy up and that sixth guy up, which we did quite a bit against Ohio State last year, but the more times you do that, the more times you're one-on-one in the secondary too.
"And we'll always do that. It's just our nature, but being unpredictable in doing that is kind of the key to it. If they realize you're doing it, make them realize after the ball is snapped or not make it easy for them. That's kind of where we are is the more times those four guys can heat it up, the better football team we'll be, I think."