CHARLOTTE, N.C. — Virginia Tech coach Justin Fuente raised some eyebrows Wednesday at the ACC Kickoff when he told reporters he felt, "better about us throwing the ball since I've been here" with quarterback Braxton Burmeister at the helm.
There was at least one person nodding along with him.
"I would definitely bet on this kid," former first-round draft pick Akili Smith said.
The former Oregon quarterback, who went on to play for the Cincinnati Bengals and Green Bay Packers, has mentored Tech's expected starter for more than a decade.
Burmeister's father Dan called the famed San Diego native when his son showed serious interest playing quarterback in the third grade. Smith ran local clinics at the time after his career ended and he was breaking into coaching.
He developed into a true mentor for Burmeister, who still calls Smith after every game.
"It's great having a mentor that's really done it all before and seen it all," Burmeister said. "It's an awesome relationship, and I really cherish it."
Smith's confidence in Burmeister comes from having witnessed all the highs and lows he's gone through in recent years.
Burmeister hasn't attained those heights at the collegiate level, but Smith is as confident as ever that his pupil will break through when Tech opens the season Sept. 3 against North Carolina.
Some fans have questioned the decision Fuente and offensive coordinator Brad Cornelsen made to anoint Burmeister the starter going into spring camp, and not pursue an experienced quarterback out of the transfer portal, considering Burmeister's spotty resume. But the struggles he's had aren't quite what they seem.
False start
Burmeister remembers his first start well.
The former Oregon quarterback was thrown into the lineup in Week 6 against an undefeated Washington State team after injuries to Justin Herbert and backup Taylor Alie as a true freshman in 2017.
Then-offensive coordinator Mario Cristobal told Burmeister leading into the season he was likely going to redshirt, but the Ducks had to abruptly change course when they had multiple injuries at quarterback in one game.
In Burmeister's first career start he pulled the ball down for a 6-yard run on first down after a pair of false start penalties backed the Ducks up to their own 10-yard line. The freshman lowered his shoulder hoping to gain a few extra yards, and ran straight into middle linebacker Jahad Woods.
The resulting collision led to a sprained AC joint in Burmeister's throwing shoulder. He didn't initially realize the severity of the injury until halftime.
"It was one of those things where I didn't notice anything," Burmeister said. "I ran back in [the huddle] then it kind of went numb for a while. We went into halftime and during that 15-minute break, it started hurting and it was like 'uh-oh.'"
He was determined to keep playing, but the injury prevented him from feeling comfortable throwing the ball as he went 1-5 as Oregon's starter. He threw for 330 yards (57.1%) with two touchdowns and six interceptions.
"They would shoot me up before the game in the shoulder, and I could barely lift my shoulder over my head after the game," Burmeister said. "During the game, I was trying my hardest to get it, but I didn't feel like I could throw the ball very hard."
Those close to Burmeister say those struggles took a toll on the quarterback, especially since the injury was never disclosed publicly at the time.
"He took a beating when he left the University of Oregon," Smith said. "No one came out and saved the kid. Everybody just thought he couldn't throw."
According to Smith, Cristobal wanted to hold onto Burmeister
"That showed to me what he saw in Braxton," Smith said. "He saw the potential in Braxton, a healthy Braxton, being able to run a 4.4-4.5 with a strong arm."
Blessing in disguise
That sprained AC joint nagged Burmeister until he sat out as a transfer in 2019 for Virginia Tech, a team he connected with thanks to his father Dan's connections to the area. Dan Burmeister played high school football at Oakton High School, and college ball at North Carolina before a short career in the NFL with the Washington Redskins.
Virginia Tech coach Justin Fuente didn't know of Burmeister as a four-star recruit and record-setting quarterback out of La Jolla Country Day in San Diego.
Fuente said that the Hokies rarely get involved with West Coast quarterbacks even when they hit the transfer portal, but after Burmeister's father reached out to the staff, there was mutual interest.
He eventually signed with the program. Sitting out in 2019 helped him regroup.
"He started doing some UFC stuff, cause I think he was frustrated and wanted to sock some stuff," Smith said, with a laugh. "That time helped him get his confidence back. One thing I will say about Braxton, he's fully restored."
But the shoulder injury wasn't the last setback on his way to landing the starting job for Fuente thanks to an eventful 2020 season that included a bout with COVID-19 and three broken toes.
There was a three-way battle for the starting job between Burmeister, Hendon Hooker and Quincy Patterson in fall camp last year.
Fuente eventually announced he would rotate Hooker and Burmeister to start the season, but Hooker had a medical setback that sidelined him in the weeks leading up to the delayed season opener against N.C. State.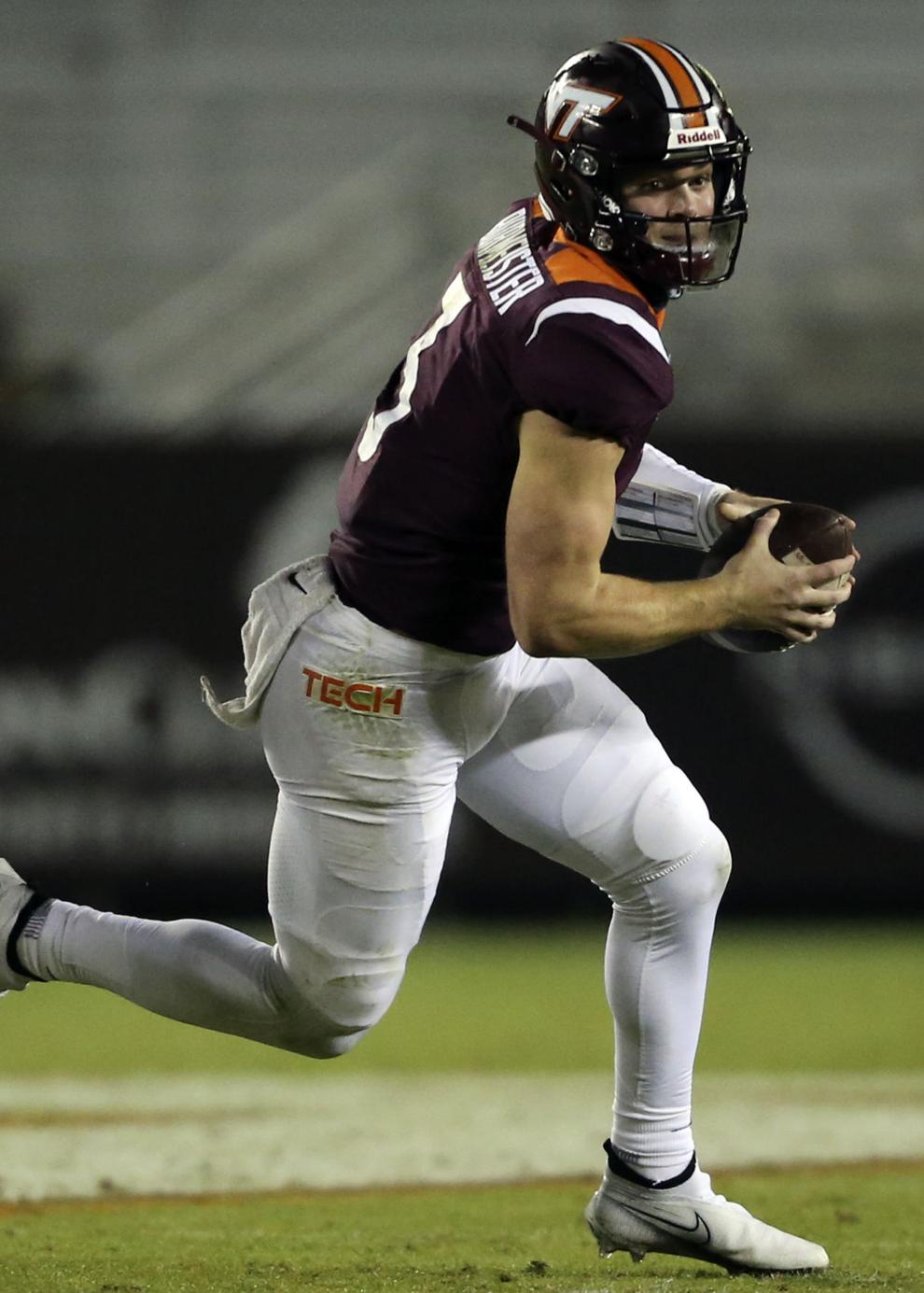 Burmeister was gearing up to start when he came down with COVID-19 as the infection spread among much of the team. While many Tech players were asymptomatic, Burmeister lost 12 pounds in a week as he struggled to eat with continuous bouts of nausea, and night sweats.
"I was trying to force water down and all that stuff," Burmeister said. "I went into that game at 188-190 when I normally weighed 200-205. Now I'm up to 215."
He was cleared to play less than 72 hours before kickoff, and spent the hours leading up the game binge eating to try and get back some of the weight he lost.
Burmeister managed to play well in his Tech debut — he had 152 total yards — but the massive weight loss caused him to cramp up and miss half of the game. His mother was in the stands at Lane Stadium and gave him mustard packets she brought in her purse that helped him get back into the game in the fourth quarter.
His tenure in the starting lineup was short-lived, and he was benched two weeks later in the second half of Tech's 56-45 loss to North Carolina. The Hokies fell behind by 21 points twice in the first half with Burmeister struggling to throw the ball.
"He just wasn't comfortable," Smith said. "You could just tell. I've been watching Braxton for a long time. You can tell when he's running around and having success with his feet, then sitting in the pocket and delivering a ball, there's a look in his eyes when the camera shines on him. You can tell when a kid is out there hunting, and Braxton at that time wasn't hunting."
Tech might have had a renewed quarterback battle in the weeks that followed, but Burmeister broke three of his toes in practice that week when 377-pound offensive lineman T.J. Jackson accidentally stepped on his foot.
"He was pulling and I stepped down toward the line and he stumbled back further behind the line than he had anticipated," Burmeister said. "He basically stomped on my toes. I got sick to my stomach."
"That was definitely a blessing," Smith said. "He got to slow down a little bit. There was no pressure on him. He could get ready for his moment."
That moment came late in the season against Virginia. Burmeister showed promise against Clemson, but he had the best game of his career a week later to help the Hokies recapture the Commonwealth Cup with a 33-15 win over their in-state rival.
Burmeister threw for 212 yards (15 of 22 passing) with a touchdown in the win. He looked poised leading Tech down the field on its second possession (a 17-play, 75-yard drive that lasted nearly eight minutes), going 5 of 8 for 34 yards with completions to four different targets.
When Burmeister connected with Tayvion Robinson for a 60-yard touchdown pass late in the second quarter — it was Tech's longest pass play of the season — Smith knew the quarterback he watched break every passing record at La Jolla Country Day was on his way to great things.
"What you saw late in the season is going to be what you see this season," Smith said, confidently. "I agree with Fuente, Virginia Tech is going to be a problem this year."