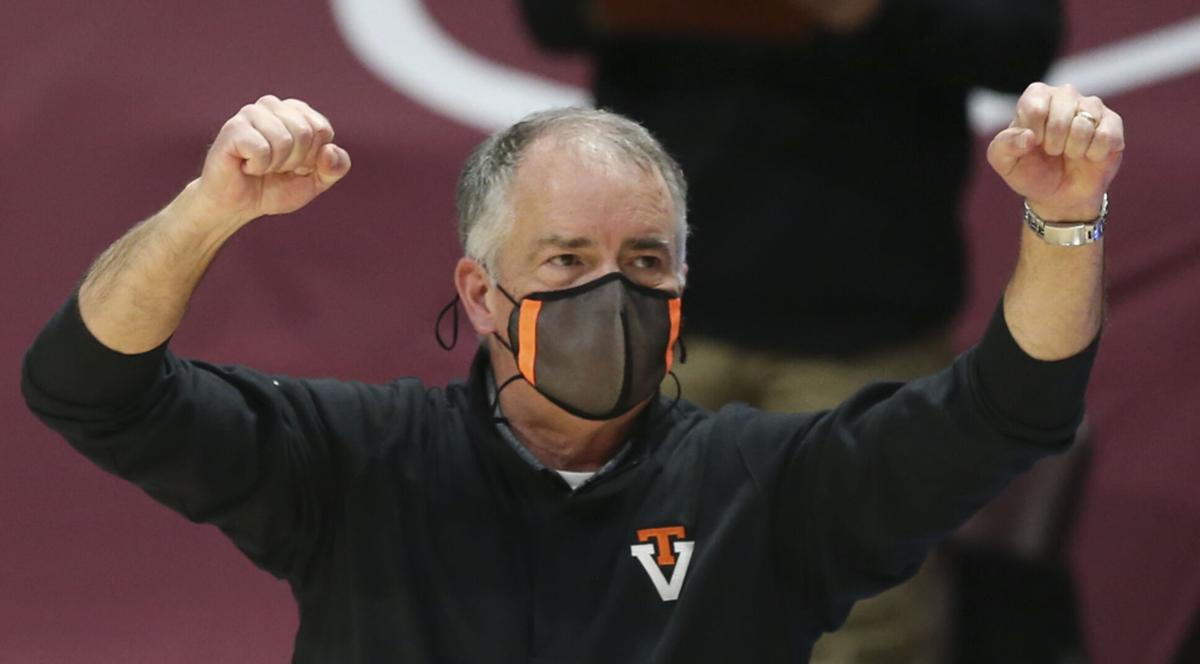 Patrick Wessler, a 7-foot, 250-pound center, verbally committed to the Virginia Tech men's basketball program Sunday.
Wessler, who plays for Combine Academy in Lincolnton, North Carolina, is rated the No. 45 high school senior center in the nation by ESPN.
Wessler spent the weekend at Virginia Tech on an official visit, along with his parents and sister.
He announced his decision on Twitter on Sunday after informing Hokies coach Mike Young and his staff of his choice in a meeting Sunday morning.
"The whole coaching staff did a really good job recruiting me, really made me feel like I belonged," Wessler said Sunday in a phone interview before heading home from his visit. "I loved the school, I love the people. Last night I just kind of had that moment where I was like, 'This is where I need to go.'
"I loved the visit, so I decided to pull the trigger."
Wessler said his other finalists were North Carolina State, Providence, Southern Cal and Mississippi. He had taken an official visit to Providence the weekend before his Tech visit.
Wessler, who lives in the Charlotte suburb of Denver, also had offers from Wake Forest, Ohio State and West Virginia.
He said Virginia Tech's playing style fits him.
"They give the ball to their bigs," he said. "Being a post player, I like that."
Wessler will be the first 7-footer on the Tech roster since Johnny Hamilton in the 2016-17 season.
Wessler's AAU coach, Mike Jefferson II of Charlotte-based C.C. Elite, said Tech is getting a "dominant big."
"He's a rim protector. He's a low-post scorer," Jefferson said. "He has a super soft touch. He can pass the ball out of the double team. He makes the extra pass.
"He is exactly what you want in a big. … Virginia Tech got a really, really good kid.
"He still has some things that he can improve on, but he's ready to go [for Tech] right now.
"At the end of the AAU season he probably had multiple games with double-digit blocks and rebounds and points."
The left-handed Wessler considers his strong suits to be scoring in the post and protecting the rim.
"If I'm open, I'll shoot a 3, but that's not what I like," he said. "I like scoring in the paint."
How ready does he feel to play ACC basketball next year?
"I know there's going to be a learning curve, so right now my focus is to get as much better as I can from now until then," he said. "I've got to work on my off-hand scoring. I'm a lefty; I'm good with my strong hand. My right hand is decent, but it needs to be better. … And just general lateral quickness, … athleticism, agility — stuff that's kind of key for a big man. You've got to be able to run the floor, you've got to shuffle your feet. Stuff like that is what I need to work on the most."
Wessler spent the first two years of his high school career at Butler High School in Matthews, North Carolina, before transferring to Combine Academy prior to his junior year.
Wessler's father is the associate head of school at Combine Academy. Wessler's coach at Combine is former North Carolina and NBA guard Jeff McInnis.
"It's a sports prep school," Wessler said of Combine. "We don't have normal electives. Our electives are skill and drill for basketball, weight lifting. … We have class, but you go there to get better at your sport."