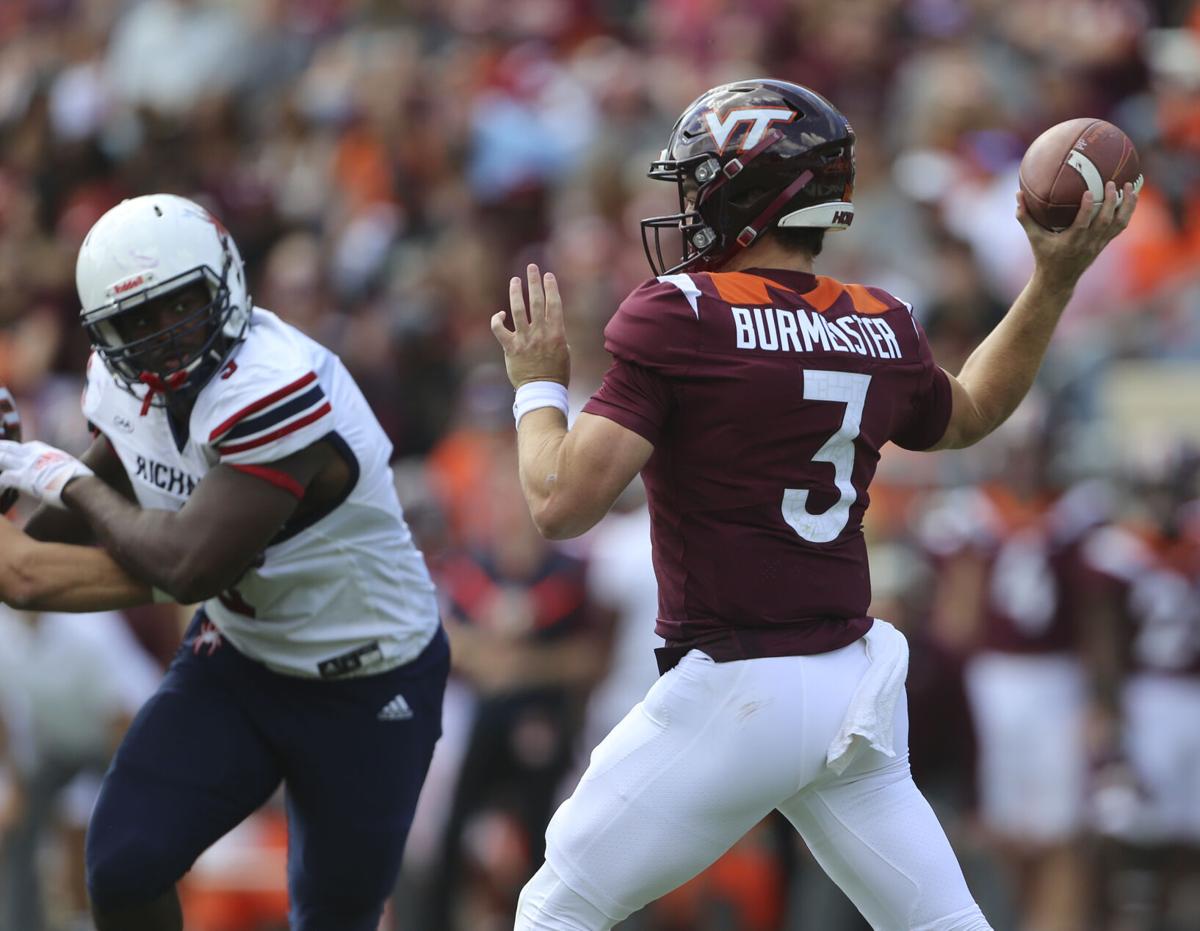 BLACKSBURG — Virginia Tech quarterback Braxton Burmeister tried to take the news in stride.
It wasn't exactly the news Burmeister wanted to hear after spending the whole offseason as the team's unquestioned No. 1 quarterback. Fuente told Burmeister that wouldn't change, but it was a clear message from the coaching staff that his play needed to improve.
"All I can do is control myself," Burmeister said, after the game. "I went out, worked and got better. I felt like I had a good week of practice and that's all I can do."
Burmeister had 534 passing yards (60.8%) with four touchdowns and an interception along with 105 rushing yards (3.2 yards per carry) through three games. The offense averaged 336 yards during that stretch (No. 107 out of 130 FBS teams) and 24.3 points per game (No. 97).
Tech's issues in the red zone reached a tipping point in last week's 27-21 loss at West Virginia. The Hokies failed to score any points on three trips inside the 10-yard line with the last one coming in the final minutes when they had a fresh set of downs at the 3-yard line.
The brief Knox Kadum experiment didn't solve any of Tech's issues.
Kadum was on the field for all of two snaps and didn't return after throwing an interception inside Tech's own 20-yard line while Burmeister's performance wasn't vastly different from his previous three games.
"I would say some good, some bad," Fuente said.
There were positive signs early in the game when he marched Tech 65 yards down the field on five plays. He completed first down throws to Tayvion Robinson and Tre Turner, who caught his first touchdown pass of the season to cap the drive off.
Burmeister was spottier after that, which he readily admitted after the game.
"I definitely have missed a couple throws," Burmeister said. "I feel like from an execution standpoint I missed a couple reads.... it's kind of been up and down."
Burmeister's most notable miss came with tight end Drake DeIuliis running free down the field in the first quarter. If Burmeister hit the tight end in stride, the play would have gone for a touchdown, but he was also off target for some easier throws like in the second quarter when he threw a ball at Jaden Payoute's feet on a screen pass play they often run.
Tech ended up putting less yards of offense than they did last week (318 yards), but Fuente still felt Burmeister took a small step forward in the passing game. The 42-yard throw to Turner down the middle in the second half was the type of passing play that's been hard to come by for the Hokies this season.
"I thought he had a great week of preparation after getting news that he didn't like," Fuente said. " was really proud of the way he responded through preparation, and made some plays out there today, like he had all week and made some plays in the passing game. He gave our guys some chance to go catch the ball... It certainly wasn't perfect, but I thought it was better in terms of giving guys some chances to go make some plays."
Burmeister's goal is to use the bye week to smooth out the remaining rough edges in the offense with an undefeated Notre Dame on deck.
"Execution is a big deal," Burmeister said. "Our leaders got to get together and go through everything. I felt like in the summer we were really good at executing and doing our job. We went into fall camp with that and have kind of lost that a little bit. A lot of that is we need to rep our base calls, and get really good at some things and go into Notre Dame game feeling good about those things and just roll."