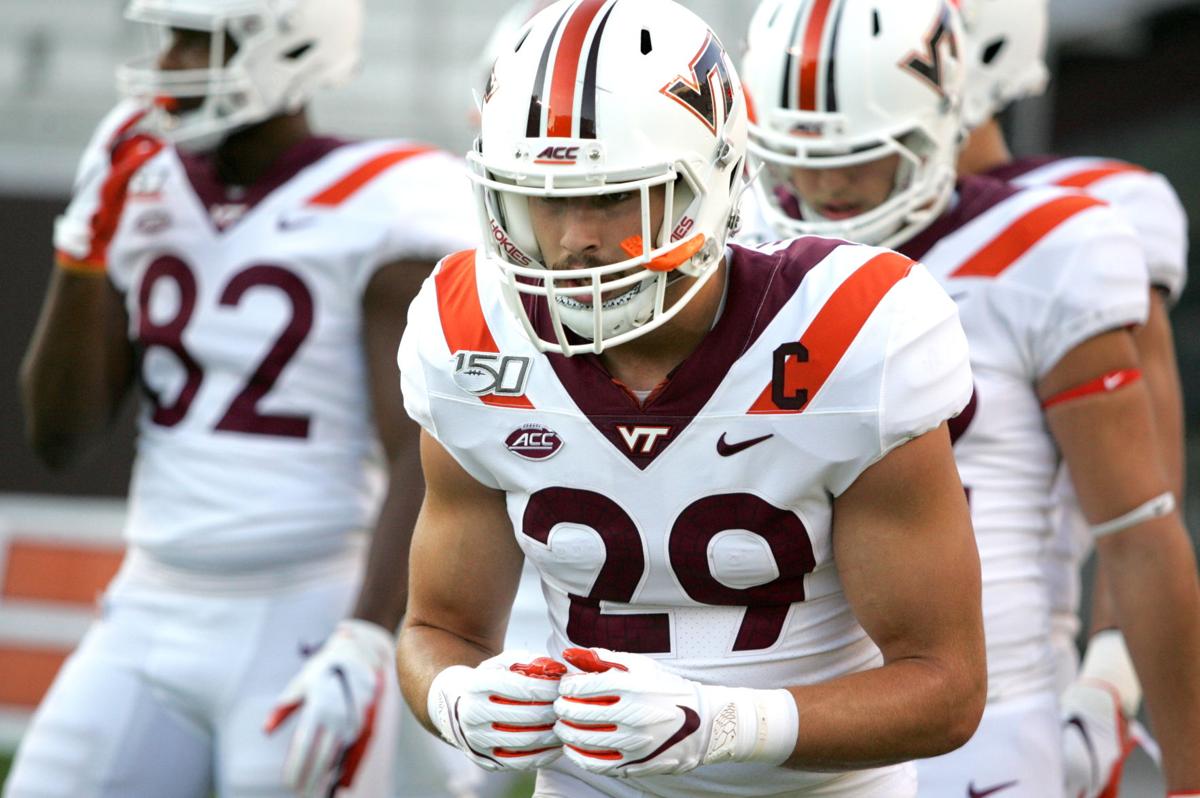 BLACKSBURG — Virginia Tech tight end Dalton Keene has been lobbying offensive coordinator Brad Cornelsen all season for a carry or two.
With the Hokies dealing with a handful of injuries in their backfield, the former Chatfield High School (Colorado) standout running back enjoyed taking practice reps at his old position in recent weeks.
The game plan against North Carolina called for Keene to get a few touches, but he had a much more expanded role.
"We got a lot of great backs and I'm pretty happy that they let me get in that room a little bit," Keene said last week. "That was really cool. I didn't realize I would be playing it for the majority of the game."
Tech changed up its game plan when third-string quarterback Quincy Patterson entered the game for an injured Hendon Hooker.
"Definitely a little rusty, I think you could see that on the field a little bit," Keene said. "For the most part, I think I was pretty effective back there besides that one fumble. We'll get that cleaned up, I'm definitely going back to the old days of running back, trying to get back to that."
At 6-foot-4, 251-pounds, Keene fits the bill.
"I definitely thought I could add something," Keene said. "I've played a ton of running back in high school. I feel comfortable back there. I think something I add on third and short stuff like that, I can just run it up in there and get two or three yards for a first down. I think that's a really big thing that really any of the tight ends could do for us."
Virginia Tech expects to have a healthy Keshawn King available for this weekend's game against Notre Dame and no one is displacing starting running back Deshawn McClease with the way he's carried the ball in recent weeks — he has 253 yards (6.5 yards per carry) with three touchdowns over the last three games — but Keene can provide the team flexibility at the position it was lacking during the first half of the season. 
"First of all, really thinking of him back there as a guy that can protect on third-and-long, gives you a bigger body to protect blitzes," Cornelsen said. "Just what he's shown us with the ball, he runs physical and there's a little more instinct there than I think what you would think of as a typical tight end. He's just so smart he can go execute with very little practice at certain things. So we'll continue to use him in as many different ways as we can."
Mike Niziolek is the Virginia Tech football beat writer for The Roanoke Times. Follow him on Facebook and Twitter.