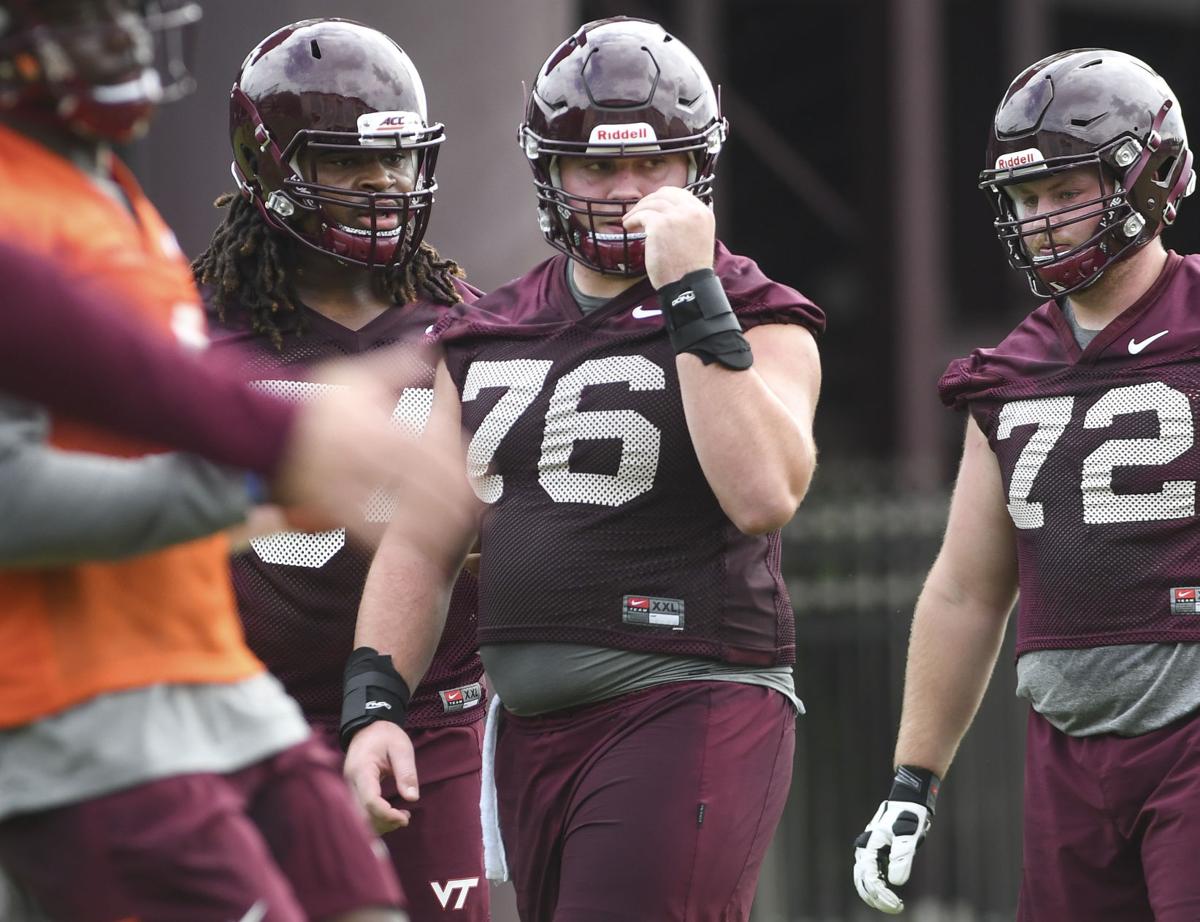 BLACKSBURG — Why didn't your wife retire?
The question represented a new low point for Brian Hoffman and his wife Stephanie after the family spent months gathering documentation for the NCAA to help their son Brock gain immediate eligibility at Virginia Tech.
"The NCAA's process is horrible," Brian Hoffman said in a phone interview with The Roanoke Times on Tuesday night. "It's just wrong."
The NCAA rules require non-graduate transfer players to sit out a year if they go to another FBS school unless a waiver is granted.
Hoffman decided to transfer to Virginia Tech after his sophomore year to help care for his mother in Statesville, North Carolina. She had surgery to remove an acoustic neuroma (a non-cancerous brain tumor) in early 2017 and going to school in Blacksburg cut his commute home in half.
After the NCAA denied Brock's initial waiver request in April, the Hoffman family was asked to provide more documentation about Stephanie's illness and living situation.
In hopes of bolstering their son's appeal, Stephanie got letters from four different doctors outlining the side effects she deals with on a daily basis from her multiple surgeries.  
The NCAA surprised Brian Hoffman again when they came back with another line of questioning — why didn't Stephanie Hoffman, 50, retire (after her diagnosis and surgery) from her job as a teacher?
"We have almost a million dollars of medical bills," Brian Hoffman said. "She's a teacher and doesn't have enough years to get full pay from her pension. We simply couldn't afford it."
According to Hoffman, he provided the NCAA with financial and insurance statements to show if she retired at the time of her first surgery it would have negatively impacted the family.
"I really thought after all the information we gave them — we gave them a book over the summer — we had this thing," Brian Hoffman said. "It was like getting stabbed in the back."
On Tuesday night, Hoffman admitted he's looking to consult with lawyers in the coming weeks to see if he has a legal case against the NCAA.
That won't help get Brock eligible for 2019, but the Hoffman family wants the NCAA to make changes to the system so other families don't have to go through what they did. 
"Every time we went back, they kept telling us this doesn't fit, this doesn't fit (under the guidelines)," Hoffman said. "Every time it was a different reason. This reason they gave us Tuesday (the timing of the transfer) wasn't something they even mentioned before."
One of the requirements the NCAA added over the summer that impacted Brock Hoffman's appeal — since it was submitted in mid-July — stated student-athletes transferring because of an illness in the family "must occur within or immediately after the academic year."
The long delays in formalizing the appeal are one of the reasons Brian Hoffman was also critical of Virginia Tech's compliance department for what he described, "as a lack of urgency and communication" throughout the process. 
According to a source familiar with the process, Virginia Tech's compliance department tried to be as thorough as possible when responding to the NCAA and attributed those delays to the convoluted system in place for reviewing waiver requests. 
As for the communication issues, Virginia Tech's compliance department asked the NCAA multiple times to speak with the Hoffman family directly. 
While the entire waiver process is handled through written communication, Tech's compliance department hoped someone from the NCAA would walk the Hoffman family through the various steps, but that never happened. 
Brian Hoffman's frustration didn't extend to Tech's coaching staff, who he credits for helping Brock get through a trying few months. Hoffman was allowed to visit his family — he's been home eight of the 12 weekends he's been on campus — on every off day. 
"Thank god for coach Fuente and coach Vice, wonderful men, who tried to be prepared and have Brock prepared physically and mentally for game time and not for game time," Brian Hoffman said.
The support system Brock Hoffman has established in Blacksburg is the lone silver lining in the situation for the family.
"Brock is probably handling it better than we are," Brian Hoffman said. "Brock will redshirt, work on his craft and be ready to go for 2020. He's got a lot of good people he's become friends with. I'm so proud of the way he's handled it and dealt with it."