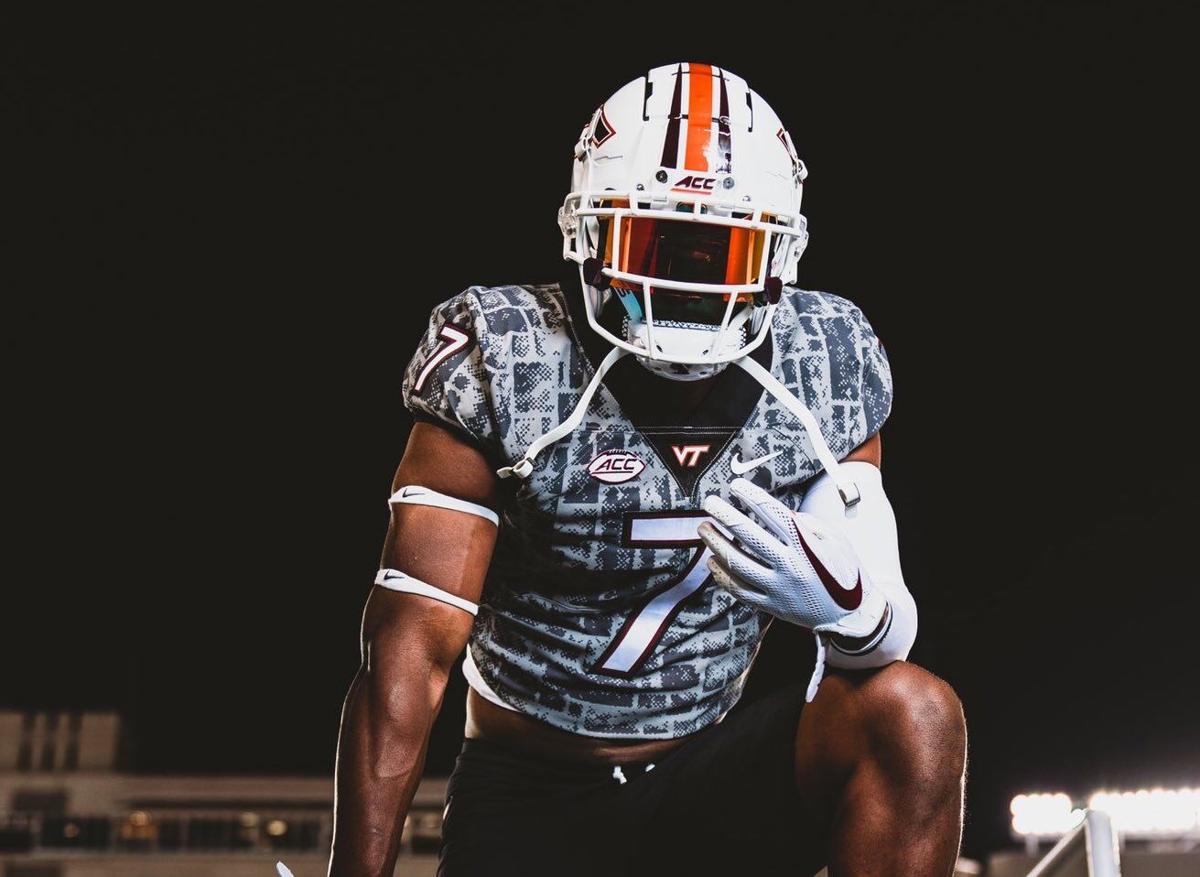 BLACKSBURG — Virginia Tech landed a marquee talent for its 2022 signing class on Friday.
Manchester running back Ramon Brown verbally committed to the Hokies over a top five that included Penn State, West Virginia, South Carolina and Maryland.
Brown's announcement was streamed live on CBS Sports. He had hats from each of his top five laid in front of him and was surrounded by family.
"There's nothing like playing in your own backyard in the state of Virginia," Brown said as he revealed a Hokies shirt under a black hooded sweatshirt.
The 5-foot-11, 202-pound back is the highest ranked in-state player to commit to Virginia Tech — and first four-star in-state player — since wide receiver Jaden Payoute in 2019. Brown is the highest rated running back commit in coach Justin Fuente's tenure.
According to 247 Sports composite rankings, Brown is the No. 190 overall prospect in the 2022 signing class and No. 19 running back. He's the No. 8 prospect in the state of Virginia.
Brown's high school coach Tom Hall doesn't put much stock into those rankings, but he has no problem saying the senior is one of the best players in the state.
"I think he's in my 32 years of coaching, he's the most talented running back I've had," Hall said.
Hall's sent more than 150 players to the collegiate level during his 19-year stint at Manchester alone.
"He's big, he's physical, he's strong, he's great between the tackles, but has the speed to run outside," Hall said. "He's very athletic. He's a great catcher. He's a natural catcher. He doesn't fight the ball when you throw it to him out of the backfield. He worked on that last year ... he wants to be the complete back."
Brown popped up on Hall's radar as an underclassmen at L.C. Bird High School in Chesterfield. The running back's family ended up moving into Manchester's district after his sophomore year.
Hall was eager to incorporate Brown into Manchester's offense, but those plans hit a pretty significant stumbling block.
"He got to Manchester the week before COVID hit," Hall said. "I think it was the first week of February at the end of his sophomore year then all of a sudden COVID hit and we were virtual the rest of the year with no workouts. Summer time, no workouts."
Brown faced a significant learning curve coming from a Bird team that ran 90% of the time out of a multiple I formation to Manchestster's fast break spread offense.
"He was thrown to the wolves…" Hall said. "For the kid to put up the numbers he did, it was amazing. This is the great thing about him, he worked, he stayed after, he watched film, he talked with the coaches, talked with the other kids."
Brown ran for 871 yards (7.6 yards per carry) in seven games with 14 touchdowns. He had five 100-plus yard games and started off the season with back-to-back 180 yard games. He also had seven catches for 74 yards.
He would likely have surpassed 1,000 yards if Manchester's season wasn't cut short by COVID in the playoffs.
"I felt like we were the hottest team in the state of Virginia, and our season came to an end not because of a loss, but because of COVID," Hall said. "We were scheduled to play in the regional championships, and got beat by COVID."
Hall has a hungry group of players heading into the fall with Brown leading the way.
"In the age with social media it's kind of hard to find guys that are we guys," Hall said. "Ramon is a we guy not a me guy. I could talk all day about Ramon. He's a fantastic young man."
According to Hall, Brown made up his mind last week.
The decision came on the heels of what Hall described as "Ramon Brown's World Tour", which included official visits to all five of his top schools in June. The tour actually started with an additional unofficial visit in Blacksburg right after the dead period came to an end on June 1.
Brown whittled down his list from a group of 14 scholarship offers that also included Michigan, Michigan State, North Carolina, Virginia and Wake Forest.
While Brown leaned on his parents for guidance throughout the process, Hall acted as a sounding board for the running back. Hall offered the same advice he gave recent Manchester grads that landed at Notre Dame, Penn State and Louisville.
"This is the first big decision you have to make in your young life," Hall said. "You have to look at it as a student first."
Hall gives each of his players a checklist of things to ask about that includes the strength of their degree program, graduation rates (for the football team and overall school) and what percentage of students get jobs within that major.
"You are always a play away from being done, that's what kids need to understand," Hall said.
That isn't just a platitude for Hall.
Former Manchester offensive lineman Will Prtichard's collegiate career ended before it really started. Pritchard signed with Virginia Tech in 2019 and suffered what turned out to be a career-ending concussion early in fall camp that year. He signed a medical exemption a few months later.
"Will did it right, he chose Virginia Tech because of the school," Hall said. "Will is on track to graduate, he loves Virginia Tech, and it's going to work out for him in the long run even though I hate that it didn't work out in football."
Hall is confident Brown has a bright future both academically — the running back is a 3.0 student — and on the football field.
"It's going to be great for their program because you got a kid that's a program kid, and puts the program first," Hall said. "He's going to come in and I believe have an immediate impact and have a chance to get on the field in some capacity early on. He's made a great decision."