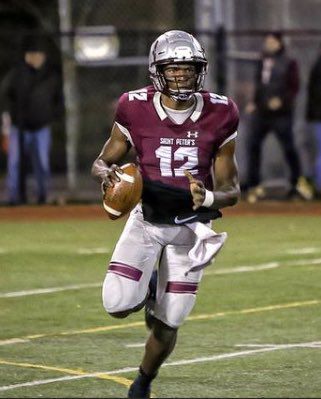 St. Peter's Prep quarterback Tahj Bullock had to wait his turn.
Bullock was No. 2 on the depth chart as a sophomore behind Maasai Maynor, a four-year varsity player that went on to sign with the Naval Academy.
St. Peter's offensive coordinator Ryan O'Flaherty said Bullock probably didn't even play 50 snaps as the team's backup, but when he burst onto the New Jersey prep scene a year later leading the Marauders to a state title (11-1) with four fourth quarter comebacks along the way it wasn't exactly a surprise.
"There's not many Tahj Bullocks around," O'Flaherty said. "We knew what we had long before the season started."
O'Flaherty told The Roanoke Times in a phone interview this week that Virginia Tech is getting a special talent. Bullock verbally committed to Tech on June 17 after an intense months-long, team-wide recruiting effort.
Bullock had double-digit offers with Rutgers and UCLA looking like strong contenders until Tech got involved. The Hokies initially focused their recruiting efforts at quarterback on Dematrius Davis, a four-star recruit out of Texas.
O'Flaherty said Bullock — a 6-foot-4, 200-plus pound dual-threat quarterback — would probably have a dozen more scholarship offers in a different year, but the NCAA put a dead period in place after the COVID-19 outbreak that upended the recruiting calendar.
"The great thing about Tahj was that he wasn't overly obsessed with having 'x' amount of offers," O'Flaherty said. "He was very confident with how things were playing out and now I think he's walking into a great situation."
O'Flaherty saw flashes of Bullock's power five potential going back to when Bullock was a freshman. The team didn't have a full blown quarterback competition the next year, but the coaching staff gave Bullock plenty of practice reps against the first-team defense. 
"We knew he was going to be the guy," O'Flaherty said. "If you talk to Maasai, he knew Tahj was there. I think it helped us as an offense and program where we have this young kid really pushing our talented senior."
The preparation paid off when Bullock stepped onto the field as a starter for the first time last fall. Bullock put his team on the board with a 64-yard touchdown pass to Zyeiar Miller just seconds into the Marauders' Week 1 matchup against Millville. 
The touchdown pass was a sign of things to come.
"To be honest with you, at least me personally, he's one of the better quarterbacks that I've seen," O'Flaherty said. "I've been coaching close to 15 years now. Just the whole package. I'd be lying to you if I said I didn't think he was going to great and that has so much more to do with his pursuit of excellence than me giving him some expert advice."
---
St. Peter's Prep offensive coordinator Ryan O'Flaherty revisited the team's four fourth-quarter comebacks for The Roanoke Times, and detailed Tahj Bullock's standout moments in each of the wins...
Sept. 21: 33-30 win at Bergan Catholic
St. Peter's offense had the entire field in front of it trailing 30-27 with less than two minutes to go on the road at Bergan Catholic. Bullock was sacked twice to open the drive and faced a third and 24 from his own 14-yard line. 
O'Flaherty said Bullock "didn't flinch" on the third down attempt with pressure coming and hit Jelani Mason for a 16-yard gain. A personal foul by Bergen Catholic at the end of the play gave the Marauders a first down. Bullock threw a 27-yard touchdown pass to Mason with 24 seconds left two plays later.
"He threw a ball that a lot of people would say is a high-level ball over the middle for Jelani that allowed him to catch and run," O'Flaherty said. "We had four verts (verticals) on the touchdown and Tahj thought he had the safety on the ropes. He gets him to move a little bit and puts a throw right on Mason's body. That was Tahj's coming out party."
Oct. 12: 26-22 win over Don Bosco Prep
Bullock converted a fourth-and-19 on his team's final drive with a 28-yard completion to Zyeiar Miller to set up the go-ahead touchdown by running back Ethan Rodriguez.
"Tahj just slides to his left and instead of airmailing the ball and stretching it down the field, he brought the receiver back down," O'Flaherty said of the fourth-down play.
Bullock rolled his ankle at the start of the drive and St. Peter's Prep needed to take a timeout to see if he would be able to finish the game.
"He was in some pain and limping a little, but said he was good to go," O'Flaherty said.
Nov. 22: 35-28 win over St. Augustine Prep (NJSIAA semifinals)
St. Peter's Prep scored two touchdowns in the final minutes to stay alive in the semis. Bullock hit Byron Shipman for a 60-yard touchdown to tie the game, but it was the offense's final drive that stands out in O'Flaherty's mind.
"That drive is probably his most impressive one of the season," O'Flaherty said.
Bullock, who threw a pair of interceptions in the half including a pick-six, was on target throughout completing 6 of 7 pass attempts before scoring the game-winner himself from the 1-yard line.
"Jaylan Sanchez makes a great catch and is tackled at the 1-yard line, and what you see on film is Tahj getting everybody to the line because we knew there was under 10 seconds left to just spike the ball," O'Flaherty said. "That whole drive, looking back and watching film, I can't tell you how many times I thought, 'man, we got some really great players, but we are lucky the leader of these players is Tahj Bullock.'"
Nov. 30: 21-14 win over Don Bosco Prep (NJSIAA finals)
St. Peter's and Don Bosco both scored special teams touchdowns in a wild state finals game.
The Marauders got the ball back with less than five minutes to go trailing 14-7. Bullock capped off a 12-play, 73-yard drive with a rushing touchdown at the goal line. O'Flaherty said St. Peter's coaching staff knew right away it was going to go for a two-point conversion to get the win.
"We burned a timeout there — we didn't need to think about it, but we wanted to pick the right play — and we went with a read-option play that's our bread and butter," O'Flaherty said. "Tahj has the option to give the ball or run the ball, and it requires to make the proper read. Here is an all-state quarterback that everybody is expecting to get the ball, but he just made the proper read. Jelani does some great stuff beating people out to the outside, but it starts with Tahj making the right read to give him a shot to get into the end zone."
Bullock was given a tremendous amount of responsibility at the line of scrimmage throughout the season with O'Flaherty often giving his quarterback multiple options along with plenty of read-option looks. 
"We gave him a heck of a lot of freedom," O'Flaherty said.
St. Peter's closed out the win by blocking a field goal attempt and returning it for a 65-yard touchdown.
Mike Niziolek is the Virginia Tech football beat writer for The Roanoke Times. Follow him on Facebook and Twitter.
Be the first to know
Get local news delivered to your inbox!