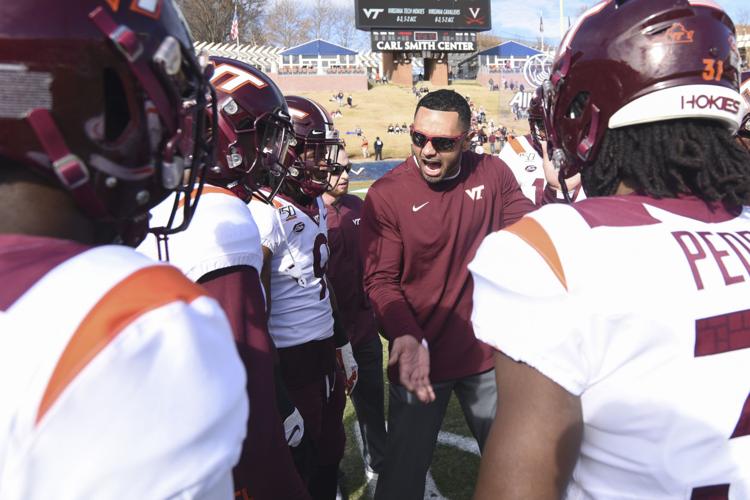 BLACKSBURG — Justin Hamilton's quick rise through the FBS coaching ranks didn't come as a surprise to those that have worked with him.
Hamilton, 37, was named as retiring defensive coordinator Bud Foster's successor on Sunday.
The Hokies alum will continue to coach the safeties and take over as defensive coordinator at the end of the 2019 season less than two years removed from joining the program's staff as director of player development for the defense.
"Let me put it to you like this, if he wasn't hired to be the defensive coordinator, he would have been a highly sought after position coach and ended up getting a job like this," North Greenville offensive coordinator Brad Robbins said. "I'm sure coach Fuente recognized that."
Robbins described Hamilton as southwest Virginia's "superstar" athlete when the two were growing up (Robbins played for Powell Valley a few years after Hamilton was a standout at Clintwood High School).
Hamilton went on to coach at Robbins' alma-mater University of Virginia's College at Wise, but the two didn't get to know each other until 2014 when Robbins was on staff at VMI. Hamilton was eventually hired to coach the team's outside linebackers by then coach Sparky Woods after spending a few days visiting with the staff.
During those early days with VMI, Hamilton lived with Robbins and talked football all day long.
"He's a big-time coach and that's not just because he's a friend, he has it all," Robbins said. "Certain guys get it, and he's just one of those guys. He's going to bring the juice. He's a very passionate guy. Unbelievable communicator and teacher."
---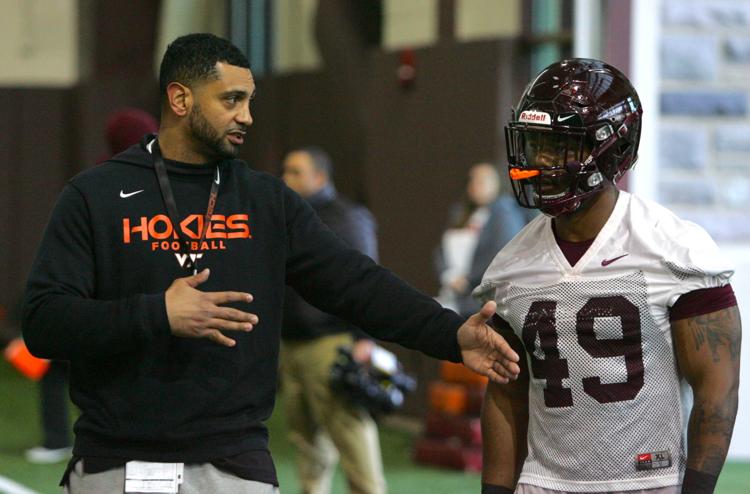 When VMI coach Scott Wachenheim was hired in 2015 to replace Woods, he met with the staff individually to see if he would retain any of the assistant coaches. Hamilton and Robbins were the only two coaches Wachenheim kept from Woods' staff.
"It became clear within 30 minutes I knew I was going to hire him," Wachenheim said of Hamilton.
Wachenheim added co-special teams coordinator to Hamilton's plate as well, a position that Hamilton was well-groomed for having played under Frank Beamer, who was known for his emphasis on special teams.
"He really just got those guys to play really hard, his units always did a really good job," Robbins said. "Special teams are always really hard at a school like VMI from a talent perspective."
One of Wachenheim's most vivid memories of Hamilton is the way he could command the locker room. Wachenheim used any excuse he could get to have Hamilton address the team, and Robbins remembered those moments as well.
"He's a fiery guy," Robbins said. "In pregame meetings he would get everybody's hair standing up. He has that edge about him."
While some Virginia Tech fans are concerned over Hamilton's lack of experience — 2019 was his only year as a position coach at the FBS level — that isn't a concern his peers shared.
"There's noise out there, but there's no doubt in my mind he's going to do a great job," Robbins said. "He made his break. Coach Fuente got to see him work everyday for two years and coach Foster did too, and great coaches know great coaches."
Wachenheim sees Hamilton as a coach that "checks all the boxes" from his talent as a recruiter to his experience playing in the NFL to his familiarity with Bud Foster's system and terminology.
Plus, Wachenheim didn't discount the experience Hamilton got as a coordinator at UVA-Wise. It is a Division II school, but it still gave Hamilton the hands-on experience of running a defense and calling plays.
"You know there are a lot of young offensive coordinators out there," Wachenheim said. "Lot less on the defensive side, but at least he has that experience."
And the most important seal of approval Hamilton needs will be from his players, something Wachenheim knows he's likely to get.
"Players want to know that you know your stuff, there's no doubt that Justin knows his football," Wachenheim said. "The second thing they want to know is can you make me a better player? Justin quickly sees where he can help his guys and lastly, I think the most important factor, is that players want to know you care. Justin cares."
"I think next to his wife and kids, he loves his players next on that list. That's how he does it."
---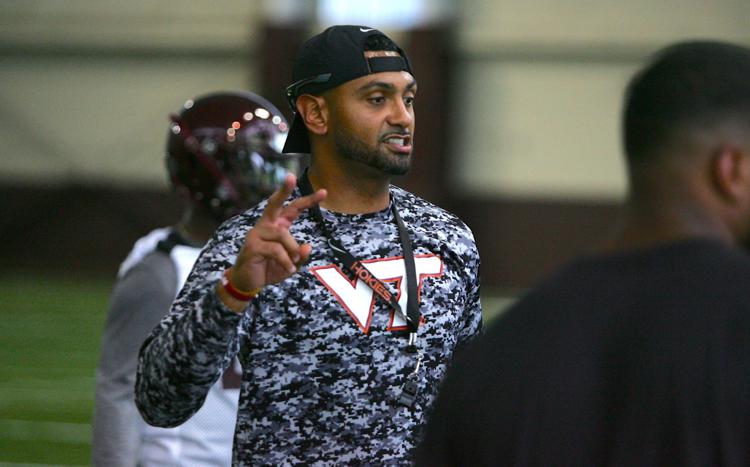 This is special, this is huge
Former Virginia Tech defensive lineman Darryl Tapp still had a smile on his face a few hours after hearing the news that his former teammate was taking the reins of the lunch pail defense.
"He's been given the keys to one of the best cars out there," Tapp said.
The two have been "tied at the hip" in Hokies' lore thanks to the play they made together in the 2002 Commonwealth Cup. Then redshirt freshman Hamilton blocked a punt at midfield with Virginia Tech trailing 3-0. Tapp, who was a year younger, scooped up the ball and ran it back for a touchdown.
"That was probably one of the biggest plays I made during my time," Tapp said.
A common refrain of Hamilton's former coaches and teammates is that he was a "coach on the field" type of player. Tapp agrees with that sentiment, but that isn't the only reason he envisioned Hamilton having success on the sidelines. It had more to do with Hamilton's attitude than X's and O's.
"He played about 15 positions when we were at school together in four years," Tapp said. "He was a wideout, running back, safety, cornerback, rover, got the water (laughs), he did everything possible to help our team win. He didn't have a selfish bone in his body. He wanted to see the brotherhood do well and prosper."
That's why Tapp is so excited about Virginia Tech promoting Hamilton to replace their mentor.
"Coach Foster raised us, the defense would take care of stuff in-house, work our tails off for our brother, keep each other accountable," Tapp said. "It's pretty cool to see coach Fuente respect coach Foster enough to hire one of his former pupils. This is special, this is huge."
But Tapp made sure to point out that Hamilton's qualifications go well beyond just being a Hokies alum.
"He had to put himself in a position where they trusted him," Tapp said. "He came in and worked his tail off. He worked himself into this opportunity, it wasn't just given to him."
Tapp got into coaching in 2018 after a 12-year career in the NFL. He spent the 2019 season as a quality control coach for Vanderbilt's defense. He spoke with Hamilton when he was in Blacksburg for his induction into the Tech hall of fame before last year's Miami game.
They also spent some time together when Tapp attended the spring game earlier that year.
What advice would Tapp give to Hamilton on his next visit? The former Hokies defender didn't need to think all that hard to come up with an answer.
"You can't replace coach Foster, it's an impossible feat," Tapp said. "The best thing he can do is take all that teaching coach Foster has given him and blend that with his beliefs and coach Fuente's and make the defense his own."
Mike Niziolek is the Virginia Tech football beat writer for The Roanoke Times. Follow him on Facebook and Twitter.
Be the first to know
Get local news delivered to your inbox!