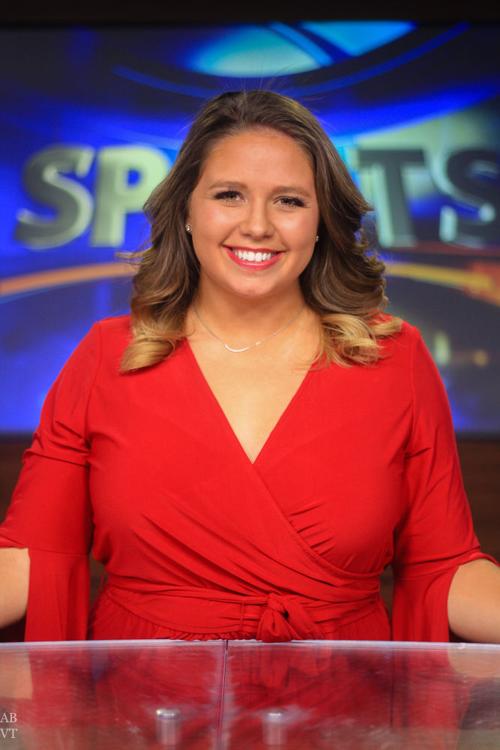 Brooke Leonard is back in town — and back under her parents' roof.
Leonard, a Lord Botetourt High School and Virginia Tech graduate, has been hired as a sports reporter by WSLS-TV (Channel 10). She began her new job earlier this month.
"I'm super happy to be back," Leonard, 22, said in a phone interview this week. "It's extremely humbling that they wanted me … because I am young and I have so much to learn."
Leonard, who graduated from Virginia Tech last year, had been working since last summer as the weekend sports anchor at KZBK-TV in Bozeman, Montana.
"My parents of course are very happy that I'm not all the way across the country now," she said.
Leonard has moved back into her parents' Daleville home.
"I unfortunately didn't save any money in Montana," she said with a laugh.
She has moved from the No. 185 TV market in the country to the No. 68 market.
"It was really hard to leave where I was before, but you couldn't pass up an opportunity to get closer to home and closer to family," she said. "I just wish Montana was one state over. … I was skiing every day out there."
WSLS is not the first Roanoke TV station Leonard has worked for. She was a part-time sports reporter for Fox affiliate WFXR while she was a Virginia Tech student.
Leonard began at WFXR as a summer intern in 2016. WFXR then hired her as a part-time production assistant. During her senior year, WFXR put her on the air as a sports reporter.
WSLS had an opening in its three-person sports department because weekend sports anchor Alyssa Rae has left the NBC affiliate.
Eric Johnson, who had been the station's sports reporter, has been promoted to weekend sports anchor to succeed Rae.
"He's worked hard to put himself into that position and when it became available, it was very easy for us to make that decision," WSLS news director Rick Moll said.
Moll said it was Rae's choice to leave. Rae, a Hidden Valley High School and Virginia Tech graduate, had been at WSLS since 2015. She had come to the end of her contract.
"She decided … it was an opportunity to look for some other endeavors," Moll said. "We loved everything she did. … We definitely wanted her to stay."
WGMN-AM 1240 in Roanoke has traded in Stephen A. Smith for Brian Kilmeade.
WGMN, which has been an ESPN Radio affiliate since 1998, dropped ESPN this month and switched to a news talk format.
"I just think there's a larger available audience in Roanoke for talk radio … than there is for sports radio," said Gary Burns, who has owned WGMN since 2006.
WGMN had aired such ESPN Radio hosts as Smith, Mike Golic and Dan Le Batard. But Burns said WGMN's ratings had gone down since two other Roanoke stations added sports programming.
Wheeler Broadcasting president Leonard Wheeler switched WPLY-AM 610 to an all-sports format in 2016. That station airs Dan Patrick's show, plus Fox Sports Radio hosts such as Rich Eisen and Colin Cowherd.
"When Leonard entered the arena, he watered it down," Burns said.
WFJX-AM 910 airs news talk shows on weekdays but has been carrying CBS Sports Radio shows in the evening since 2016. WFJX also carries the Atlanta Braves, the Dallas Cowboys and Compass Media college football and basketball games.
Burns said there have been a few complaints from listeners who were not happy that WGMN has replaced sports talk with political talk.
The new WGMN syndicated lineup includes Kilmeade, who cohosts the TV show "Fox and Friends" on the Fox News Channel in the early mornings and who has a radio show from 9 a.m. to noon; the team of Jamie Markley and David Van Camp from noon to 3 p.m.; and Tom Sullivan from 3-6 p.m. The rest of the lineup also features talk.
"We're right of center, but we're not so far right we're in the glove compartment," Burns said.
Burns had also been airing ESPN Radio on four other stations he owns — WVGM-AM 1320/93.3 FM in Lynchburg; WBLT-AM 1350 in Bedford; and WMNA-AM 730 in Gretna.
He has switched his Lynchburg stations to CBS Sports Radio, figuring the sports radio market is not diluted in that city.
His Bedford station is simulcasting the WGMN lineup.
Ed Lane, who had a local sports talk show on weekday afternoons on the five stations, can still be heard on the Lynchburg and Gretna stations. But Burns has taken him off the Roanoke and Bedford stations because of those stations' format changes.
WGMN will continue to air Salem Red Sox games; Westwood One and Compass Media NFL games; and Liberty University's weekly coaches show.
But Burns said he is "more comfortable in news talk than I am in sports."
He had grown less enamored with ESPN Radio in recent years, especially after Cowherd left ESPN for Fox Sports Radio and after Mike Greenberg left ESPN Radio to start the TV show "Get Up" on ESPN.
"They didn't retain their stars any longer," Burns said. "They were more interested in getting people to listen to their app … than really supporting the local radio stations.
"ESPN, they're not so much a radio company as they are a television company."