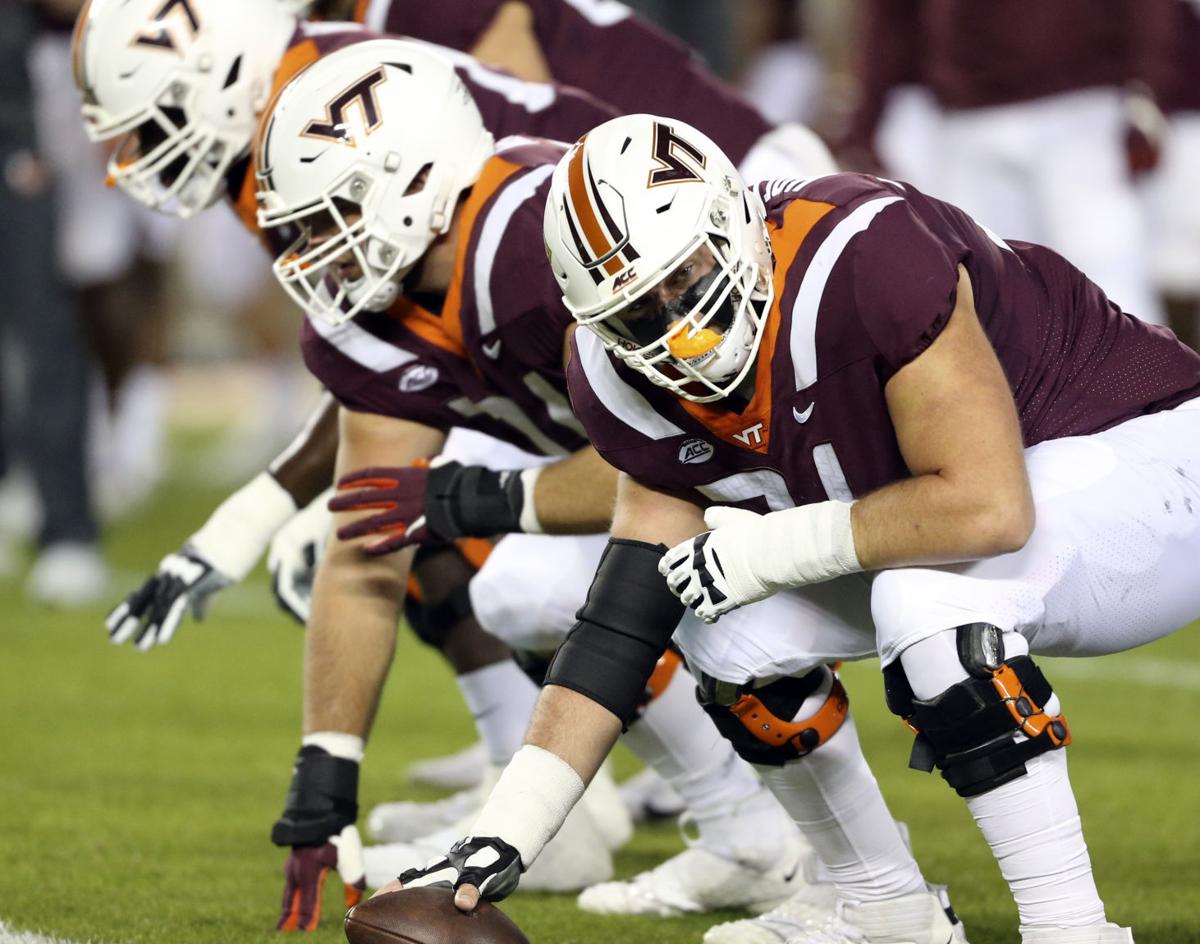 BLACKSBURG — Virginia Tech is tentatively set to open spring camp sometime in March. The Roanoke Times is taking a look at the Hokies roster position by position before they get back to work.
Here's a look at Virginia Tech's offensive line…
---
Departing (6): Doug Nester (transfer), Bryan Hudson (transfer), T.J. Jackson (transfer), Austin Cannon, Zachariah Hoyt, Tyrell Smith
Returning (7): Lecitus Smith (R-Jr), Silas Dzansi (R-Jr), Brock Hoffman (R-Jr), Luke Tenuta (R-Soph), Jesse Hanson (R-Fr), Parker Clements (Fr), Kaden Moore (Fr)
Early enrollees (2): Johnny Jordan (grad), Danijel Miletic
Fall enrollees (1): Bryce Goodner
* Virginia Tech has kept all returning players at the same year they were last year after NCAA granted every fall student-athlete an extra year of eligibility
---
This would have been the easiest position to project if Doug Nester and Bryan Hudson didn't transfer. Offensive line coach Vance Vice would have a ready-made starting five with only the tackle position to sort out.
Nester's departure was a tough one for Tech considering his untapped potential at tackle — he was primarily used as a guard the last two years — and with him landing at West Virginia, a team on the Hokies' schedule this fall.
Tech still has plenty of experience on the roster with Luke Tenuta, Brock Hoffman, Lecitus Smith and Silas Dzansi all coming back. The Hokies added Maryland center Johnny Jordan out of the transfer portal to give them an additional accomplished lineman on the interior.
Johnson could end up at starting with Hoffman moving to guard, but they will get reps at both positions. Tenuta will probably get reps at tackle on both sides of the line as well initially.
---
That open tackle spot looms large.
Tech lineman Silas Dzansi has played tackle on both sides of the line — 12 of his 17 career starts have come at tackle (10 at right tackle) — but the coaching staff could prefer to go a little younger at the spot.
The Hokies will have three underclassmen — Parker Clements, Derrell Bailey and Danijel Miletic — all getting reps at tackle. The 6-foot-7, 292 pound Clements didn't play as a true freshman, but the coaching staff is excited about his progress.
While he didn't get to participate in spring practice last year because of the pandemic, he did go through a portion of the offseason conditioning program as an early enrollee.
"He's talented, long, athletic and really, really smart," offensive coordinator Brad Cornelsen said. "He's got a little bit of toughness and nasty edge about him that you like up there."
Clement's athleticism is one of the reasons Tech targeted him. He played tight end as an underclassman and also played baseball for Lugoff-Elgin in South Carolina.
Bailey and Miletic might not be able to crack the two-deep this year, but both are intriguing prospects. Tech's coaching staff asked Bailey to switch over from the defense, and those decisions aren't taken lightly.
Miletic might have gone under the radar as a recruit — he was an international prospect out of Germany — but longtime NFL offensive coach Paul Alexander who worked with him overseas thought he was good enough to play at Clemson or Notre Dame.
---
This could be a special season for Tenuta.
Tech hired Tenuta's father Jon as senior defensive analyst in February. They will get to spend the season in Blacksburg together with Luke the obvious candidate to take over for Christian Darrisaw.
Coach Justin Fuente said he wants Tech to be the best program in the country at developing players. Developing two straight starting left tackles — that both signed with the Hokies out of high school — into first or second day draft picks would be a strong step in that direction. The coaching staff believes he's up to the task.
---
Tenuta, Hoffman and Smith could all be generating draft buzz next year at this time. If Tenuta thrives at left tackle he could find himself in a similar spot as former teammate Christian Darrisaw.
That trio gives Tech a strong foundation for 2021 especially if they can stay healthy, and the Hokies have been pretty lucky on the offensive line in recent years keeping their guys healthy.
There will be lingering questions about Tech's depth, but adding another lineman or two out of the transfer sometime before August would solve that.
---