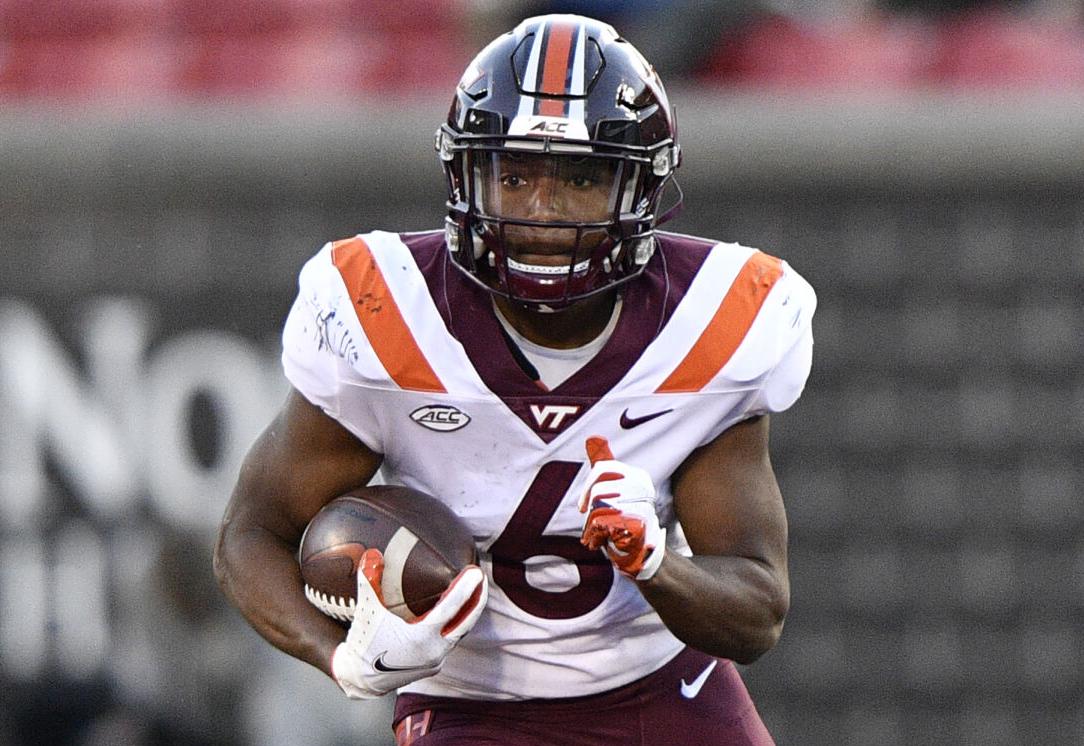 BLACKSBURG — Virginia Tech is tentatively set to open spring camp sometime in March. The Roanoke Times is taking a look at the Hokies roster position by position before they get back to work.
Here's a look at Virginia Tech's running backs…
---
Departing (1): Khalil Herbert
Returning (8): Terius Wheatley (R-Jr), Marco Lee (Jr), Jalen Holston (R-Jr), Keshawn King (Soph), Raheem Blackshear (R-Jr), Tahj Gary (R-Fr), Jalen Hampton (Fr), Jordan Brunson (Fr)
Early enrollees (0): N/A
Fall enrollees (4): Chance Black, Kenji Christian, Elijah Howard, Malachi Thomas
* Virginia Tech has kept all returning players at the same year they were last year after NCAA granted every fall student-athlete an extra year of eligibility
---
Virginia Tech running back Khalil Herbert left big shoes to fill after rushing for 1,182 yards and eight touchdowns in his lone season with the team. The Kansas transfer ranked eighth among all FBS backs with 7.7 yards per carry. He was the most successful running back in Blacksburg since David Wilson nearly a decade earlier.
The good news for the Hokies is that they won't be lacking for options in trying to replace him.
Tech has eight scholarship running backs on campus for spring camp and four more will enroll in May. Jalen Holston and Raheem Blackshear are the early frontrunners, but there is a long way to go until the season-opener against UNC in early September.
Holston waited patiently for an opportunity last fall and impressed coaches with the way he ran the ball late in the year. He had 40 carries for 189 yards on the season, but 33 of those attempts came during the final four weeks of the season with a particularly notable performance against Miami.
The bulk of Tech's remaining experience at the position comes from Blackshear. He had 409 yards (255 rushing) with 86 touches (68 carries) last fall. He split time between running back and slot, but by the end of the season was primarily working as a wideout thanks to injuries at the receiver position.
Blackshear wasn't the central figure in Tech's offense that the coaching staff expected him to be when they landed him out of the transfer portal. He got off to a slow start after being sidelined from COVID-19 protocols in September and a hamstring injury after the opener.
Tech coaches are excited about Blackshear's versatility and remain optimistic they can better take advantage of his skill set this fall.
---
Can Keshawn King break through the pack? King flashed his explosiveness as a true freshman. He had 494 yards (340 rushing) with a pair of touchdowns including three plays of 40-plus yards.
As a sophomore, he was a non-factor on offense. Fuente was pleased with King's contributions on special teams, but admitted the running back had an "up and down year" overall. Cornelsen was asked about the running back competition in December and described King as someone who could provide a huge spark to the team if he can take the next step.
The rest of the backs are even more of an unknown quantity. Marco Lee had three carries last fall while Tahj Gary's four career carries all came in 2019. Jalen Hampton and Jordan Brunson didn't take any offensive snaps as freshmen.
---
It would be easy to make an argument for Holston, Blackshear, King or Lee to be the center of attention this spring.
Blackshear has clear NFL aspirations and is the type of all-purpose player that most teams covet; Holston returned to form less than a year removed from suffering a season-ending leg injury in 2019; King has the explosiveness that Herbert so often brought to the field and Lee cuts an impressive figure in the weight room, but is waiting for a chance to really show what he can do at the FBS level.
If forced to pick one, Holston might get the slight edge for paying his dues, battling through various injuries and being from all-accounts a standout teammate and hard worker.
---
Tech has produced mixed results at running back under Fuente before Herbert's success, but this year will give second-year running backs coach Adam Lechtenberg an opportunity to put his stamp on the team.
The Hokies have way too many running backs on their roster to give each one a fair share of carries in practice, so it will be up to Lechtenberg to narrow the competition down to make things manageable this spring and get a better look at their top options.
If a clear leader doesn't emerge over the next six months Lechtenberg might have to go back to a running back by committee approach with the competition spilling into the season.
---