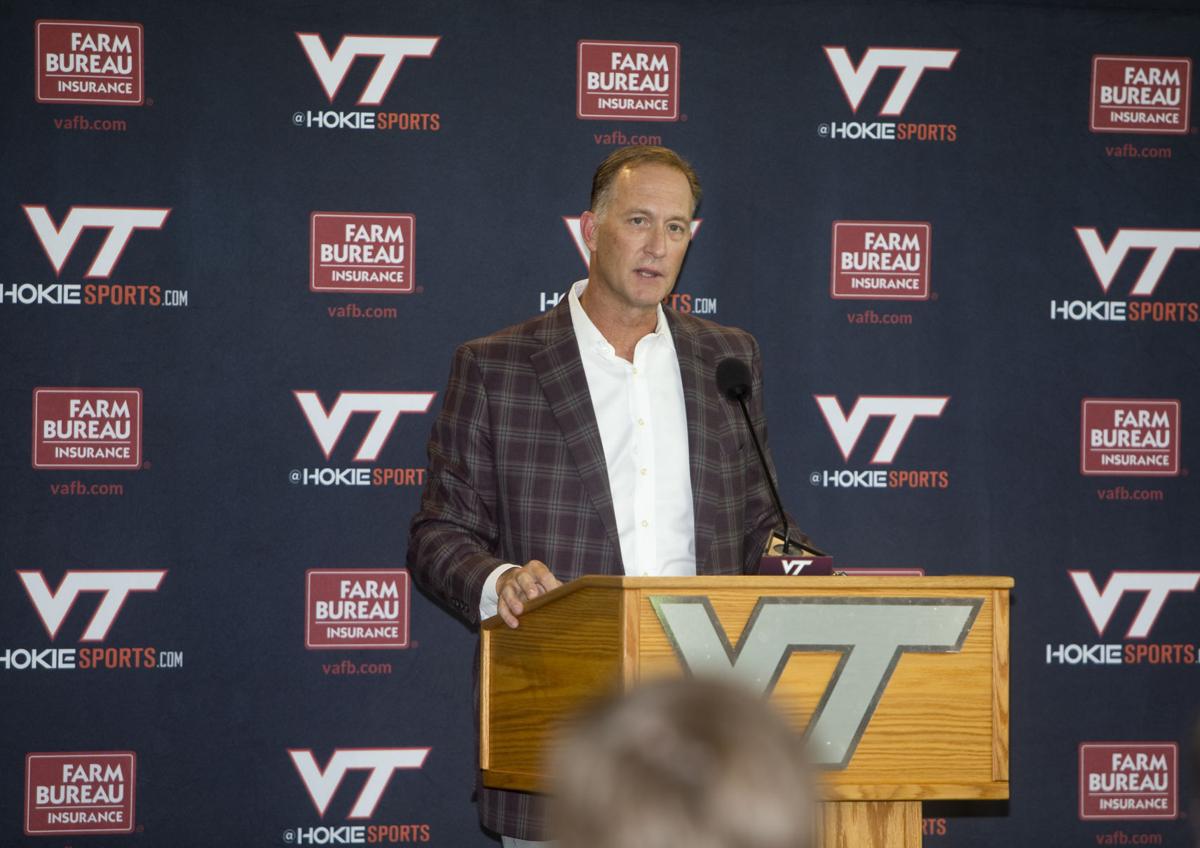 BLACKSBURG — Virginia Tech athletic director Whit Babcock said earlier this year that the "financial shoe will drop" from the COVID-19 pandemic before the year was out.
It dropped on Thursday with Tech announcing a series of cost-saving measures to trim $15 million from the athletic department's budget by June 30.
Those measures include a 10% salary reduction for employees making $115,000 or more beginning for 2021 (and a sliding scale for individuals making more than $40,000) and what a news release described as "operational reductions."
According to a Tech spokesperson, the university's human resources department prevents the school from releasing a specific number of individuals impacted by layoffs.
"No collegiate athletics department has been spared from the harsh financial reality of revenue shortfalls directly attributable to COVID-19," Babcock said in the release. "At Virginia Tech, home football and basketball games, especially, are significant sources of revenue and support all of our varsity sports programs. Although we've had to make some very difficult decisions, we are more fortunate than others in being able to keep our commitment to all varsity athletics programs and our student-athletes."
The university allowed only 1,000 fans to attend each of the first four games to comply with the state's COVID-19 restrictions on outdoor gatherings and most of those tickets went to the families of coaches and student-athletes.
Since the last home game, Gov. Ralph Northam has lowered the number of individuals allowed at sporting events to 250 people.
At Tech's most recent board of visitors meeting, the athletic department showed an adjusted annual budget for 2020-21 that indicated an $18.6 million shortfall. The university has lost upward of $60 million.
"We're all in this together," Babcock said. "We worked hard to develop a plan that was equitable across the board while protecting as many employees as possible in lower compensation brackets. Importantly, no individual making $40,000 or less will be impacted by our salary reduction plans."
Virginia Tech has lost upwards of $60 million since the onset of the coronavirus pandemic, mostly due to losses in dining and housing revenue.
Tech has taken what it describes as "proactive" steps to reduce expenses this year by making unspecified operational cuts and reductions in overtime. The release announcing the financial measures also notes that some employees have voluntarily given up car stipends and performance bonuses.
"We deeply appreciate the leadership of President [Tim] Sands and his team, the Board of Visitors, as well as our Tech Athletics staff, for their willingness to help us manage through this unprecedented situation," he continued. "We're also incredibly grateful for our Hokie Club donors and others who have generously continued to support Tech Athletics throughout a challenging 2020. We have asked many others to sacrifice, and we too must do our part."