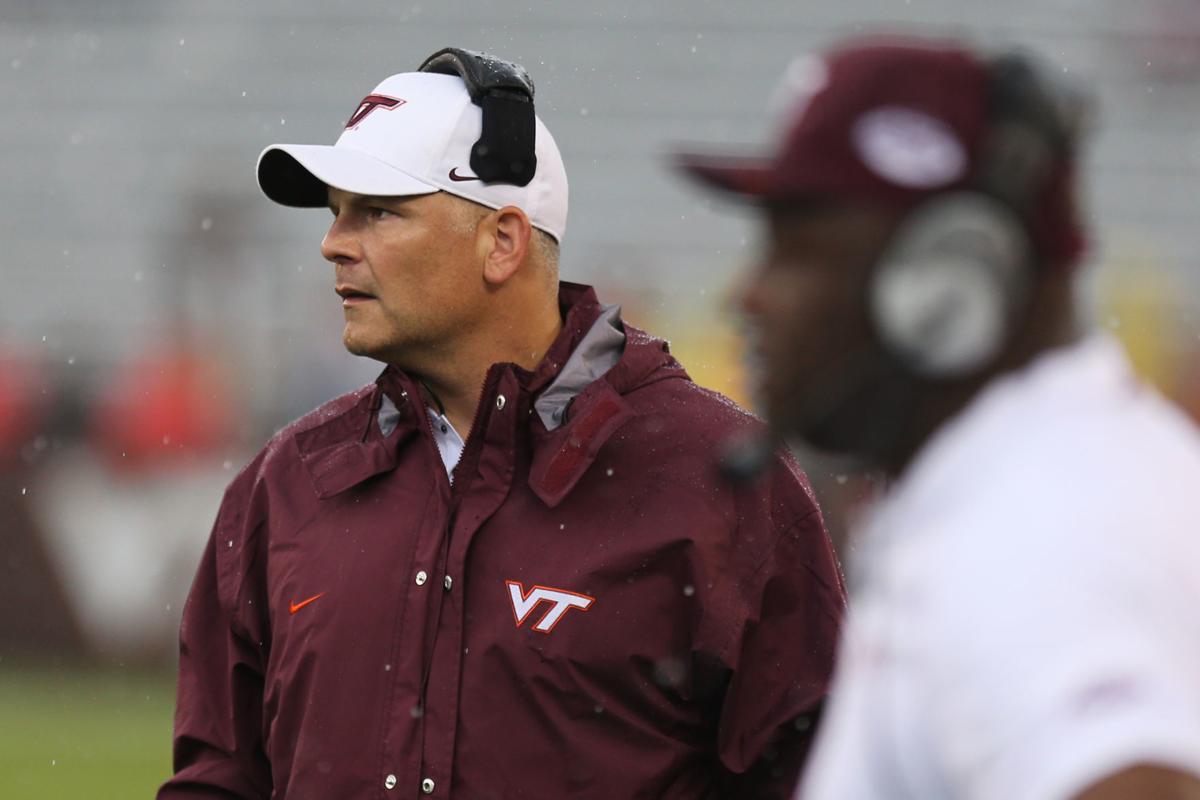 BLACKSBURG — Virginia Tech coach Justin Fuente has traditionally taken a hard line on disciplinary matters during his tenure for student-athletes facing serious criminal charges.
That's why news of Devon Hunter's reinstatement in early June surprised Hokie fans.
The strangulation charge was a felony punishable with "a term of imprisonment of not less than one year nor more than five years." The felony charge triggered an automatic suspension under Tech's student-athlete code of conduct.
"There's the legal part, there's the university, there's his eligibility then there's coach Fuente," Fuente said, of the process.
Fuente spoke about allowing Hunter back on the team for the first time in a sit down interview with The Roanoke Times on Monday.
"In my time here, people that have been involved in issues, serious issues, we've made a pretty clear stance," Fuente said. "If I'm not mistaken, he's the only one we've left the door open to return and that's because of what I've seen from him every day since he's been here."
Under the terms of Hunter's plea deal, he was sentenced to 24 months jail time — that was suspended to one day on each charge — and two years probation supervised by New River Community Corrections.
If he violates his probation or faces other charges during that time, that suspended sentence could be revoked.
The female victim was never identified, and the only known details of the case came from a brief description Hunter offered to police that was included in court documents related to his bail determination.
"I was at a friends [sic] home, she was upset already, she came and I began banging on door, she went back to car, I went to see what's up, and she became mad, hitting me, I tried to stop her, kicked me in groaning [sic], I tried to get her back into car, tried to pepper spray, and that when I walked away and she continued for 30 min to yell and scream why I did this to her."
Fuente became familiar enough with the details of the case while Hunter was suspended to feel comfortable approving his return to the team.
"Certainly I play some role in trying to have some understanding of what was going on," Fuente said. "I've had a long time, this guy has been basically gone for a year to come to grips with it and play the scenario out — if all these hurdles are cleared, what am I going to do? I'm certainly not justifying anybody's poor behavior, but in my estimation this young man paid a severe price and was ready to move forward with his life."
Fuente was open about his decision-making process with the rest of the team when he told them that Hunter was being allowed to return. Hunter's teammates were supportive of the decision, and many voiced that support on social media when the news was announced in June.
The next step for Hunter will be determining where he will line up in a couple weeks when fall camp starts. The coaching staff regrouped on Monday after spending much of July on vacation. There will be staff meetings in the next two weeks where those decisions will get made.
"We haven't even gone down that road," Fuente said. "We are just trying to get him back here and get him in shape, and see if he can pick up the defense since it's different than when he was here before. We will see how it goes. He's definitely been active at home, he's done a good job."
The defender played on special teams as a true freshman, but the Hokies struggled to find a spot where he could get extended playing time his first two years on campus. They tried him out at free safety in 2018, but he decided to redshirt after four games.
Hunter settled in at boundary safety behind Reggie Floyd during the ensuing offseason and was expected to be the team's starter last fall before he was suspended. Illinois State transfer Devin Taylor ended up at the spot in 2020 and split reps with the first team defense during spring camp alongside Vanderbilt transfer Tae Daley.