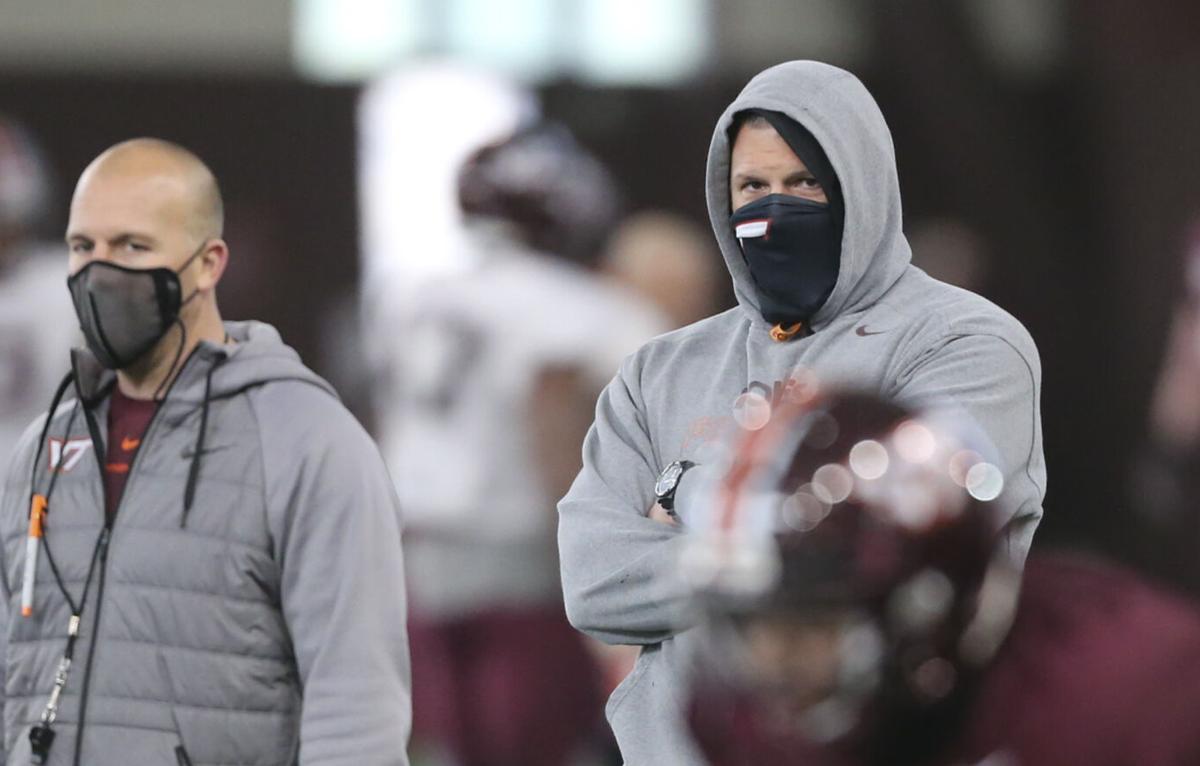 BLACKSBURG — Virginia Tech coach Justin Fuente told reporters at the end of spring camp he would like to give his coaching staff some time off.
The NCAA Division I Council voted to end the dead period that's been in place since the start of the COVID-19 pandemic starting on June 1. The dead period prevented collegiate coaching staffs from all in-person recruiting.
For FBS football programs, there will be a quiet period from June 1 to June 27. Teams will be allowed to host camps and on-campus visits. There was a waiver approved that will also allow teams on-campus evaluations during unofficial visits.
Tech was tentatively scheduling official visits for the first three weekends of June in anticipation of the ruling and announced eight camp dates as well.
"It's going to be the most absurd June in the history of college football," Fuente said, in a phone interview last week with The Roanoke Times.
Tech's roster will report back to campus at the end of May — that will include the rest of team's 2021 signing class — for the team's summer conditioning program, but the coaching staff's focus will be on recruiting.
"There's not going to be anything else," Fuente said, with a laugh. "There's not going to be time for anything else."
Fuente anticipates he will need to have recruiting staff on "standby" throughout June to handle unexpected unofficial visitors. Tech's recruiting staff is already hard at work on all the logistical hurdles from COVID-19 restrictions to ensuring they have the right number of fields ready to accommodate campers.
It will be an important stretch for a Tech staff that views in-person evaluations as a critical part of the recruiting process.
"I get concerned about the evaluation part," Fuente said, in November on the possibility of the dead period lasting through the summer. "...With all the things that are coming down, the evaluation part is going to be an incredibly important part of knowing their character, their work ethic...There's only so much you can see on film."
Tech has five verbal commits for 2022 including quarterbacks Alex Orji and Devin Ferrell, offensive lineman Johnny Dickson, tight end Harrison Saint Germain and offensive lineman Braelin Moore.
Orji, a three-star dual threat quarterback out of Sachse High School in Texas, is the highest-ranked recruit of the bunch. According to 247 Sports composite rankings, he's ranked No. 421 nationally.
Moore is the younger brother of 2020 signee Kaden Moore out of Freedom High School in Pennsylvania. Germain is the lone in-state recruit of those verbal commits.
Moore is among the players that have scheduled official visits for June.
Some four-star recruits that have announced their plans to visit Blacksburg are defensive end Bryson Jennings, cornerback Cam Miller, receiver Greg Gaines and running back Ramon Brown. Jennings and Miller are planning a visit on the weekend of June 4, Gaines will be on campus the following week and Brown hasn't announced a date for his visit.
Tech will continue to cast a wide net for the class since the coaching staff isn't quite sure how big it will end up being. The Hokies only have eight seniors on the roster, which would normally indicate a smaller class, but the NCAA's decision giving all fall athletes an extra year of eligibility means the 19 juniors on the roster (11 redshirt) are all seniors academically.
The NCAA approved a one-time transfer rule earlier this month that could increase the roster turnover even further.