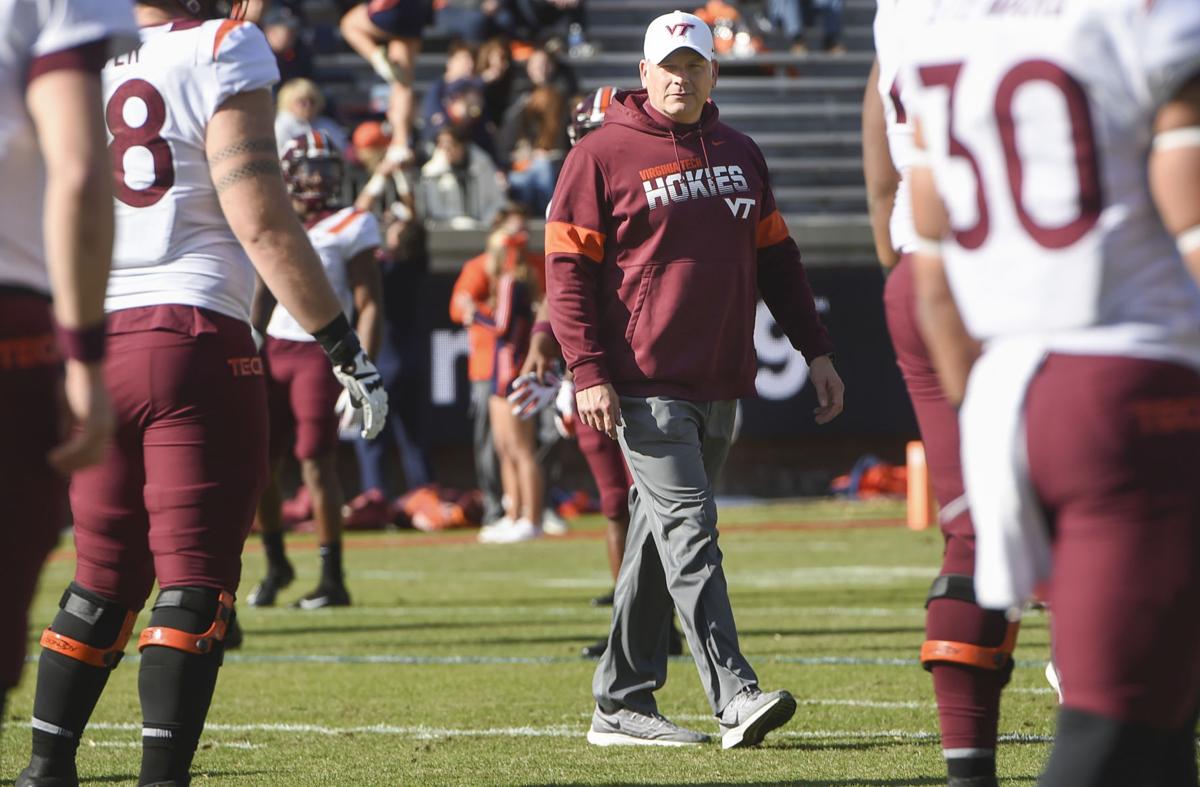 Throw out those 2020 Virginia Tech football schedules.
Same goes for the Virginia Cavaliers.
The ACC announced on Wednesday a new scheduling model for the 2020 season that consists of 11 games — including an unprecedented 10 conference games. The league, which made these changes due to concerns related to the coronavirus pandemic, will begin play the week of Sept. 7-12.
Each team will also be permitted one nonconference game that must be played within the home state of the ACC school.
And there's one other twist: Notre Dame will also play a 10-game ACC schedule this season and be eligible for the conference championship game.
All 15 members will be thrown in one division, with the top two teams based on conference winning percentage facing off in the ACC Championship game, which will be held on December 12 or 19 at Bank of America Stadium in Charlotte.
In a press release sent out Wednesday afternoon, the ACC said the scheduling model came out of discussions over the last several months between member schools and the league's COVID-19 medical advisory group.
"The Board's decision presents a path, if public health guidance allows, to move forward with competition," ACC Commissioner John Swofford said. "Our institutions are committed to taking the necessary measures to facilitate the return in a safe and responsible manner. We recognize that we may need to be nimble and make adjustments in the future. We will be as prepared as possible should that need arise."
Virginia Tech's athletic department released a brief statement Wednesday, but declined to make athletic director Whit Babcock or head football coach Justin Fuente available to answer questions. Babcock has declined multiple requests to discuss the impact of the COVID-19 on the athletic department and the upcoming fall season going back to a brief virtual press conference in early April.
"We support the ACC's decision to proceed with a planned 10+1 model for the 2020 football season, as well as the plan for other fall sports," the statement said. "We will continue to follow standards established by the State of Virginia, Virginia Tech and Montgomery County public health officials as we continue our preparations."
Virginia Tech is now scheduled to play home games against Boston College, Clemson, Miami, N.C. State and Virginia and road games against Duke, Louisville, North Carolina, Pittsburgh and Wake Forest. The Hokies' original 2020 conference schedule included Coastal Division rival Georgia Tech at Lane Stadium, which has been eliminated. The N.C. State and Clemson games are new.
The dates and times will be determined later. The games will be played over a 13-week period, with each team having two open dates.
Virginia Tech's original 2020 schedule included nonconference home games with Liberty, North Alabama and Penn State, with a road game at Middle Tennessee State. The Penn State game was canceled in early July when the Big Ten announced it was moving to a conference-only schedule for the 2020 season.
Middle Tennessee was scheduled to play at Duke on Sept. 5 in the season-opener and host Tech on Sept. 19. Neither school gave the Blue Raiders any advanced notice of the ACC's decision on Wednesday.
While the timing of the announcement came as a surprise, the school had been planning for the possibility of losing the games in recent months given the "unprecedented" nature of the situation.
"This was one of many scenarios we have gone through concerning our schedule, and I hope to have more clarity in the near future as this news was just released," Middle Tennessee athletic director Chris Massaro said in a statement. "Unfortunately, this is not very surprising, but is disappointing as our players and fans look forward to games like these."
An athletic department spokesperson for Liberty told The Roanoke Times on Wednesday that the Flames were hoping to keep the game against Virginia Tech along with two other ACC matchups with Syracuse and N.C. State.
"We are still talking to the administration with all three ACC schools we were scheduled to play about rescheduling those games," the spokesperson said. "The one thing we know for certain is that we won't play Virginia Tech on Sept. 5 — that's not within the parameters of their league — but as of right now the other two are on the current schedule. We are still talking about those games being played in 2020."
Liberty athletic director Ian McCaw has previously stated that the Flams still hope to play a 12-game schedule.
Virginia Tech's players are currently on campus, going through walk-throughs and meetings, with fall camp expected to officially start the week of Aug. 9. Players started coming back to campus in June for voluntary workouts.
Mike Niziolek is the Virginia Tech football beat writer for The Roanoke Times. Follow him on Facebook and Twitter.
Be the first to know
Get local news delivered to your inbox!