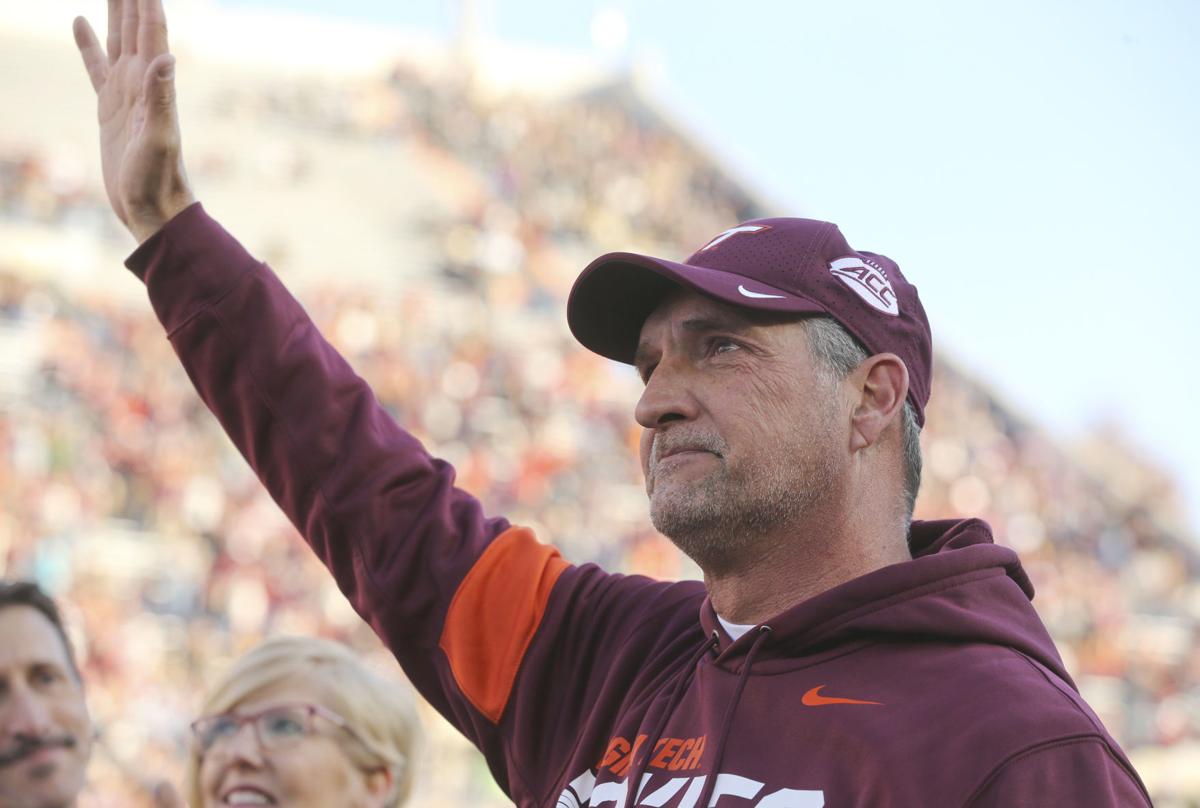 BLACKSBURG — Virginia Tech made the #ForBud hashtag a reality on Saturday.
The Hokies turned their ACC football game against No. 22 Wake Forest into a dominating 36-17 win thanks to a throwback performance by the Lunch Pail Defense and Hendon Hooker's welcomed return to the lineup.
It also ended an eight-game losing streak to ranked opponents at Lane Stadium, dating back to 2009.
Longtime defensive coordinator Bud Foster, who is retiring at the end of the season, was honored in a pregame ceremony surrounded by family and a handful of Tech luminaries, including former head coach Frank Beamer, current head coach Justin Fuente and athletic director Whit Babcock.
Foster couldn't hold back the tears as a sold-out crowd chanted his name and a banner was revealed in his honor.
"It was just a proud moment, but I'm real, real happy that we won the game," Foster said with a smile. "That's the most important thing. That was the key. I'm really proud of our kids how they came back after a really gut-wrenching, tough loss from a week ago. They showed a lot of perseverance in their approach all week, ... and we beat a really talented, particularly offensive, football team today."
Foster couldn't spend much time enjoying the moment. The Demon Deacons brought one of the top offenses in the country to town.
But it was Virginia Tech that couldn't be stopped.
The Hokies had 470 yards of total offense, with Hooker accounting for 311 yards (242 passing) and a touchdown. He missed last week's game against Notre Dame with a leg injury, and the Hokies managed just 235 yards without him. That total was nearly reached by halftime on Saturday.
"Obviously you couldn't write a script any better in terms of honoring Coach Foster and his contributions to Virginia Tech and this program," Fuente said. "The kids on both sides of the ball played their hearts out. ... It was fun to be a part of."
The Hokies trailed 10-6 at the half. Freshman Tayvion Robinson got the offense rolling in the third quarter with a 33-yard punt return. That put the ball on Wake's 49-yard line.
The Hokies made quick work of the short field thanks to a 17-yard completion from Hooker to Tre Turner and a couple of quarterback runs. Deshawn McClease punched the ball in from the 2-yard line to give them a 13-10 lead with 11 minutes to go in the third.
Wake Forest briefly got in a groove early in the second half with quarterback Jamie Newman completing 4 of 5 passes for 56 yards on a quick scoring drive that ended with him hitting Sage Surratt for a 24-yard touchdown. Surratt's second score gave Wake a 17-13 lead with 8:59 to go in the third quarter.
Everything was a struggle for the Demon Deacons after that.
While Virginia Tech's offense scored points on four of their last six second-half possessions, Wake was shut out the rest of the way, as Newman was intercepted twice, the offense turned the ball over on downs once and three drives ended with punts.
Tech defensive tackle DaShawn Crawford came up with an interception with Wake backed up at its own 25-yard line. Hard-hitting safety Chamarri Conner sacked Newman for a 12-yard loss late in the quarter to force a punt with Wake at midfield.
Linebacker Dax Hollifield — one of the final high-profile defensive recruits Foster landed — put the finishing touches on the win with an interception at Wake's 7-yard line. TyJuan Garbutt got into the backfield and knocked Newman back as he let go of the ball.
Wake Forest came into the game averaging 38 points and 510 yards per game. The Deacons finished with a season-low 301 yards and 17 points. It was the first time an opposing defense had held them under 400 yards this season.
"I have guys grade their position who they play, and they had a lot of respect for these guys across the board up front," Foster said. "They have a lot of respect for them, obviously their skill positions are as good as anyone we've played."
Tech's strategy for slowing Wake down in the first half was pretty sound as well — the Hokies played keep-away.
Virginia Tech's offense ran more than nine minutes off the block on its opening drive. The Hokies picked up five first downs and ran 19 plays — the most on a single drive all season — to get down to Wake's 7-yard line. Hooker was 3 of 5 for 28 yards on the drive and ran the ball three times for 16 yards.
The Hokies then ran seven more minutes off the clock with a 13-play, 68-yard drive in the second quarter. However, they settled for Brian Johnson field goals on both of those drives.
Tech won the time of possession battle by more than 13 minutes in the half, but a pair of fumbles helped Wake Forest take a 10-6 lead into halftime. Terius Wheatley lost the ball at midfield after taking a short toss for a 50-yard gain. The Demon Deacons got a 40-yard field goal from Nick Sciba on their ensuing drive.
Another promising drive for the Hokies at the end of the half ended with Hooker fumbling at the 15-yard line.
"It was a part of the deal, a concerted effort," Fuente said of winning the time of possession battle. "It felt a little bit like the bowl game against Oklahoma State. …The offense is going to have to play a little bit of keep away. That doesn't mean you just run the ball into the line of scrimmage every play, but it was really important that offensively you convert on third downs, keep drives going, maybe go for it on fourth down a few times to keep the ball."
Wake Forest only managed 137 yards of total offense in the first half on 24 plays. Quarterback Jamie Newman was sacked twice (the line had given up 10 sacks all year coming into the game) and the Demon Deacons had two three-and-outs.
They scored on their only extended drive of the half thanks to a 45-yard catch by Kendall Hinton that set up Newman's 11-yard touchdown throw to Sage Surratt. The score gave Wake a 10-6 lead with 5:48 to go in the first half.