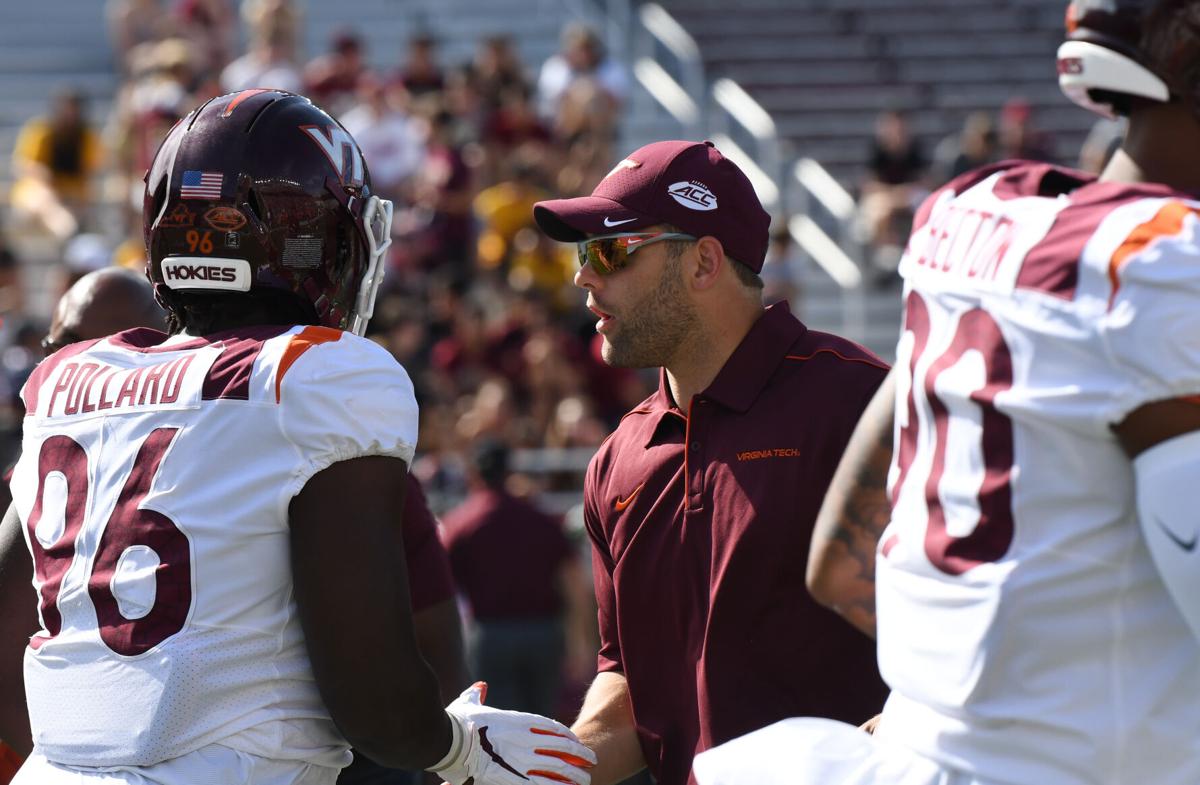 BLACKSBURG - Virginia Tech moved swiftly to replace linebackers coach Tracy Claeys.
The Hokies promoted Jack Tyler to the position just two hours after announcing Claeys was retiring. Tyler, a former Tech walk-on who went on to win All-ACC honors, spent the last two seasons as a defensive quality control coach.
"Jack Tyler has earned this opportunity to take on a larger role with our team as our linebackers coach," Virginia Tech coach Justin Fuente said in a statement. "Jack is a tireless worker who is passionate about the game and possesses a great love for Virginia Tech. During every step of his career, Jack has soaked up every ounce of knowledge about the game from his coaches and teammates."
"He's a very mature individual who has gained the trust and respect of our coaching staff and our players. I couldn't be more enthusiastic about the positive impact that I believe Jack will make in his new role with the Hokies."
Tyler got on-field coaching experience multiple times over the last two years. He helped coach the linebackers during preparation for the Belk Bowl in 2019.
Tech also had to rely on the extended staff to help coach practice this year for most of September as COVID-19 made its way through the defensive coaching staff in the fall. Tyler called plays along with Claeys in Week 2 against Duke with multiple coaches unable to make the trip.
He also got experience with recruiting when Bud Foster had knee surgery in 2018. 
"I'm beyond grateful to Coach Fuente for placing his faith in me," Tyler said, in a statement. "Even while I was still a student-athlete, my dream job was to someday coach the position I played at my alma mater. Virginia Tech has made such an unbelievable impact on my life and I really try to pay that forward every day."
According to a source with knowledge of the situation, Foster wasn't consulted about the vacancy, but Tyler certainly came with his blessing. It was Foster who helped bring Tyler back into the fold as a graduate assistant back in 2017.
"I'm just excited about him being a part of our program," Foster said, in 2018. "I like our former players being a part of the program, because they understand the expectations. They understand the work ethic. They understand the demands. And they can instill that to the kids. Sometimes as coaches, we grind and we push and we challenge kids and then all of a sudden you get a guy like Jack who sat in their shoes, and then he can make a statement when I walk out of the room that kind of catches their attention a little bit too."
Tyler is one of seven former Tech players on Fuente's staff including defensive coordinator Justin Hamilton, co-defensive line coach Darryl Tapp, director of player development Pierson Prioleau, assistant directors of player personnel Corey Fuller and Jeron Gouveia-Winslow and director of football strength and conditioning Ryan Shuman.
The former Tech linebacker signed with the Hokies coming out of Oakton High School in 2009. He was the Virginia Player of the Year as a senior. He played in 54 games and had 286 career tackles (124 solo) with 8.5 sacks and 32.5 tackles for a loss. He led Tech in tackles in 2012 and 2013. He was first-team All-ACC in 2012 and second-team All-ACC in 2013.