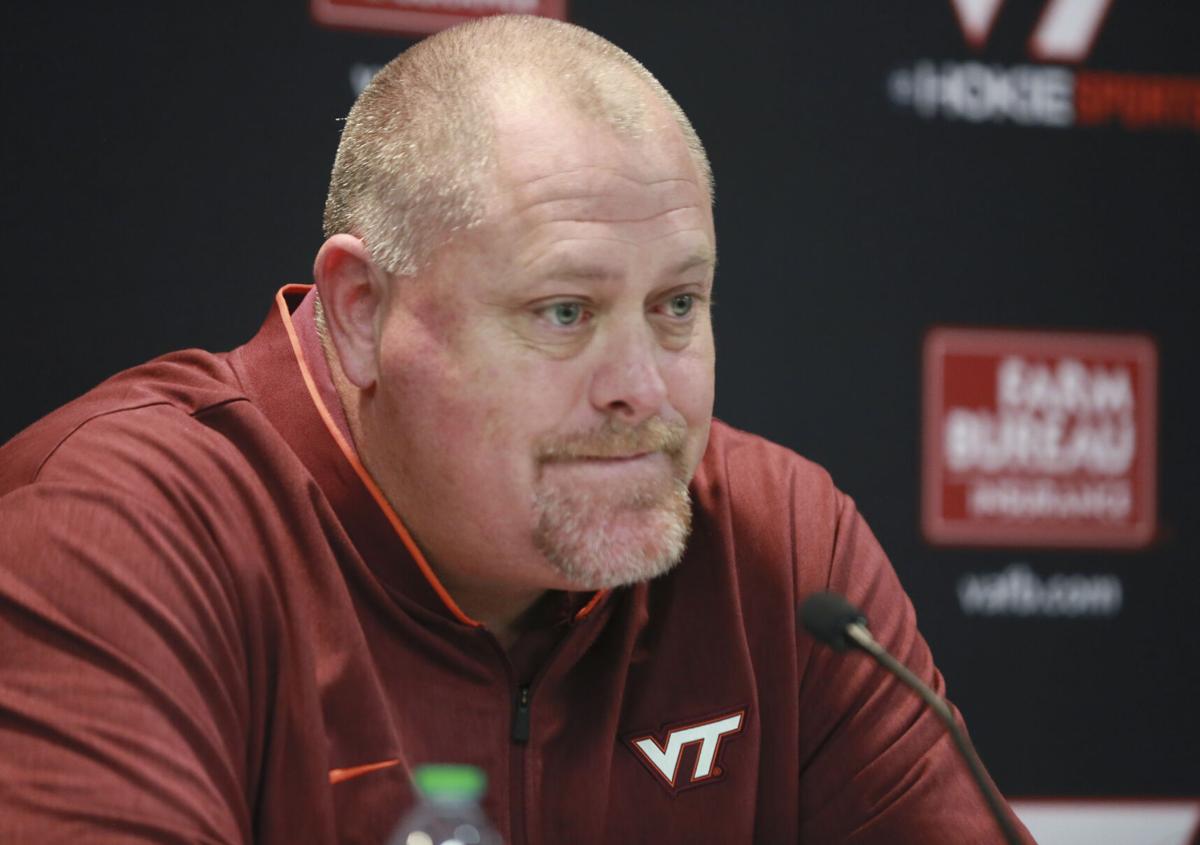 BLACKSBURG — Congratulations is the last thing Virginia Tech interim coach J.C. Price has wanted to hear this week.
For much of his adult life, Price viewed the Hokies head coaching position as his dream job, but when he came back to Blacksburg as the team's assistant defensive line coach earlier this year that wasn't something on his mind.
It wasn't even on his radar earlier in the week when Tech athletic director Whit Babcock asked to meet with him.
He played for Virginia Tech under Frank Beamer and helped put the program on a path to national success as a senior defensive lineman in 1995. The Hokies rattled off 10 straight wins after an 0-2 start and closed out the year in the top 10 by beating Texas in the Sugar Bowl.
He also broke into coaching at his alma mater as well with a two-year stint as an assistant strength and conditioning coach in 1997.
"I didn't want it under these circumstances," Price said with tears in his eyes.
That sadness was never far from the service on Thursday as Price spoke of accepting the position in hopes of sending out the team on a high note.
Price spoke at length about the "hardships" the players have been through from last year's COVID-season to a series of heartbreaking losses this fall that robbed them of many of their preseason aspirations.
It's why Price felt an "obligation" to step in for Fuente.
"Our story is not written," Price said. "Our book is not finished. What's it going to say? At the end of the day, if we can find a way to win one, maybe two games, then maybe this team will be remembered as the most resilient, mentally tough team that Virginia Tech's ever had, to overcome what they have gone through in the last two years."
"No team has had to overcome what they've gone through. And if we can get that done, I'll tip my hat to the kids. Because it's about them."
Price said he's stepping into the role with a clear-eyed view of the situation as well.
He doesn't expect this to be an audition for the full-time head coaching job nor does he want it to be. He was honest about wanting to continue on with the program in some capacity when Babcock hires a new head coach, but doesn't anticipate the next two weeks (and possible bowl game) will be a factor in that decision.
"It's not even close to being about me and whatever happens with my coaching career next year, then that's what's supposed to happen," Price said. "If I'm supposed to be here, I'll be here. If I'm not, then I'll be wherever I'm supposed to be. ... When you're in this profession, you'll drive yourself crazy if you try to forecast what you'll be down the road."
After Price addressed the team on Tuesday morning, he went about his new job by rolling up his sleeves and getting to work. It's the same approach he relied on during successful stints as an assistant at James Madison and Marshall and when he was carrying Tech's famed lunch pail.
He hopes his players follow suit.
"I just want to give my best to these kids," Price said, his eyes getting misty again. "These kids deserve to go out a winner."