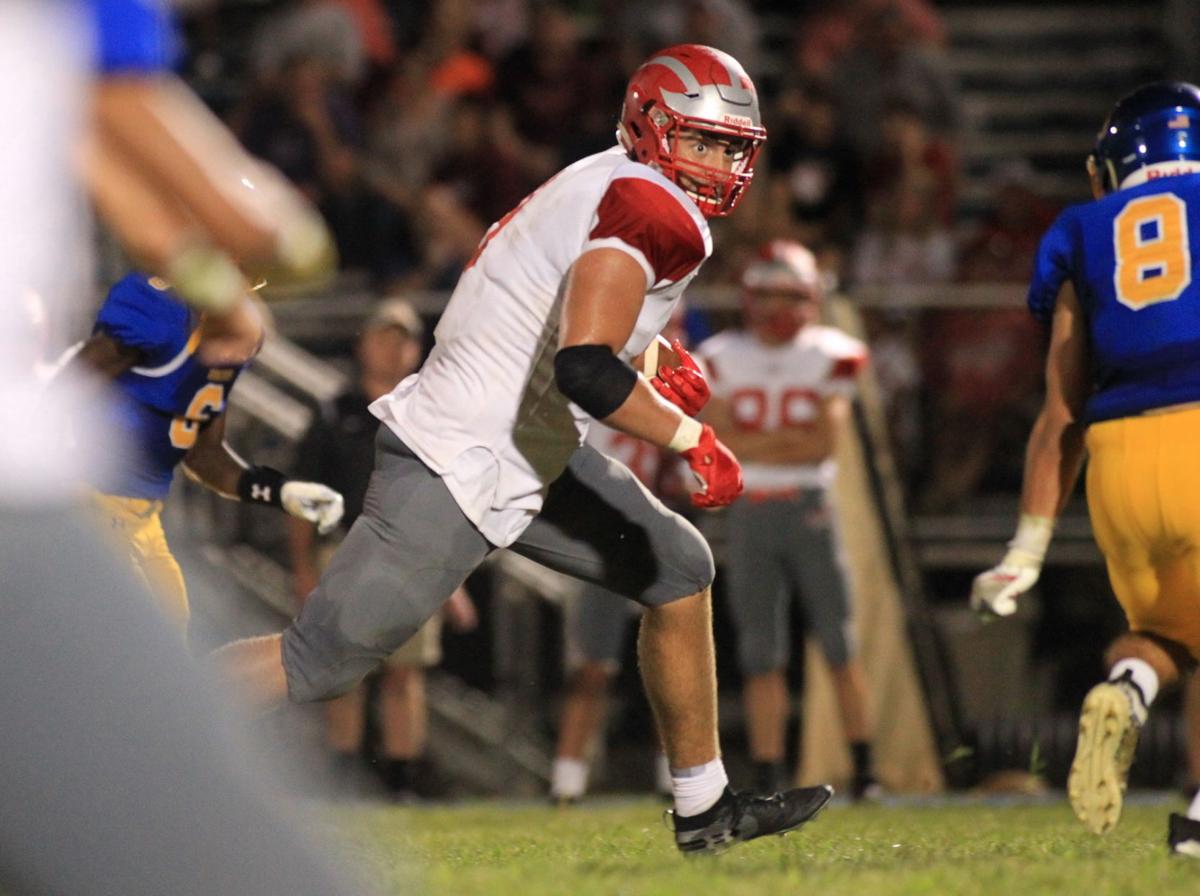 Virginia Tech bolstered its 2022 signing class on Friday with a verbal commitment from Lord Botetourt offensive lineman Gunner Givens.
It's the second week in a row Tech added a commitment from an in-state player with a four-star ranking to a class that currently sits in the top 20 nationally.
Last week, the Hokies made a splash by grabbing the highest-rated running back commitment in years from Manchester's Ramon Brown.
Brown was the first four-star commit in the class, but Tech didn't wait long to add a second with Givens announcing his decision on CBS Sports HQ on Friday at his house surrounded by family and friends.
"It's been a long process man, really stressful," Givens said in a phone interview with The Roanoke Times earlier in the day.
Givens said he's known for a couple weeks that he would be committing to Virginia Tech.
The 6-foot-5, 270-pounder is the No. 133 overall ranked prospect in the 2022 class and ranked No. 5 in Virginia. He would be among the highest rated offensive line signees in program history if he signs, with only Doug Nester ranking ahead of him, according to 247 Sports composite rankings.
Givens had 30-plus scholarship offers and chose Tech from a top group that also featured Penn State, Alabama, Clemson and Ohio State. He only took official visits to PSU and Tech in June.
"The main thing for me during the recruitment process was who stuck with me the most?" Givens said. "What teams stayed true?"
Givens wasn't prepared for the amount of attention he received when dozens of scholarship offers started rolling in as a sophomore.
"Honestly, the way I handled it was not talking about too much," Givens said. "Keep my mind off it and be a normal kid. It's hard to do, but that's what I tried to do. It helped a lot."
Lord Botetourt coach Jamie Harless knew it was taking a toll on Givens early in the process.
"I think he went through a parabolic curve," Harless said. "It took off and I think he got a little overwhelmed. I think he realized living in that world with all that attention could become detrimental. I think on the back end of this thing he's handled it with a whole lot of maturity."
Givens' top 12 in the fall featured Alabama, Auburn, Clemson, Florida State, Georgia, LSU, North Carolina, Ohio State, Oklahoma, Penn State, South Carolina and Virginia Tech. He cut that list in half by the time student-athletes were allowed to visit campuses again in June.
But Virginia Tech had already done most of the heavy lifting by the time Givens made his official visit. Givens already had a strong bond with offensive line coach Vance Vice, and that played a key role in his decision.
"I feel like I was born to play for him," Givens said with a laugh. "He's a gritty guy, he wants to get down and dirty and get things done. That's the kind of player I am."
Vice is a familiar figure at Lord Botetourt having landed Givens' former teammate Jesse Hanson in 2019.
"I think he understands how to communicate with the kids," Harless said. "He's got a sense of humor. He understands when he needs to be about business, but understands how to connect with the kids. I think with some people, it's in your face and all football. There's got to be other aspects where you can relate to kids and their life."
Givens came to Lord Botetourt after spending his freshman year at Covington High School.
Harless said after seeing Givens play in the team's first two fall scrimmages that year he knew the offensive lineman was going to be a hot commodity on the recruiting trail.
"He stuck out like a sore thumb," Harless said. "When you watch how well he moves and bends his body — he's 6-6 and moves like this? This is going to be a no-brainer."
Givens first scholarship offers started rolling in a couple weeks into the season and continued all the way through the delayed 2020 season that started in late February.
"He's just a really big, athletic kid," Harless said. "He plays with a real high motor on the field. Extremely aggressive. He's got a skill set he needs to have if he keeps developing, to me, he's going to be one, an elite offensive lineman."
Harless has taken advantage of that athleticism by having Givens work as a two-way player who splits his time on offense at tight end and offensive tackle. Givens will have an expanded role on defense this fall as an outside linebacker in the team's 3-4 defense.
"We've got plenty of talented offensive linemen, we are really blessed," Harless said. "We are going to try to throw the ball a little bit more to him [this fall] and plan on standing him up on defense this year. He'll have to learn how to get into coverage. He's played on the defensive line the last couple years, and probably knows about 50% of the skill set he will need for this year."
Givens views playing tight end as a way to bolster his skill set, and that sentiment is shared by the collegiate coaches that recruited him.
"The new age offensive tackle, you have got to be athletic," Givens said. "You got to be able to move because those edge rushers are really quick."
Givens said he'll have to brush up on some techniques when strictly playing tackle at the next level, but he's still getting enough reps blocking at Lord Botetourt to stay sharp.