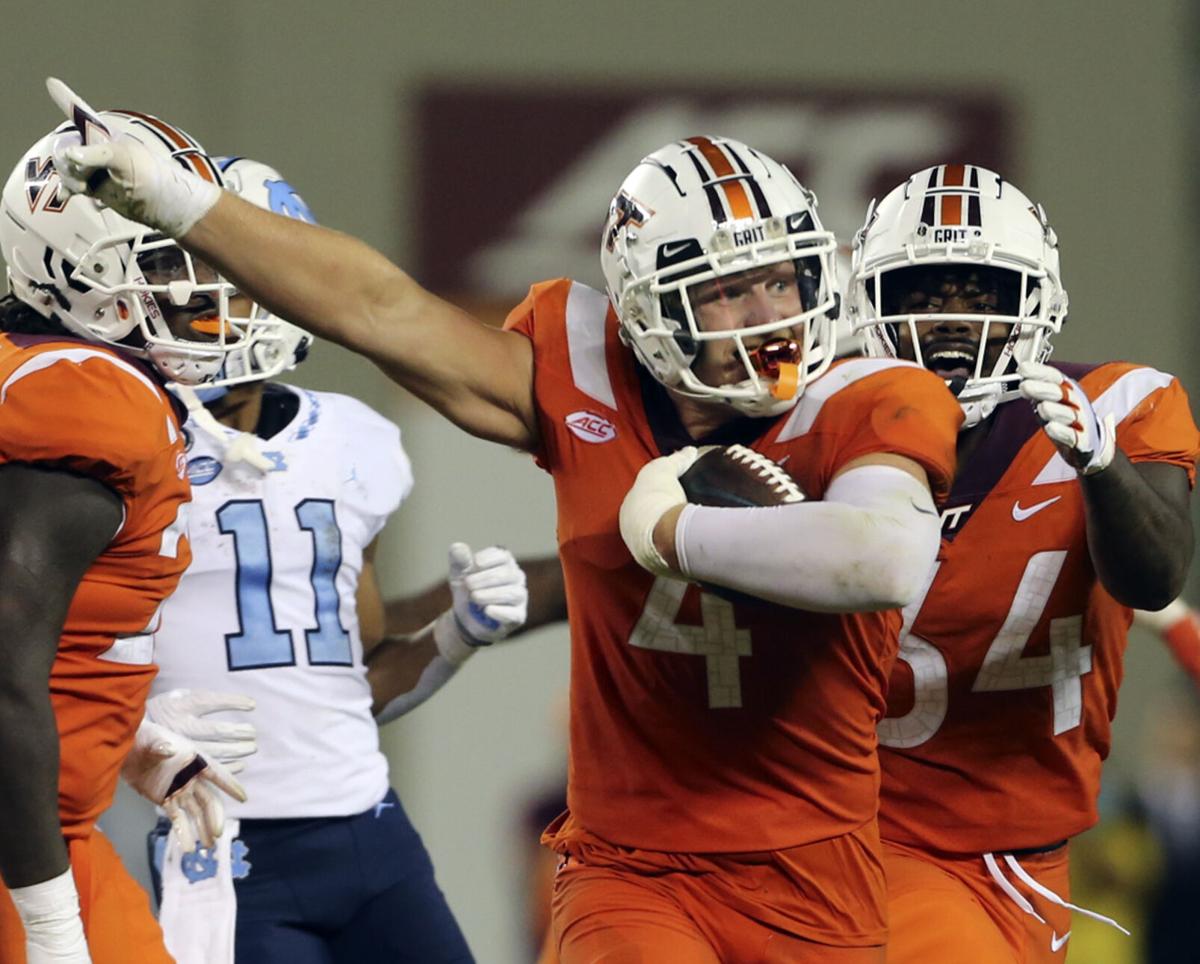 BLACKSBURG — Virginia Tech linebacker Dax Hollifield feels like its 2019 all over again.
Hollifield remembers the negativity surrounding the program reaching a fever pitch two years ago after a listless 45-10 home loss to Duke dropped them to 2-2.
Tech finds itself in a similar position this fall coming off another ugly home loss — this one was a 28-7 offensive stinker to Pitt — and disappointing .500 record.
Speculation about coach Justin Fuente's job status is dominating social media once again with fans centering their criticism on a Hokies offense ranked No. 120 in the FBS (out of 130 teams).
"If you are not in this locker room it feels like everybody is against us," Hollifield said.
While the veteran defender doesn't agree with much of the vitriol aimed at the team, he offered a thoughtful response to the fan base's growing frustration.
"Do I think it's fair? No," Hollifield said. "Do I think that's what is required to play here at Virginia Tech? Ten-win seasons should be the normal here, that's what the fan base expects. Competing for the ACC championship every year or Coastal championship at least, is what Hokie nation expects. So no, I don't think it's fair, but I understand where I play football at and where I go to school at, and what the standard is here."
Hollifield said no one in Tech's locker room is happy with that 3-3 record, but the players feel like they just got done playing the toughest stretch of their schedule, and two of those loses were in one-possession games where the Hokies were a play away from winning.
"It's not an excuse, I just think we have a lot better road ahead of us," Hollifield said.
One of the key factors in the team's 2019 turnaround was Tech making a change at quarterback from Ryan Willis to Hendon Hooker. The coaching staff hasn't given any indication that Braxton Burmeister is at risk of losing his job just yet — he was 11 of 32 for 134 yards with a touchdown and interception against Pitt — and the focus is getting him to play up to his potential.
Hollifield said the defense is committed to doing their part.
He pointed out that the team's defensive improvement in 2019 also played a significant role in the team winning seven of eight games to put the program one win away from capturing the Coastal Division title. That included a three-game stretch where the defense only allowed 5.6 points and 204 total yards per game.
"They need somebody to help them up," Hollifield said. "We need to do that for them. We are playing at a pretty high level on defense right now, but to become an elite defense we have to get more turnovers, spark plays in the red zone, and getting good field position for the offense is crucial going forward to get a little momentum going."
Hollifield said there's plenty of time to turn things around once again.
"Our record might show 3-3, but I feel like we are so much closer than that record shows," Hollifield said. "I think this season can be a really good season if we play to our potential in the next half. I'm very confident we can do that."