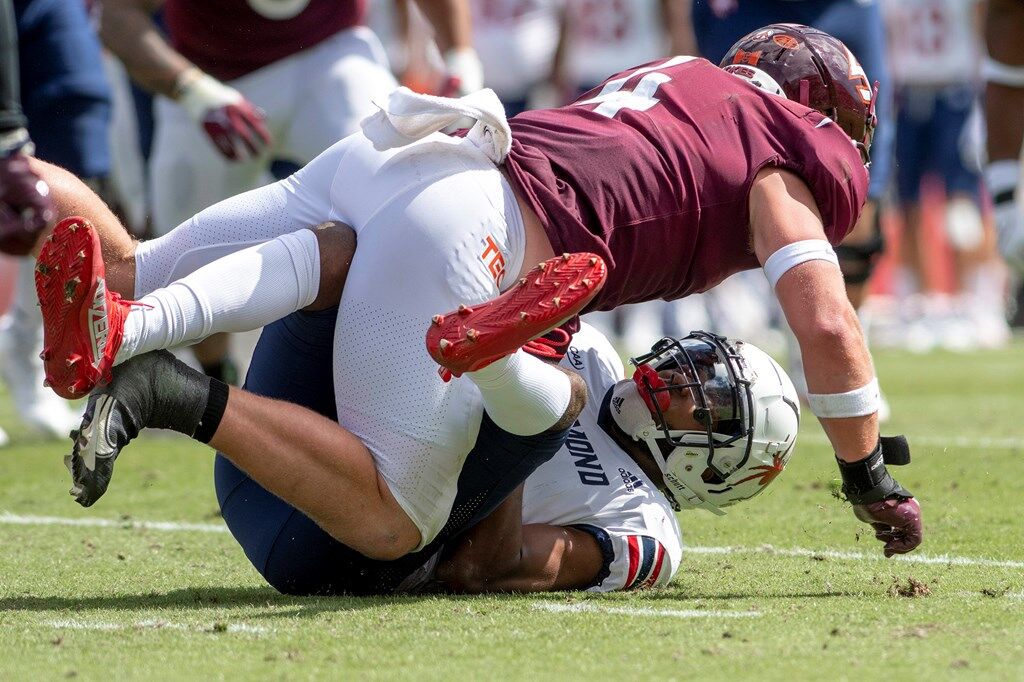 BLACKSBURG — Richmond receiver Jonathan Johnson barely had time to look up.
Johnson caught a hitch route for a short gain early in the third quarter of Saturday's 21-10 loss at Virginia Tech and was immediately met by a 239-pound missile named Dax Hollifield. Hollifield leveled Johnson at the 21-yard line, but the linebacker was cautious about celebrating as he got up off the ground.
"I look for the laundry a little bit," Hollifield said.
While Hollifield thought it was a textbook hit — the linebacker didn't lead with the crown of his helmet or make forcible contact with Johnson's head or neck area — officials have struggled to call targeting consistently.
Hollifield pointed to Auburn linebacker Zakoby McClain, who was ejected for targeting in the fourth quarter against Penn State last week for a hit at the goal line that didn't appear close to the written definition of the penalty.
As a fellow linebacker, Hollifield found the moment heartbreaking.
"There's not much you can really do about anything anymore," Hollifield said. "You really just have to be a fundamental tackler and really just trust in that."
That's where his mind went on Saturday.
"To be honest, it scares you nowadays," Hollifield said. "If you have a big hit nowadays, you're more worried about if you're going to get thrown out of the game. ... I don't really think that's how football should be played, but it was a great hit."
Virginia Tech safety Tae Daley was called for targeting earlier this season, but the call was overturned and he was able to stay in the game. The Hokies had a pair of targeting calls upheld last season.
Safety Chamarri Conner was called for targeting in a loss to North Carolina when he hit quarterback Sam Howell scrambling out of the pocket. Howell was trying to slide and Conner dove at him headfirst.
Hollifield said the way to avoid those penalties is to focus on the fundamentals they work on throughout the year.
"Getting your head across, your eyes up, working on that and it shows on the field," Hollifield said.
Hollifield and fellow starting linebacker Alan Tisdale were at the center of Saturday's strong defensive effort. Tisdale led the team with nine tackles (four solo) while Hollifield had eight tackles (two solo) with a sack.
Richmond starting quarterback Joe Mancuso was knocked out of the game on the second play from scrimmage, and the Spiders made some adjustments at halftime for backup quarterback Beau English focused on getting Hollifield out of his gap.
They had English holding onto the ball a long time at the mesh point on RPOs similar to what Wake Forest likes to do.
"It was sort of a chess match where if I could act like I was playing outside a little bit and hit my gap, I could do that, but that was a good scheme," Hollifield said. "They did a good job playing that well."
The Spiders had 104 rushing yards in the second half on 5.8 yards per carry, but still struggled to stay on the field. They went 3 of 14 on third downs and finished the game with 237 total yards of offense. It was the first time Tech limited an opposing offense to less than 300 yards since the 2019 season.
The Hokies only allowed one play of 20 yards or more from scrimmage.