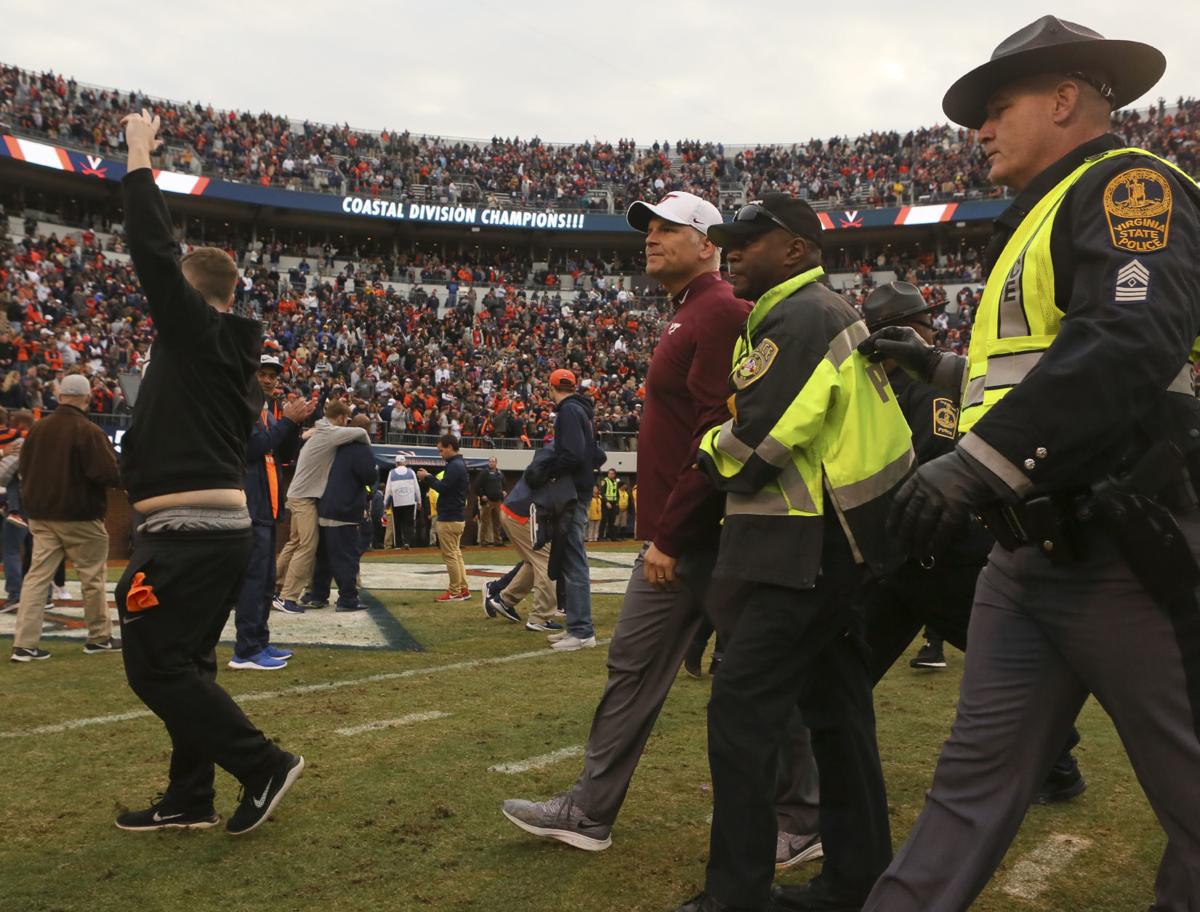 BLACKSBURG — Virginia Tech athletic director Whit Babcock knew the Tech football team's Sept. 19 season opener was in trouble when he received the football program's latest round of COVID-19 testing data.
The university processed a substantial number of backlogged cases Thursday. Babcock learned the results Thursday night, and they weren't encouraging.
By Friday morning, Tech chief medical officer Mark Rogers informed Babcock that Tech shouldn't proceed with playing Virginia on Sept. 19 at Lane Stadium. Tech informed UVa and the ACC that day.
The decision was publicly announced Saturday morning after Babcock and Tech coach Justin Fuente met with the football team. Babcock said they told the players that "we would not be able to play safely against UVa." The Hokies also put football activities on hold for four days.
"I guess in a way, I know the virus has always been here, but the virus in full force has gotten to Southwest Virginia and the timing is pretty poor for football," Babcock said in a video news conference Saturday morning.
Babcock said a "significant" number of players were ruled out because of positive tests or quarantining. He said Tech met did not meet the ACC's minimum standards for holding a game.
No makeup date was announced for the game against the rival Cavaliers. The game would have been televised nationally the night of Sept. 19 by ABC.
The postponement might also have cost Tech the chance to host ESPN's "College GameDay" the morning of Sept. 19.
"I was told that they were talking about [originating the show at Tech]," Babcock said. "I just sent a cryptic kind of thing through somebody that said, 'Hey, please don't have them announce that just yet, if they're thinking about us.'"
Tech has declined to release testing results for student-athletes throughout the pandemic and Babcock once again cited the Family Educational Rights and Privacy Act (FERPA) when asked Saturday how many positive cases there were on the football team and how many players were currently in quarantine.
Virginia Tech's dashboard shows 633 positive cases (626 students) since early August (based on a Friday update with data through Thursday), with 139 students currently in isolation or quarantine. The school recently relocated students out of East Eggleston Hall to free up more quarantine space.
Players that test positive are held out at least 10 days and players in quarantine must sit out a full 14 days (and can't test out of it).
Any player in the ACC that tests positive also has to go through cardiovascular testing before being cleared to return over concerns related to myocarditis, a heart condition associated with COVID-19.
"I just ask them if they could please, to quote, 'stay on the treadmill a little bit longer' and we'll get there and I have their back and we were going to do everything possible to give them a chance to play safely," Babcock said.
The ACC incorporated two open weeks for each team into the modified 11-game 2020 schedule, but rescheduling the Commonwealth Cup rivalry before December will require other games to be moved.
The conference hasn't finalized a date for the title game in December and could use Dec. 12 to make up canceled games.
"We would settle for any date, and that one at the end of the season would shape up nicely," Babcock said. "If there's a way we could do it earlier, we would like that, too."
A Virginia game scheduled against Duke in November was moved up to Sept. 26 in the wake of Saturday's cancellation.
Tech is now scheduled to open against North Carolina State on Sept. 26 in a game that was already pushed back two weeks thanks to a coronavirus outbreak at N.C. State. The Hokies' only remaining off week is the week of Nov. 28.
"My primary concern continues to be the well-being of the student-athletes on our football team," Tech coach Justin Fuente in a statement. "I hurt for them because I know how badly they want to compete. I also appreciate that these young men have been dealing with the same stress, uncertainty and anxiety as their fellow Virginia Tech students over the past few months as their spring semester was dramatically altered. Then they were forced to find a way to train on their own, and to their credit, they found a way to get it done."
Tech football has been dealing with an increasing number of coronavirus cases since students returned to campus in August.
According to data reported to the Virginia Department of Health for Blacksburg's zip code, the area's positivity rate over the last two weeks is 16.6% with more than 800 positive cases and a seven-day rolling average hovering around 60 cases per day. 
Babcock mentioned the decision by Montgomery County Public Schools to put in-person learning on hold for grades 4-12 this week — just two days after the start of school — citing projections that showed a "significant" increase in the volume of cases in the coming weeks.
"I hope we're the only school to have to go through it but I wouldn't bet against it," Babcock said. "Our 13-week window is getting pretty tight but it seems like teams that have experienced this in the past that have gotten through it, it levels off a little bit. Maybe we'll be off and running and stronger for it in October, November and December."
UVa reported its latest round of student-athlete testing results Friday — no positive tests on the football team and 14 positives (five new) since July 5 on 2,164 tests (.0065 positivity rate) — but the school didn't start in-person classes until Sept. 8.
The Virginia Tech women's soccer team opened its season Saturday night at UVa. It was the first game in any sport for either school since the pandemic shut down the sports world in March.