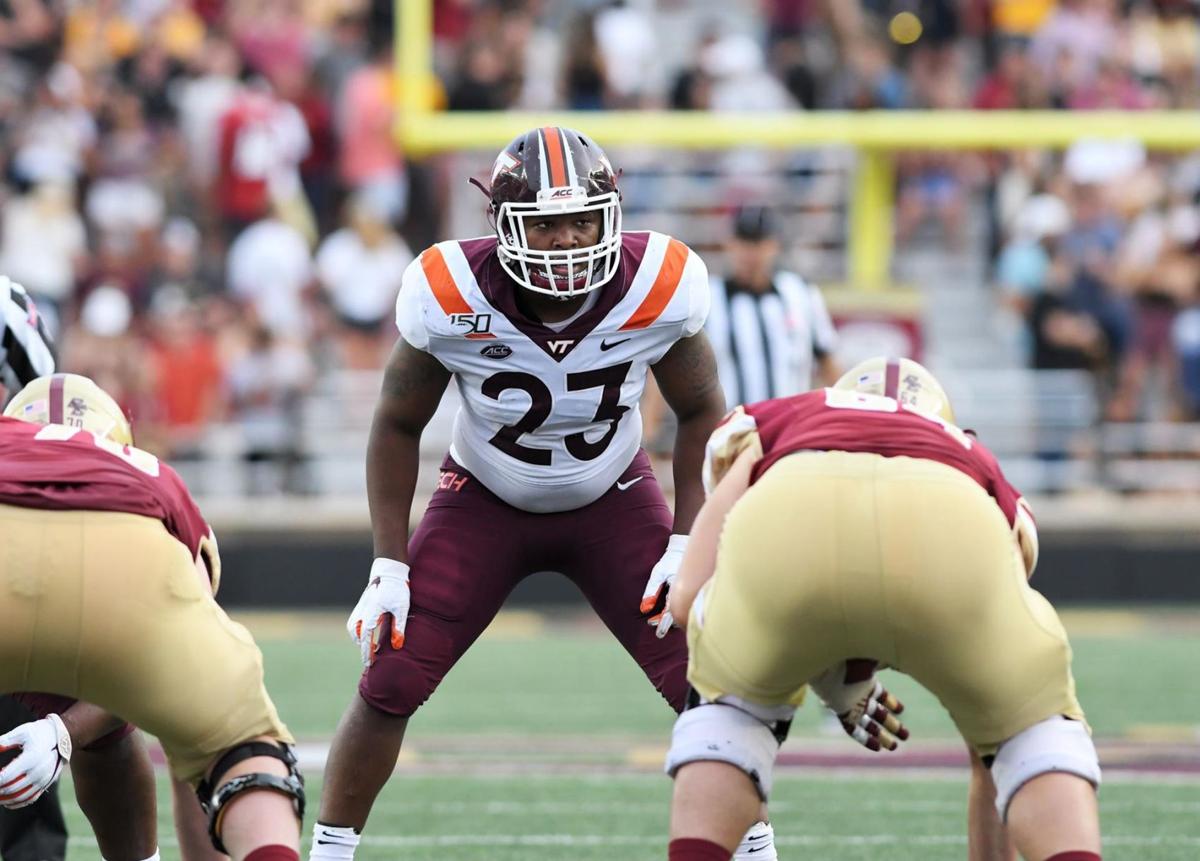 BLACKSBURG — Dax Hollifield sees Virginia Tech's linebackers playing a key role in ushering the Justin Hamilton-era when the team finally sees the field.
The Hokies have plenty of experience on defense, with eight returning starters, but no unit is more battle-tested than the linebackers. Rayshard Ashby and Hollifield started all 13 games together last season and have 43 combined starts over the last two years. Backup outside linebacker Alan Tisdale will also have a bigger role this season.
"It's going to be a lot of fun this year, just seeing how we interchange and how we play different roles this year and how we get after it this season," Hollifield said. "I expect a lot out of all three of us."
Hollifield expects to play more middle linebacker this season — his more natural position — which will help all three linebackers get an equal number of reps.
Ashby led the ACC with 120 tackles last season (the most for a Tech linebacker since Vince Hall in 2006) and earned the conference linebacker of the week honors five times. He made a handful of national preseason award watch lists and was voted first-team preseason All-ACC.
Hollifield had 67 tackles with 4.5 for a loss and three interceptions in 2019 while Tisdale had 52 tackles with 5.5 for a loss with three sacks.
"[Ashby] is the best linebacker I've ever played with or ever really seen, to be honest with you," Hollifield said. "I mean, he's a hell of a player, and Alan, I'd say he's a force, a freak. He can get out there and just do really anything he wants. I'm really blessed to learn from both of [them]. I play both of their positions."
Tech has yet to make Hamilton (or any of his assistants) available to the media, but Hollifield shared some of the coordinator's vision for the team's linebacking corps this season.
"They're a little bit different, I'm not going to lie," Hollifield said. "I mean, Coach [Bud] Foster was really man across the board, lock them up. We don't want no catches, no yards allowed. In today's day of football, you've got to switch it up a little bit more. That's what Coach Ham is doing — switching up defenses a little more. I like it a lot. It lets me make plays a little bit more space and just jump the football, and play the quarterback's eyes."
But Hollifield made sure to note the heart of the defense is the same as the one fans grew to love during Foster's historic tenure.
"It's still nasty D, still [Lunch Pail Defense]," Hollifield said. "Just bringing some new juice to it."
Mike Niziolek is the Virginia Tech football beat writer for The Roanoke Times. Follow him on Facebook and Twitter.
Be the first to know
Get local news delivered to your inbox!