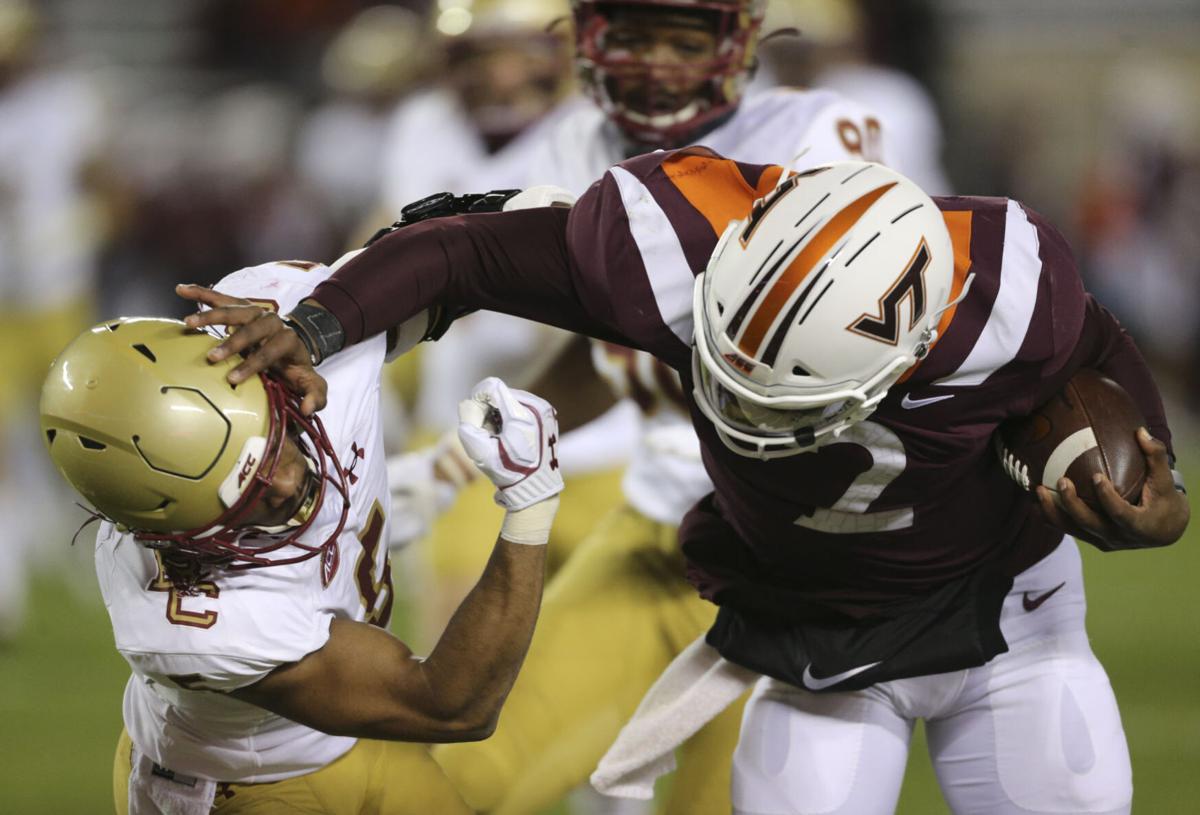 BLACKSBURG — Virginia Tech's offense isn't messing around this season.
"We're not sitting there looking at the scoreboard, how many yards do we have? But I mean, when we do a little sideline huddle and we look over there, like all right, 288, let's go run, let's get our 300," Virginia Tech offensive lineman Brock Hoffman said with a smile. "That's kind of our goal. And we've hit that every game except for one, but we were pretty close to that."
The success came on Saturday without starting right tackle Luke Tenuta in the lineup for the second straight week. Silas Dzansi started in Tenuta's place with starting right guard Doug Nester also getting reps at the spot. Bryan Hudson played at right guard when Nester played tackle.
Tech was on such a roll in the fourth quarter that coach Justin Fuente didn't want to take his starters off the field with a 19 point lead in the final five minutes. The Hokies ran for eight first downs in the quarter with 104 yards on a game-high 9.5 yards per carry.
"All week, they (Tech coaches) talked about how physical they were and we had them where we wanted them and you kind of have to finish them," Hoffman said. "When you've got 'em down, you've got to put 'em down. You've got to finish them."
Tech has the No. 2 rushing offense in the FBS (312 yards per game) behind only Air Force, which has only played one game. Starting running back Khalil Herbert leads the nation with 148 rushing yards per game.
The Hokies also have one of the most explosive run games in the country with nine runs of 30 yards or more. They had three on Saturday including a 57-yard run by Herbert.
When Hoffman was asked about Tech's eye-popping numbers, he credited offensive line coach Vance Vice and Fuente for pressing all the right buttons.
"Vice and Fuente have a good way of challenging us," Hoffman said. "Back at the NC State game, he talked about how they had this big nose guard and showed a couple clips of us and all he did was just hype him up all week. By the time gametime was here, we were ready to go after him."
The coach's message this week was about Boston College's effort level.
"They talked about how physical this defense was and how they're pretty basic in what they do but they're going to play harder than us," Hoffman said. "That's what they kept saying, they're going to play harder, play harder. And they're more physical. And it kind of pissed us off throughout the week. And by the time we were ready to step out there, we were ready to make them seem like they were not physical. We were ready to be the physical people."
Mike Niziolek is the Virginia Tech football beat writer for The Roanoke Times. Follow him on Facebook and Twitter.
Be the first to know
Get local news delivered to your inbox!