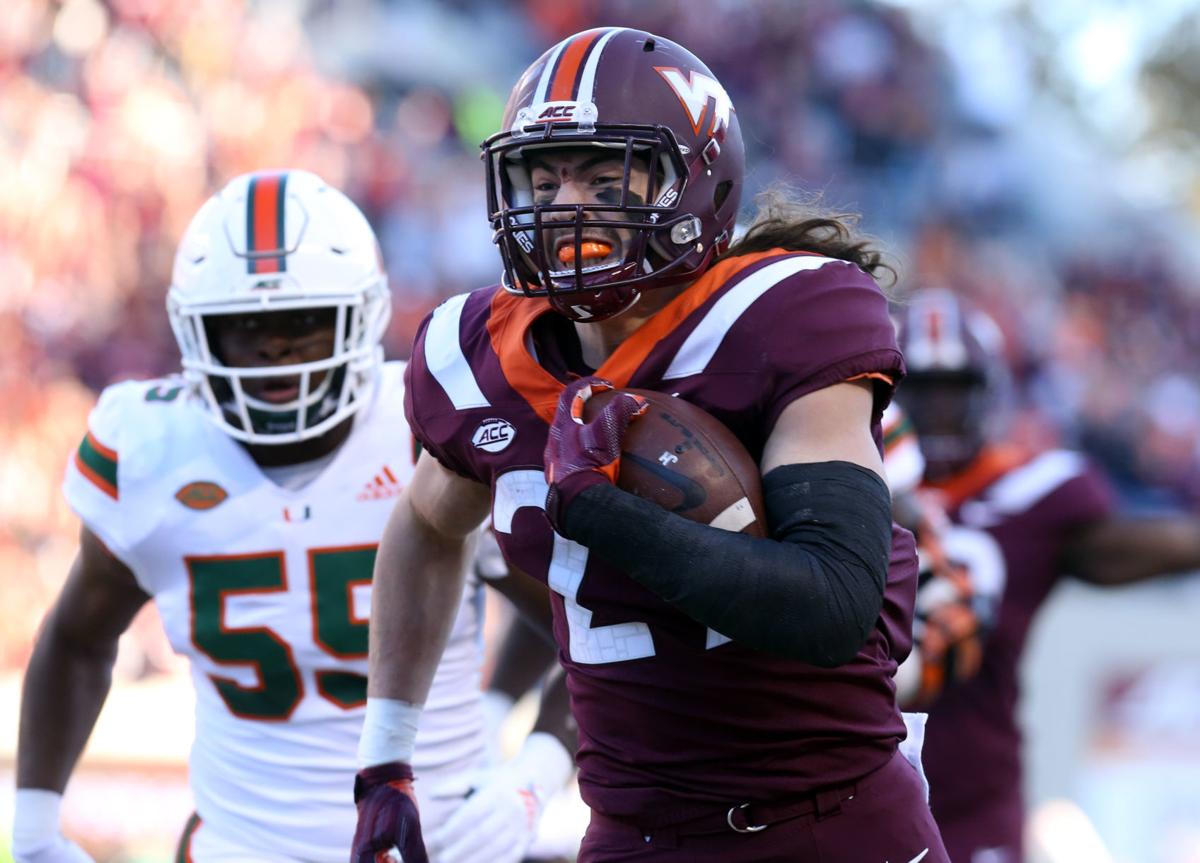 BLACKSBURG — Virginia Tech tight end Dalton Keene made a surprise announcement late Friday night that he's declaring early for the 2020 NFL Draft. 
"After a lot of consideration over the past couple of weeks I have decided to forego my senior year of eligibility and declare for the NFL Draft," Keene said. "This was a very difficult decision, and it is with a heavy heart that I leave my teammates and coaches."
"I want to thank everyone that has helped me get to this point including coach Fuente, coach Shibest and coach Wiles, but most importantly my family and teammates who I could rely on. Something is special is building in Blacksburg and I wish I could be part of it but this is the best decision for me at this time."
Coach Justin Fuente viewed Tech's tight ends as one of the most talented position groups on the team with Keene joining James Mitchell, Drake Deiuliis and Nick Gallo to form a formidable mix. 
"That tight end room we have is special," Fuente said at the Belk Bowl media day. "I'm talking about all of them, not just the two we have here today (Dalton Keene and James Mitchell). Everyone of them in that room had over a 3.0 GPA last semester. They walk around together, they talk, they are always with each other. They take great pride in the success of each other....it's a really special unit to be a part of." 
Keene was one of the most durable players on the roster during his time in Blacksburg. He started 38 of 39 games going back to his true freshman season in 2017. He had 59 catches in his career for 748 yards with eight touchdowns. 
He was one of the only players Virginia Tech recruited out west during the first four years of Fuente's tenure. Keene's family connections to the coaching staff at the time put him on the Hokies' radar. Former defensive line coach Charley Wiles was a teammate of Dalton's father Wes at Murray State (and his roommate) while Bud Foster was on staff coaching linebackers. 
Keene's memorable catches last season against Duke (turning a short screen into a 63-yard touchdown thanks to a series of athletic moves) and Virginia (a contested grab against Bryce Hall to keep a last-ditch game tying drive alive) cemented his status as a fan favorite as did his "Rambo" nickname that he had as an underclassman thanks to his long hair. Keene helped brand Tech's tight ends as the "T-unit" this season.  
Mike Niziolek is the Virginia Tech football beat writer for The Roanoke Times. Follow him on Facebook and Twitter.
Be the first to know
Get local news delivered to your inbox!