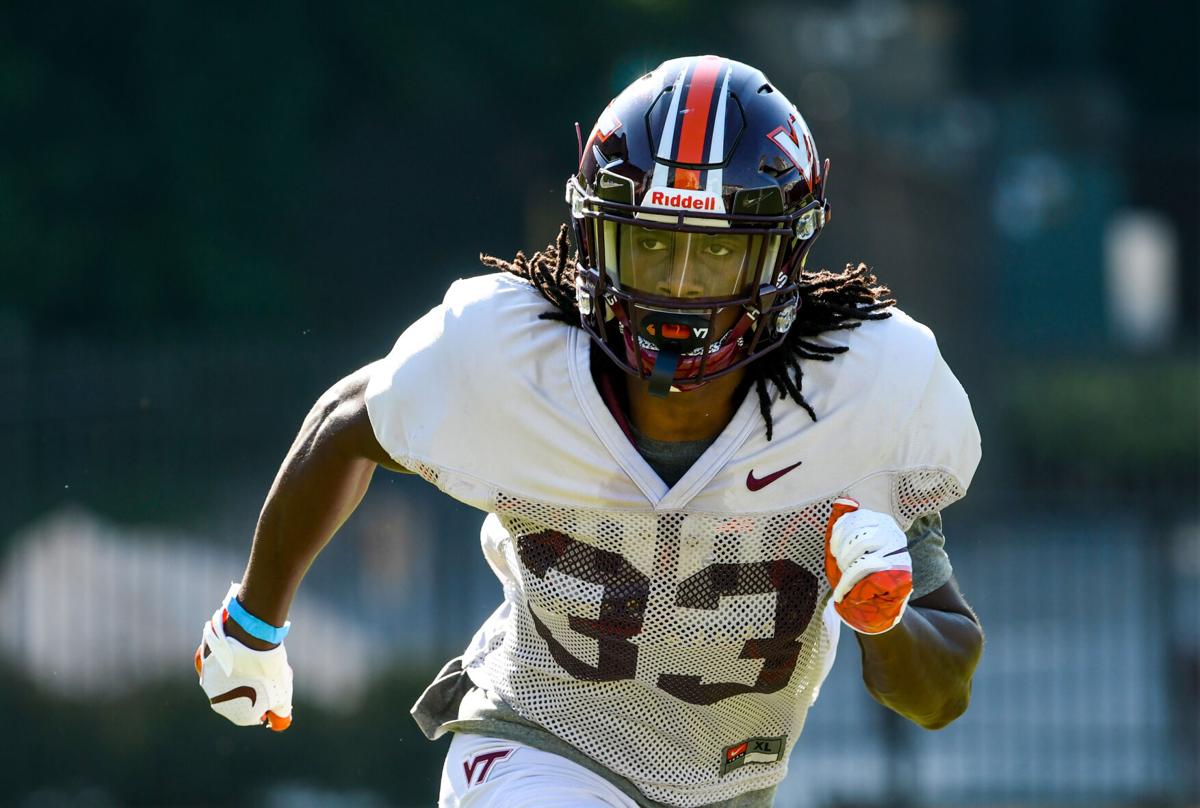 BLACKSBURG — Virginia Tech freshman safety Keonta Jenkins had a plan when he arrived in Blacksburg alongside his fellow 2020 signees in early July.
The three-star defender out of Jean Ribault High School in Jacksonville, Florida, thought he could make a quick impression on the coaching staff by standing out on special teams, given the program's rich tradition at the spot, and earn some early playing time covering kicks and punts.
The approach paid off much better than he imagined.
Jenkins was a standout among the first-year players in fall camp and quickly earned practice reps at boundary safety.
Then Devon Hunter's recent suspension opened the door for a more prominent role. Jenkins is listed as Tech's No. 1 boundary safety going into Saturday's opener against N.C. State.
"He's ready to showcase his skills and let the world see what he can do," Daniel Smithey said. "He's such a humble guy. He doesn't do a lot of social media. He's all about showing what he can do on the field, and now he has that opportunity. He can't wait to go."
Smithey, who is an assistant coach in Jacksonville at Atlantic Coast High School, is familiar with most of the recruits in that area. He works with local student-athletes as a partner at Burch Sports Performance, a scouting-type service that also has a 7-on-7 team.
He accompanied Jenkins on a trip with a handful of other Jacksonville-area standouts that included fellow Tech signee Tyree Saunders to Blacksburg last year when the Hokies were recruiting them.
Smithey knew from his conversations at the time with Justin Hamilton that Tech viewed Jenkins as someone who assume such a role. Jenkins 6-foot-3, 194-pound frame combined with a versatile skill set made him a priority target.
"His size really stood out in the 12th grade, he had college-football ready size already at that age," Smithey said. "He's also got good ball skills, can cover sideline to sideline as a safety and he's a down hill, hard-hitter type of guy. They compared him a lot to Divine Deablo and Adonis Alexander."
Jenkins picked Tech before his senior year — he had 18 scholarship offers, including ones from Vanderbilt, Indiana and Cincinnati — and didn't look back. Smithey said Jenkins went under the radar during the recruiting process.
"He didn't necessarily have opportunities as some other kids had, but he just found ways to make it work with what he had," Smithey said.
Smithey described Jenkins as a self-starter who spent hours training in his own backyard preparing for this moment.
"He kind of did it all on his own," Smithey said. "A lot of guys here have three or four trainers and train every day. He just did it all on his own. He trained himself up."
Mike Niziolek is the Virginia Tech football beat writer for The Roanoke Times. Follow him on Facebook and Twitter.
Be the first to know
Get local news delivered to your inbox!