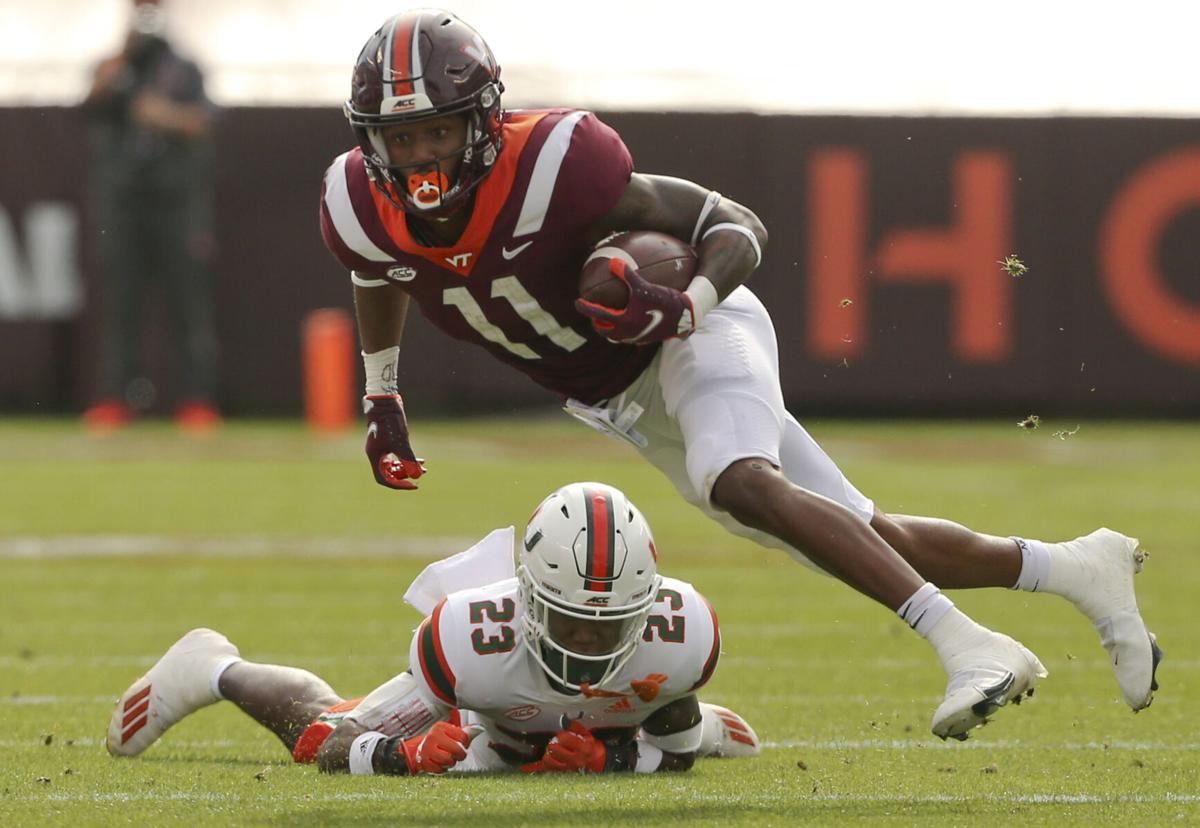 BLACKSBURG — Virginia Tech receiver Tre Turner's goals during the off week were simple ones — rest and relaxation.
That might not have been the case a couple years ago, but the fourth-year receiver has learned a thing or two the past few years.
"I'm not beat down, but I knew I had to take care of it and get back to top tier health that I was at when the season first started," Turner said.
He leads the team with 16 catches for 250 yards and had one of the best games of his career before the off week with six catches (one shy of his career high) for 102 yards with a touchdown against Richmond.
Tech plays Notre Dame this weekend to kickoff a stretch of eight games in eight weeks. Turner is one of seven offensive players that's already played more than 200 snaps this season (204) and wants to maintain his level of play through the rest of the season.
Staying healthy is front and center on Turner's mind because of what he went through with injuries last year. He detailed those struggles publicly for the first time on Tuesday.
"Last year was a bad season for me and that was on top of COVID," Turner said.
It started in July when he was diagnosed with plantar fasciitis in his right foot. He was limited throughout fall camp and said he just had "gut it out" to get through the season.
"That was beating me down the whole year," Turner said.
The icing on the cake was a hernia injury he suffered in a late season loss to Pittsburgh. Turner was knocked out of the game late in the first half after catching a 7-yard touchdown. He missed Tech's game the following week against Clemson as well.
"It was a jump in the air and we came down and it was just like my hips had shifted," Turner said. "I felt something completely off. I got the MRI the next day."
Turner still had a productive year with 34 catches for 529 yards (15.6 yards per catch) with three touchdowns, but Turner wanted to take an even bigger step forward. He had surgery in the offseason to fix the hernia — he was fully cleared for spring camp and hasn't dealt with any setbacks — but the plantar fasciitis wasn't a simple fix.
"It feels like a knot in the bottom of your foot at all times," Turner said. "Like you step and it's a sharp pain. Mine is on my heel, which is the best part for it to be in cause I run on my toes. Back then I wasn't running on my toes, I was still flat-footed (last year) and that was making it worse and worse."
He wears fitted soles in all his cleats, gets his foot wrapped in a special tape and even sleeps in a brace that holds his foot in a certain position so he won't have a flare up overnight.
"It's something you got to take care of at all times," Turner said. "... It hasn't really hurt or bothered me as much as last season at all, I've been ahead of it and I know what I have to do in order for it to feel right."
That's good news for a Tech team that will rely on Turner in the coming weeks to get the offense back on track.
"We know what we can do to take this whole thing off the top," Turner said. "It's about to happen here soon. We just got to click."