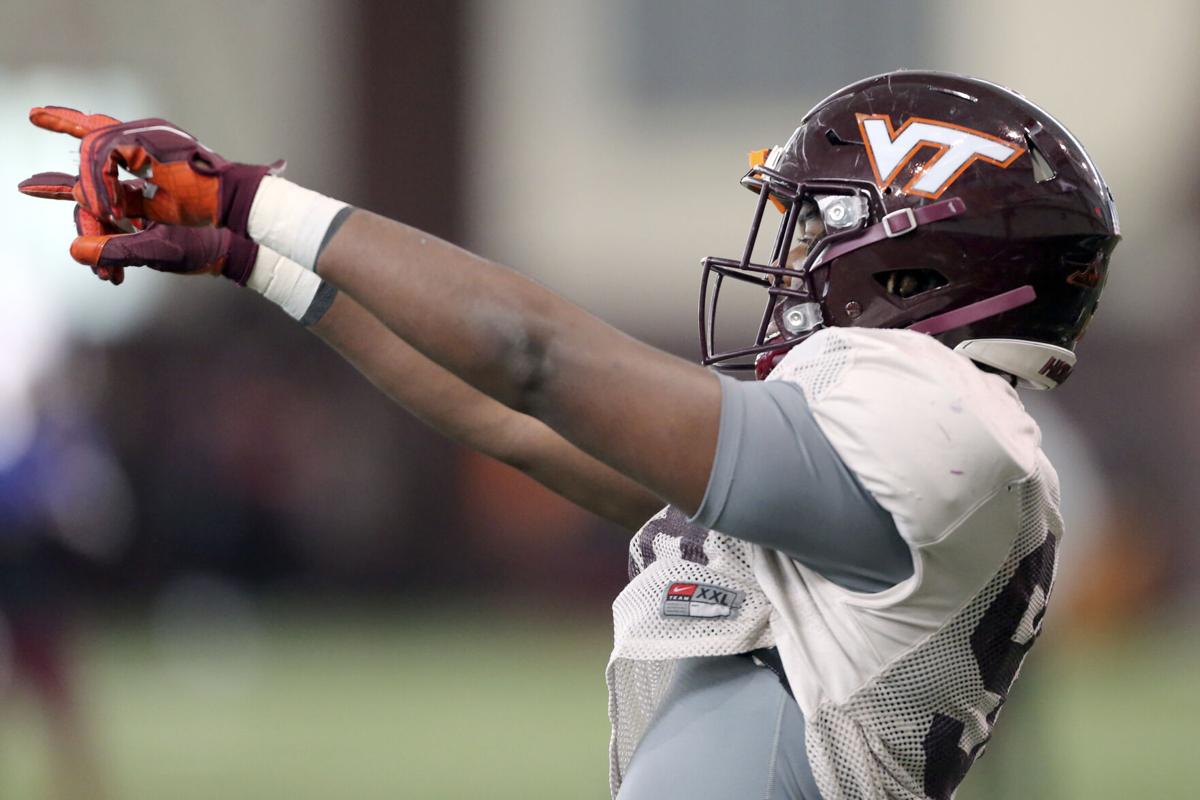 BLACKSBURG — Virginia Tech corner Jermaine Waller set the tone in Saturday's scrimmage at Lane Stadium.
According to defensive tackle Jordan Williams, the corner blew up a screen in the backfield to give the defense some immediate momentum.
"It was towards our sideline, early on in the day," Williams said. "...Maine (Jermaine Waller) beat the block outside and made a great TFL in the backfield. He recognized and flew down it. It gave everybody juice, from there we continued to stack on play after play."
Virginia Tech tight end Drake DeIuliis maintained that the scrimmage was "competitive", and liked the intensity from both sides.
"It was a little nippy, a little fighting here and there, but it was a good day of competition for everybody," DeIuliis said.
DeIuliis and Williams were among the players who spoke to the media on Thursday. DeIuliis mentioned true freshman wide receiver Da'Wain Lofton — a mid-year enrollee out of Fort Worth, Texas — as one of the standout performers.
Defensive tackle Mario Kendricks said running backs Tahj Gary and Keshawn King looked good as well during the scrimmage, but the defense was much more bullish on their own performance.
"It's crazy," Tech linebacker Alan Tisdale said. "Our defense is just crazy this year. I'm just excited for the first game, really."
For Virginia Tech coach Justin Fuente, the scrimmage highlighted some of his concerns about the team's depth.
"The biggest takeaway was that there is too big a difference between our 1s and our 2s, both knowledge, execution," Fuente said. "We have got to move those two groups closer together for us to have a chance to have success. There's maybe one or two positions that the twos are close to the ones, but it's imperative on our team and our coaching staff that for us to have a chance to have the depth that we need that we've got to make dramatic improvement with the second huddles on both sides of the ball."
The lack of practice time the Hokies had last year in the fall (and cancellation of spring camp) has contributed to that gap. The youth and inexperience of the second unit has made for some growing pains as well.
Tech had 10 true freshman enroll at mid-year and only three players from the team's 2020 signing class (Dorian Strong, Robert Wooten and Keonta Jenkins) had meaningful playing time last fall.
The second unit will have another big opportunity this weekend to close the gap.
"We'll scrimmage Saturday and we'll try to get a little bit of everything, to be honest with you," Fuente said. "We'll probably work, or we will work some goalline and some coming off the goal line, open field, some 2-minute, some 4-minute situations and then we'll kind of take stock of where we're at and see what we need to emphasize for the last week."