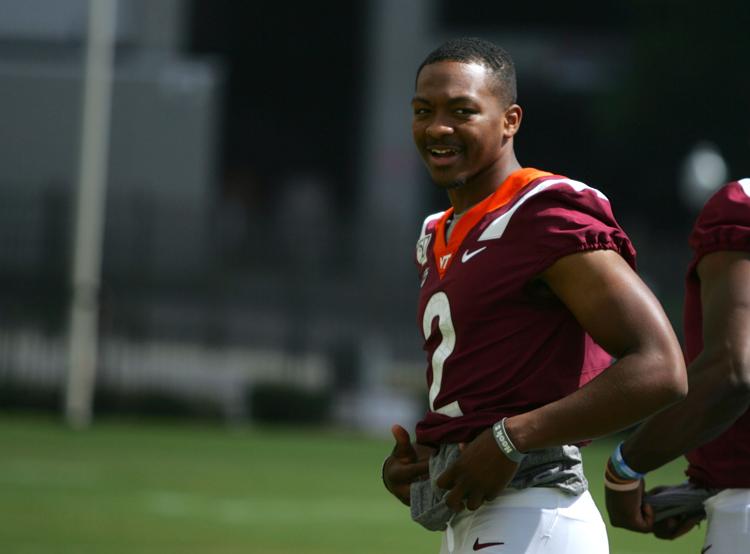 BLACKSBURG — Alan Hooker had one thought when his son Hendon told him he was getting his first career start at quarterback for Virginia Tech.
… How much are flights to Miami?
The Hookers initially planned to skip the Hokies' longer road trips this season (games at Boston College and Miami), but immediately made arrangements to be in the stands at Hard Rock Stadium, where they witnessed Hendon orchestrate a game-winning drive in the final minutes of a 42-35 upset win over the Hurricanes.
"He called us at first and said he's running with the [first team] more than usual, so we thought maybe they were preparing a special package for the Miami game," Alan Hooker said this week in a phone interview. "He calls back on Tuesday and was like 'you might want to get some airline tickets.'"
In the days leading up to the Miami game, Alan Hooker put a lot of thought into the words of advice he planned on offering his son — he even placed a call to Mo Forte, who was the North Carolina A&T coach when the elder Hooker was the quarterback in 1986 and the Aggies won the 1986 MEAC championship.
"He was like a father figure to me in college and I asked him what do I tell me son?" Hooker said. "He said, 'you make sure to tell him to take one play at a time, that the next play is the most important play and lead your team with confidence and they will follow.'"
Alan admits Hendon probably already knew the simple advice by heart growing up as the son of a MEAC Hall of Famer who also had a brief stint with the Dallas Cowboys. Alan noticed no big-game nerves when Hendon huddled the offense up with 3:16 left in the game against Miami.
Hooker flashed the poise he had shown all the way back to his days playing Pop Warner in North Carolina. It was the same composure he had leading Greensboro's Dudley High School to a state championship as a senior.
"We could see that right away," Dudley coach Steven Davis said of his former quarterback. "That's why we didn't waste any time with him on junior varsity. He didn't spend a day down there. We brought him up right away and he immediately became the second-team quarterback, and we knew if our starter went out with the team we had then, I didn't think we'd miss a beat."
The crowd of 50,000-plus Miami fans expected the moment would prove to be too big for a quarterback that came into the game with two career pass attempts.
Davis and Hooker's family knew better.
"I felt good about him coming back out that if we have the ball last, we are going to win no doubt about it," Alan Hooker said. "He knows how to control his emotions in difficult times. He's so confident that he can already see the end. He sees [Damon] Hazelton catching the pass. He sees guys making good runs. He believes in every call and goes out there and executes. I believe that what makes him different."
Virginia Tech's success with Hooker at quarterback continued last weekend against Rhode Island.
The offense put up a season-high 485 total yards and the coaches let Hooker loose in the passing game. He was 16 of 27 for 261 yards with three touchdowns — and was a couple of dropped passes away from monster numbers.
"I thought they were holding him a back a little bit throwing the ball against Miami," Davis said. "The more reps he gets, the more comfortable they are going to be with him throwing the ball. When he gets comfortable, it's going to be lights out."
Hendon Hooker's path to the top of Virginia Tech's depth chart had plenty of twists and turns. Alan Hooker remembered being on the other end of a very different conversation with his son in January.
Before the start of Tech's spring semester, Hendon told his parents he wanted to put his name in the NCAA's relatively new transfer portal, the now-famous database that notifies other collegiate programs of a student-athlete's interest in transferring.
A wave of his teammates entered the portal and eventually left the program, but Hooker along with running back Deshawn McClease reversed course — McClease changed his mind within a matter of days — and soft-spoken Hooker hasn't said all that much about the decision.
Tech coach Justin Fuente hasn't been interested in revisiting the subject matter either. Fuente angrily brushed off a question about Hooker's time away from the program just this week.
"Whatever," Fuente said. "Those guys are great kids. They've worked hard whether they've experimented with that or whatever that deal is in the past. We have never talked about it one time since it happened."
Alan Hooker isn't as shy about addressing what happened for the simple fact that it wasn't all that complicated.
"He was feeling like 'well I want to test some waters, I want to see if there's some other schools out there to play right now,'" Alan Hooker said. "It wasn't a knock against Virginia Tech, but other schools need quarterbacks."
Before his first two years in Blacksburg, the only time Hendon Hooker had spent an extended period of time on the bench was his freshman year in high school. The Panthers, however, took big leads against the majority of their opponents, which led to Hooker being inserted into the lineup most weekends.
Hooker redshirted as a freshman at Virginia Tech and only played a handful of snaps in his second year and didn't attempt a pass.
His parents didn't exactly endorse the idea of their son putting his name in the portal, but they let Hendon follow his own path. The only time Alan objected was when his son said he hadn't discussed the situation with Fuente.
"We aren't going to do that without talking to coach," Alan Hooker said. "… He's held up to be the guy he said he was when he recruited Hendon. He's always going to tell us the information whether it's good or bad. He's never given us information to tickle our senses. He's always said what it is, this is what Hendon needs to work on and this is where he's at. He's always believed in Hendon's talent."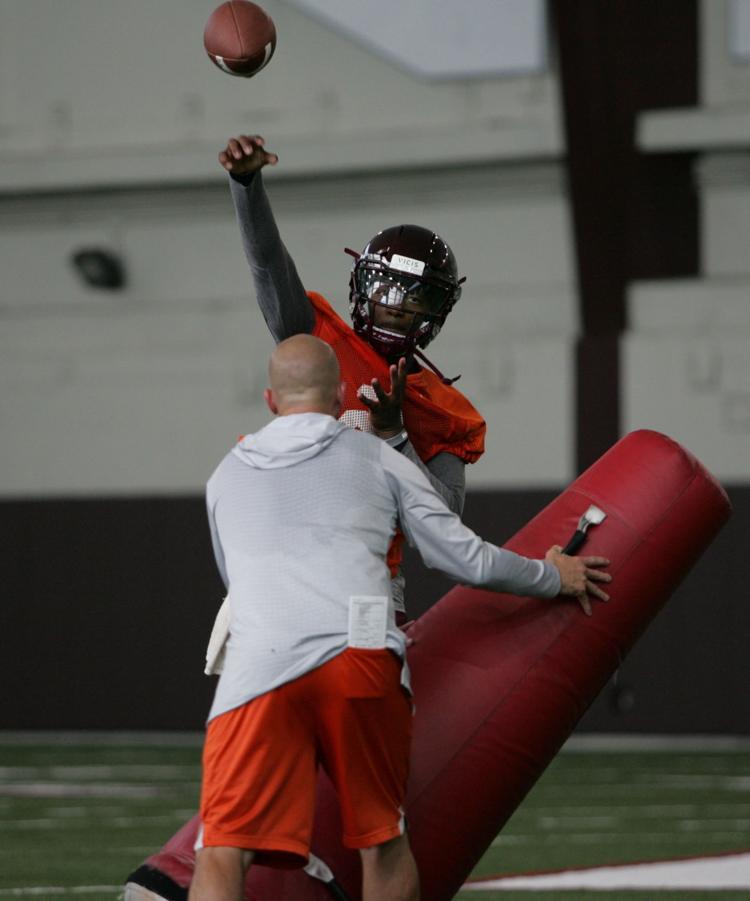 Tech's coaching staff is one of the reasons the then four-star recruit picked Virginia Tech over a long list of high-profile offerers including Oregon, Tennessee, Clemson and Notre Dame in the first place.
The sit-down meeting unfolded as Alan Hooker expected with Fuente taking a measured approach and sharing all the information he could so Hendon would be able to make an informed decision. Fuente outlined his plan for the quarterbacks in spring practice, which remained the same as it was the previous two years — an open competition.
Hendon stayed on campus as he weighed his options in the weeks that followed. While a number of teams — Alan Hooker didn't reveal specific schools — showed interest, Hendon never got all that close to leaving Blacksburg.
"About two weeks went by and I said Hendon 'what do you think?' And he was like: 'to be honest with you, I'm looking for Virginia Tech,'" Alan Hooker said.
By the time spring camp opened, Hooker's 21 days in the portal were a distant memory. Fuente had him write a letter to his teammates and that was the last time it was mentioned.
"To Coach Fuente's credit, when we talked about the portal situation, he invited the entire family," Alan Hooker said. "How much more can you say about a guy that will do that? At the end of the day, a lot of people will think about the wins or losses. The Hooker family is going to think about how we were treated. He has to make tough decisions every single day and sometimes it may not be favorable, but he's always truthful and that's what I appreciate."
Now that Hendon's climbed the ladder, his dad just wants him to enjoy every minute of it. The Hooker family is looking forward to being in the stands once again when Tech takes on North Carolina this weekend.
"It's really indescribable," Alan Hooker said. "You feel all these emotions and at times you try to suppress them and say it's no big deal, but it is a big deal. It is important. It's important for your son to have fun."
Mike Niziolek is the Virginia Tech football beat writer for The Roanoke Times. Follow him on Facebook and Twitter.