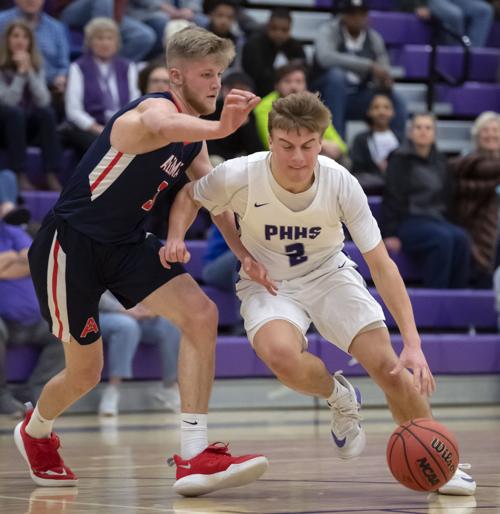 It was late in John Stockstill's senior year at Patrick Henry High School before he was certain that he wanted to play basketball in college.
"I wasn't sure if I wanted to play basketball or just go to the school," Stockstill said this week. "But when I decided I wanted to play basketball, Roanoke was by far the best option."
He'll join an incoming Maroons recruiting class that includes another top player from the Roanoke Valley, Northside guard Kasey Draper.
"I think Draper is a jack of all trades," Roanoke coach Clay Nunley said Wednesday. "That's why he has such great potential. He's extremely versatile.
"I think [Stockstill's] ability to shoot the ball will kind of separate him, giving him a niche as a player at our level."
Stockstill has been a three-sport standout at Patrick Henry, where he is playing baseball this spring and was on the PH golf team last fall.
"When I went to visit Roanoke, Coach Nunley was such a personable guy," Stockstill said. "I can't wait to play under him and learn from him."
Stockstill's grandfather, Leigh, was a standout for Ohio Wesleyan in the 1950s. Nicknamed "The Stork," Dr. Leigh Stockstill was the scourge of the downtown Roanoke YMCA when he wasn't delivering babies.
"I wouldn't say ball-handling is my main thing," the younger Stockstill said. "I definitely want to work on it when I get there. Three-pointers are probably what I'm known for the best."
The rest of Nunley's recruiting class includes 6-8 Ethan Rohan from the Miller School outside Charlottesville, 6-7 Adyn Kirby from Oceanside Collegiate in South Carolina and 6-foot Efosa Edosomwan from Charlotte Christian, alma mater of NBA star Steph Curry.
Headed to Charlottesville this weekend, according to numerous reports, are would-be transfers from Marquette, Sam and Joey Hauser. The Hauser brothers already have been to Wisconsin and are scheduled to go to Michigan State next week.
Indiana has been eliminated by the Hauser brothers, who hail from Stevens Point, Wisconsin, also the hometown of Virginia coach Tony Bennett. UVa is also waiting on an announcement scheduled for Friday from 6-6 Johnny Juzang from Los Angeles.
Juzang, whose older brother plays for Harvard, was on schedule to graduate in 2020 before reclassifying. His finalists are Kentucky, UVa, Oregon and Kansas.
At issue is whether the Cavaliers will run out of scholarships, particularly if Mamadi Diakite returns.
Diakite was invited to the G-League camp but was passed over for a 66-player NBA Combine that includes teammates De'Andre Hunter, Ty Jerome and Kyle Guy.
Miami's depth-shy men's basketball program has added Nysier Brooks, a 6-foot-11 post player who averaged 8.1 points and 6.3 rebounds as a junior at Cincinnati this past season. Brooks, who will be required to sit out the 2019-20 season, started all 35 games for the Bearcats (28-7) and had a team-leading 51 blocked shots.
N.C. State has added a graduate transfer, 6-10 Danny Dixon from Missouri-Kansas City. Dixon began his college career at George Mason.
Jarred Reuter, who began his career at UVa before transferring to George Mason, has one season of remaining eligibility but is not listed on the Patriots' 2019-20 roster. Various sites are reporting that Reuter plans to turn pro.
Newly named North Carolina State athletic director Boo Corrigan stood in for his father, Gene, who had suffered a stroke and was unable to attend his induction into the North Carolina Sports Hall of Fame.
In addition to his 10 years as ACC commissioner, 1987-97, Gene Corrigan was the AD at Washington and Lee, Virginia and Notre Dame.
New Virginia Tech men's basketball coach Mike Young will make his first appearance before the Roanoke Valley Sports Club on June 18 at the Salem Civic Center.