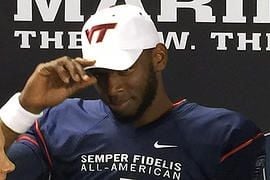 High school coaches are sure to trumpet their own players. It's what they do. But when college programs start hearing good things from the coaches who played against those players, it carries a lot of weight.
That's what Virginia Tech heard about 2015 signees quarterback Dwayne Lawson and running back Deshawn McClease during the recruiting process.
"You ask any of the coaches in the area that played against those guys: those guys were lethal weapons," Hokies director of player personnel Chuck Cantor said last week. "They were like, 'We're glad that guy is moving on.'"
A year after Tech's offensive staff went about replenishing the roster with skill players on National Signing Day, it was a small skill group for the Hokies in their 2015 class, which was heavy on linemen.
But while quantity might have been lacking, Virginia Tech appears to have added quality in Lawson and McClease, both four-star recruits by various services.
Lawson, a 6-foot-6, 207-pound quarterback from Tampa, Florida, picked the Hokies after originally committing to Miami. Early playing time is his goal, and Virginia Tech, despite returning senior starter Michael Brewer, could accommodate him better than Miami with Brad Kaaya in the way for the foreseeable future.
"We want to establish as much depth as we can at that position and make it extremely competitive," offensive coordinator Scot Loeffler said during Virginia Tech's signing day webcast. "We want that room never to be comfortable.
"We obviously had Michael Brewer start last year and [Brenden] Motley get some time, but at the end of the day, it's always an open job. And we want it to be highly competitive. We're really looking forward to Dwayne fitting into the mix in the summertime. I think we're to the point where at that position we're going to be much more productive than we have been."
Lawson's a dual threat quarterback, throwing for 2,444 yards and 21 touchdowns and running for another 867 yards and 17 scores a senior. He's skinny right now, although Loeffler sees him eventually getting up to 235-240 pounds, and needs some refinement, but he'll be as athletic of a quarterback as Tech has.
"He can make every single throw," said Loeffler, who would like to take a quarterback in every signing class if possible. "There are some things that we need to correct with his mechanics to make him a little bit more accurate. But you can't coach his athleticism. He has the ability to make someone miss. He can get out of trouble. He's a very good athlete who has pro quarterback potential in my opinion."
Lawson's not an early enrollee, so the earliest he'll get to Blacksburg is late May, complicating any path to extremely early playing time. Tech also has a well-stocked, though not necessarily veteran, quarterback room, with Brewer having started last year, Motley having filled in as a Wildcat option late in the year and a pair of freshmen who redshirted, Andrew Ford and Chris Durkin, hoping to get a longer look this spring.
Quarterback has been a question since Logan Thomas left Blacksburg, but the Hokies at least now appear to have options, as opposed to late last season, when they were a series away from burning the redshirt on Ford just to finish the UVa game.
"As soon as we add Lawson to this mix, I think we're going to have a super, super competitive room with youth," Loeffler said. "And I think the future is going to bright at that position."
McClease will join a running back room that might not be big enough for all the bodies. With J.C. Coleman, Trey Edmunds, Joel Caleb, Shai McKenzie, Marshawn Williams and Jerome Wright as tailbacks, before you even get to redshirts like Travon McMillian and D.J. Reid, it's a packed house. But McClease brings different skills.
"He's a back that has the ability to make people miss," Loeffler said. "He has great vision. We like his speed. If there was one area in our offense this year that we lacked was throwing the ball to our running backs. We think this guy has natural mitts out of the backfield."
Recruiting coordinator Bryan Stinespring, who led McClease's recruitment out of Oscar Smith High, said McClease has his own style but is reminiscent of a few past Tech tailbacks.
"He kind of has his own kind of unique characteristics of how he does things, and his starts and stops," Stinespring said. "But quite honestly, I go back long before, it reminds me some of the starts and stops a little bit of Shyrone [Stith] back in the day, a Western Branch guy. His ability to make people miss. I've always been kind of partial to Shyrone. ... More up to date, probably a little bit like Ryan [Williams]. Ryan could make people miss. Had a good step on him. But McClease kind of has his own little style, a little unique deal on how he runs the ball."
McClease had a productive high school career, breaking Coleman's Oscar Smith records by running for 5,025 yards and 82 touchdowns.
"It's amazing what he did when really during the regular season only played about half a season," Stinespring said. "There's a lot of times that by the third quarter or halfway through the third quarter he's signing autographs and eating popcorn. He didn't play much in certain games.
"So he's an amazing player. He likes the ball in his hands and normally good things happen when he's got it. So we're excited about it."