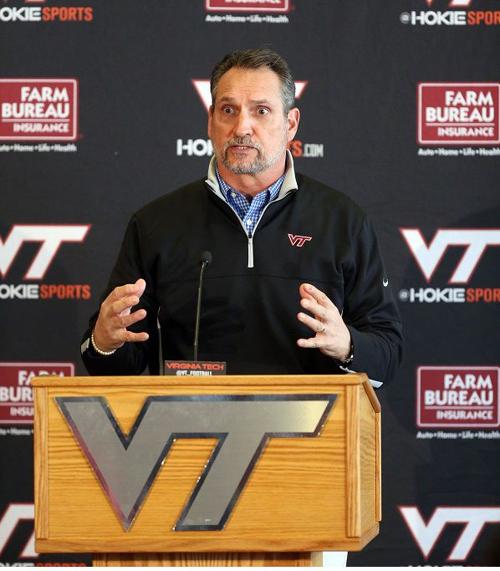 Justin Fuente, the coordinators and a few players spoke to the media today on the eve of the start of spring practice. 
I wrote this story for the paper dealing with the start of spring and the many of position switches that'll be taking place. But there was plenty more that was said about that at the media session, and I'll go into a little more detail about those moves in addition to some other notes here and probably on the blog tomorrow.
1. As you would imagine, don't expect much news on the quarterback front this spring.
Fuente joked that he'd be "happy to not tell you who the quarterback is going to be" at the start of his press conference today, although he did say that there'd probably be close to an even split of reps among the trio of Josh Jackson, A.J. Bush and Hendon Hooker to open spring ball, with others (Jack Click, Ryan Willis presumably) getting snaps here and there. They'll pare things down as they see fit as spring progresses.
For Fuente and offensive coordinator Brad Cornelsen, this isn't anything new.
"[Last year] wasn't the first competition that we've ever had, so we handled it about like we've always done it," Cornelsen said. "It always plays out a little bit different. I'm not sure that looking back at it if we would've done anything different, so it's a similar situation this year.
"We have young guys and guys that are unproven, guys that haven't gotten a chance yet on the field, so just like we talked about last year, it'll be day-to-day. Every drill, every read, every throw, every meeting, everything is evaluated and everything that goes into it, so it'll be an ongoing process every single day."
This year's group has even less experience than last year's, however, with none of the three primary contenders for the job having taken a snap in a Division I college game.
"We've been through it once before," Cornelsen said. "The process won't change. When you get closer to the season, when you get through fall camp, you're trying to figure out whoever it is you decide to go with what can they handle, what can they execute, what are they good at, what are they not comfortable with. And we're trying to get that guy to play well and figure out what kind of weapons we have around him, what our offensive line can handle and that's the challenge of it all. Just putting all that together."
2. Expect a variety of running backs getting looks again.
This winter was something of an end of a running back era for the Hokies, with longtime mainstay Sam Rogers and talented but frequently injured Marshawn Williams and Shai McKenzie moving on for various reasons. Travon McMillian's back in the backfield, but the Hokies will give a number of players a look this spring.
"I'd say it's an open competition everywhere," Fuente said. "We've got to find a way to get more production out of that spot."
Deshawn McClease isn't all the way back from shoulder surgery, although he'll get some work in. D.J. Reid is someone who could get additional reps, "a little more of the unknown that we're trying to encourage to get better and come along," Fuente said. Fork Union addition Terius Wheatley will also begin at tailback. 
Tech will also work Steven Peoples at tailback exclusively this spring. He'd split time between that and H-back last year. His move is probably both for adding to the tailback depth in addition to opening up a spot for early enrollee H-back Dalton Keene to get plenty of reps.
"[Peoples] was trying to be that type of guy a little bit like Sam last year when we needed him to," Cornelsen said. "That's a lot on a guy's plate to do that. For him, just solely being able to focus on that tailback position, I think, is going to help him. I'm excited to see him develop a little bit in the spring. ...
"We need more than one guy. We need more than two guys. There's need. There's depth there that we've got to develop."
3. Chuck Clark's free safety spot will be filled by Terrell Edmunds, who slides over from rover.
Foster said the position is an important one on the defense, hence the move of Edmunds, the most experienced safety on the roster. 
"That's such a critical position for us, our free safety spot," defensive coordinator Bud Foster said. "He's one of our quarterbacks of our defense. That position entails a lot in that it's part corner, you've got to be a good tackler, you've got to be a good cover guy and then a great communicator."
Edmunds played free safety some as a true freshman before moving to corner. He played primarily rover last fall, finishing with 89 tackles and a team-high four interceptions. He earned an All-ACC honorable mention in the process.
"I think it's natural for him," Foster said. "A guy that played corner for us, a guy that's a very good tackler, a very good finisher. That position, because of our coverage concepts, gets a lot of one-on-one coverage whether we're in man or whether we are in our zone or quarters concepts, more so than our rover position. He has that skill set. And I think it's a natural position for him and he's excited about it."
Edmunds' move opens up the rover spot for Reggie Floyd, with Khalil Ladler sliding over from cornerback to serve as the backup this spring. This could be where prized recruit Devon Hunter fits in come summer and fall.
4. The backup at free safety is less experienced: converted sophomore receiver Divine Deablo.
On the other end of the experience spectrum at free is Deablo, who played last year mostly on special teams. He forced a fumble on a kickoff against Pitt, and his move opens up things for Eric Kumah and Phil Patterson to have more of a path to playing time at receiver.
Fuente also called this a "natural fit" for Deablo. Foster likes it too, although the inexperience on defense is a concern.
"I'm anxious to see that, to be honest with you," Foster said. "Obviously you saw what he could do on special teams, making plays, throwing his body around. He can bend his body. For a big kid he has tremendous feet and suddenness. He's not a long strider who takes time to get up to speed. ...
"I haven't seen him cover one-on-one yet. We haven't seen him do any of those kind of things. Those are going to be things we have to assess and evaluate. And we'll find out. Who knows? He might be a corner. I'm just throwing that out. I know there's some question marks still. But I do like his toughness, I do like his football IQ, I do like his mindset and so I'm excited about having him on our side of the ball."
5. Ball security on offense and ball disruption on defense are high on Fuente's priority list.
He cited a couple pretty specific stats to emphasize his point, ones that you don't just pull off the top of your head. 
Fuente said the Hokis were 54th in the country in forcing and recovering fumbles and 127th nationally in fumbles lost. Those numbers are out of 128 FBS teams.
Tech was 14th nationally with 16 interceptions by its defense and 21st nationally with only eight interceptions thrown by its quarterbacks.
"To me, taking care of the ball and taking the ball away are big points of emphasis for us," Fuente said. "Our 10 victories, we were plus 8 in turnover margin. In our four losses, we were minus 9. So those are the things that we'll do drill-wise, technique-wise, emphasis-wise to try to improve upon that. And I think we've still go to do a great job emphasizing how to practice."
There are broader things to address too, however.
"I'm still not pleased or satisfied, both from our coaching perspective and from our players perspective in terms of how we're going to practice," Fuente said. "We're still kind of refining that. It's the most important thing we do in terms of preparation and we need to treat it that way and do a great job of that. The last thing for us is finishing. Finish every drill in everything we do."