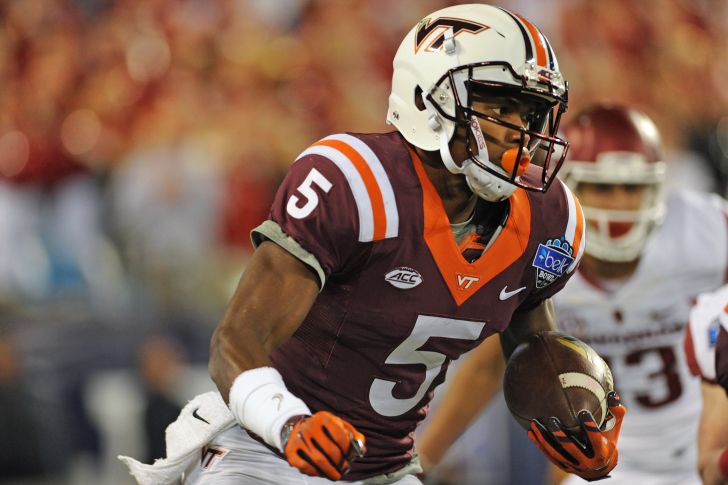 By Andy Bitter | The Roanoke Times
Spring ball is coming up, with Virginia Tech starting a month's worth of practices on March 21. Before the Hokies hit the field, I'll be breaking down the team position-by-position to get you up to speed. 
Spring cast
Receivers
Cam Phillips, Sr.: 76 yards, 983 yards, 5 TD
C.J. Carroll, r-Jr.: 18 catches, 258 yards
Jaylen Bradshaw, r-Jr.: 3 catches, 25 yards
Henry Murphy, Jr: 3 catches, 29 yards
Sean Daniel, r-So.: 1 catch, 6 yards
Eric Kumah, So.
Divine Deablo, So. (maybe): 1 catch, 8 yards
Phil Patterson, r-Fr.
Samuel Denmark, r-Fr.
Jordan Jefferson, r-Fr.
Kevin Henry, r-Fr.
Dominic Benson, r-Fr.
Bodhie Long, r-Fr.
Kalil Pimpleton, Fr.
Caleb Farley, Fr. (maybe)
Tight ends
Chris Cunningham, r-So.: 6 catches, 48 yards, 4 TD
Colt Pettit, r-So.
Xavier Burke, r-So. (maybe)
Casey Harman, r-So.
Dalton Keene, Fr.
Cole Blaker, Fr.
No longer here
Isaiah Ford: 79 catches, 1,094 yards, 7 TD
Bucky Hodges: 48 catches, 691 yards, 7 TD
Devin Wilson: 2 catches, 13 yards
Summer/fall reinforcements
Sean Savoy, Fr. (WR)
Hezekiah Grimsley, Fr. (WR)
Drake DeIuliis, Fr. (TE)
Lecitus Smith, Fr. (TE)
Burning question
With Ford and Hodges, the first- and fifth-leading receivers in Hokies history, off to the NFL, how will Virginia Tech replace that production in the passing game?
In the spotlight
Who do you turn to when you lose the first- and fifth-leading receivers in program history? Well, the third-leading receiver in Virginia Tech history. For the longest time, Phillips played Robin to Ford's Batman, but late last season, he started to take on more of a featured role, thriving in the slot and finishing with 82 receiving yards or more in five of the last seven games. That culminated with a 6-catch, 115-yard Belk Bowl that earned him game MVP honors and nearly got him to the 1,000-yard mark with 983 on the season. With Ford and Hodges gone, Phillips is the old man of the group, the only senior and one of only three receivers to be on the roster for more than two years. He'll likely migrate back outside in the formation, with the Hokies bringing in a large group of slot receivers, but Phillips has shown he can produce anywhere on the field. He'll have to, given the production Tech lost from last year, but he'll also have to be a leader in a receiver group that's seen its number bolstered but is among the most inexperienced on the team. A good year will etch his name in the record books. He needs 46 catches and 905 yards to pass Ford for the top spot in program history in receptions and receiving yards. 
Wild cards
The whole group's mostly unproven, so you can pick plenty of players for this category. I'll go with three, knowing that I'll probably overlook someone: a pair of second-year players in Kumah and Patterson and an early enrollee in Pimpleton. Kumah and Patterson arrived in the 2016 signing class and, along with Deablo and Denmark, formed a quartet for the future. Although head coach Justin Fuente hasn't come out and said it officially, there are plenty of rumblings that Deablo will get a look on defense this spring. Kumah and Patterson are a pair of 6-foot-2 receivers who could factor in as Virginia Tech looks for outside receivers to go along with Phillips. Pimpleton, by all accounts, is a decent candidate for early playing time, having shown up early to go through spring ball and looking like this. Physically, though small in stature, he seems like the shifty, elusive receiver in the slot that the Hokies are looking for. Offensive coordinator Brad Cornelsen talked on signing day about finding play-makers who can make defenders miss. Pimpleton was among the players he was talking about.
Other questions
How much more spread out will the distribution of passes be now that two All-ACC performers are gone? ... Will newly-minted scholarship player Carroll be the player to beat in the slot or will his role shift as more slot-like receivers are brought into the program? ... Can Bradshaw tap into the potential that he showed last spring and finally make a dent on the depth chart? ... Can Murphy be more than just a jet sweep guy? ... Of the non-scholarship guys, who will be the next to pull a Carroll and work their way into a prominent role? ... Will Farley start out on offense or will the coaches take a look at him at defensive back, as is rumored? ... Will Cunningham catch passes that aren't touchdowns this year? (Four of his six grabs went for scores last season) ... Is Burke still an option on offense or will Tech give him a look at a depleted defensive end position this spring, a spot he played in high school? ... How will Fuente integrate all the different kinds of tight ends that he has into the offense? ... Will Pettit stick as a blocking tight end or will he factor into the offensive line competition at all?
Biggest battle
The Hokies usually start three receivers and two of them from last year are working out every day to get selected in the NFL Draft. That leaves plenty of competition for the two spots alongside Phillips in the starting lineup. The depth chart at the end of last year had Bradshaw, Deablo and Carroll as the backup receivers to Ford, Hodges and Phillips. That's likely to change quite a bit with the number of second-year players getting more comfortable in the system and coming into their own. Phillips will start somewhere and Carroll, who had very nice production last year in the slot, will likely have a significant role too. But Tech needs contributors elsewhere, and playing time is up for grabs.
Just the facts
How inexperienced is this receiving corps? Take away Phillips and Carroll's production and the rest of the returning receivers on the roster combined for eight catches and 68 yards last season.
Last word
Of the 25 players currently listed on the roster as a receiver or tight end (or joining the program this summer), only four are juniors or older. One of those, Murphy, has been here only a year after transferring from junior college. Another, Bradshaw, has three career catches. So it's not an understatement to say this is a brave new world on the receiving front. Phillips is a great holdover from the best receiving trio in Virginia Tech history, a potential All-ACC player who can serve as a bridge from the old guard of Frank Beamer's final years to the new one that Fuente's bringing into the program. But the Hokies are going to need some of these young guys to develop quickly.
The question at the top of this post isn't really fair. You don't replace Ford and Hodges, certainly not with two guys and certainly not with ones as inexperienced as the candidates Tech will likely be putting out on the field. But you can maybe come close to replacing most of their production in the aggregate with a number of players. Given Fuente's preference for having lots of players contribute on offense, that might be the best way to go about it. In that regard, starting designations might not be all that important this year, with it being quite possible that lots of players shuttle in and out of the offense. Just who those players will be is up in the air. Fuente wasn't very big on specifics when I spoke to him this offseason, not even wanting to tip his hand on some of the position changes that his assistants have spoken more openly about at many of their speaking engagements this winter. (It's why you see so many "maybe" qualifiers up top.) But Tech has plenty of options, having brought so many receivers into the program the last couple years, and this spring will a big first step in sorting out that field, figuring out who can contribute in the passing game and who might better serve the team at another position. Don't expect a firm depth chart by the end of spring, but do expect the Hokies to have a better idea of who might be their primary targets next fall.
Tags
Be the first to know
Get local news delivered to your inbox!