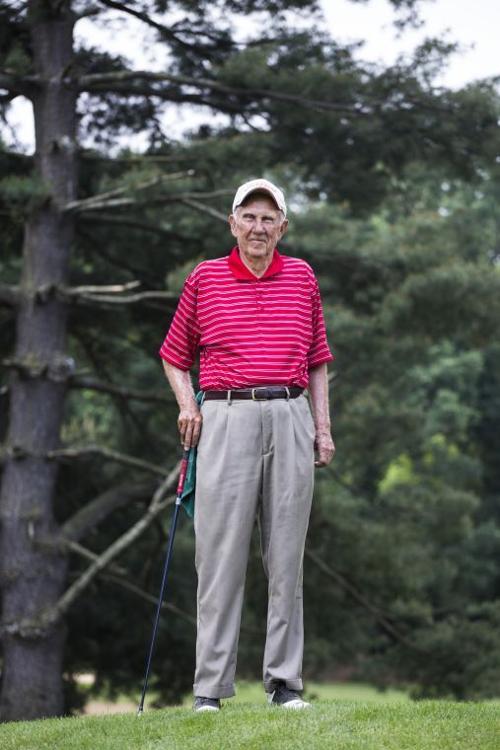 Looking for Bill Shrader?
No problem. The 81-year-old Roanoker is the one of the easiest guys on earth to find.
Four days a week, anyway. Like clockwork, Shrader can be located almost every Monday, Wednesday, Friday and Saturday on the golf course at Roanoke Country Club. His office hours generally run from 9 a.m. to midafternoon.
"I've been doing that for 23 years," Shrader said. "We probably have a pool of about 20 players, which we maybe get 15 each day. Then we pair it up. We don't do any phone call. You just show up."
More times than not, Shrader leaves for home with more money than when he arrived.
"Well, I think so, I think so," said Shrader, breaking into a wide grin. "We play for enough to be interested in it, but not enough to hurt anybody."
Well, forget that $30 or $40 windfall on a good day. He hit the jackpot a couple of weeks ago, when he was informed that he had been chosen as the 42nd inductee into the Roanoke Valley Golf Hall of Fame.
"What an honor!" a beaming Shrader said. "I love the game of golf. We play in any weather just about. We always still walk. It's great exercise. When we get done we're worn out and that's good. Then you can eat and drink and feel like you've paid your dues."
Certainly, Shrader's long-running resume of achievement and dedication to the game made it easy for the HOF selection board.
High-level achievement in golf? Shrader has had that angle covered for years. He won the VSGA Super Senior title in 2003 and 2004 and has been a runner-up twice. He's a four-time HOF Super Senior Player of the Year. He's been a champion or senior champion at three different clubs in three different states.
For the past 20 years, he has served as the official starter for the Scott Robertson Memorial, one of the nation's top-tier junior tournaments contested every May at RCC.
Shrader cherishes that role as much as he does going low on the course. Taking a cue from longtime and much celebrated British Open starter Ivor Robson, Shrader introduces the player groups on the first tee not as the 10:30 group. Instead, it's the 10:30 game.
"That guy at the British Open is my idol!" Shrader said, laughing. "He stands there in a coat and tie, he doesn't eat anything, he doesn't drink anything, he doesn't go to the bathroom for six hours and he never sits down. I don't know how he does it.
"And it is a game, not a tee time. That's what the British call it. It's the official name."
Shrader, a multi-sports standout at old Jefferson High, graduated from Duke in 1954. He played on the Duke basketball team his freshman and sophomore years. Two of his dearest friends are fellow Roanoker Rudy Lacy and former Maryland coach Lefty Driesell.
"I had a mediocre basketball career, at best," Shrader said. "Duke was in the Southern Conference then and they were working on getting into the ACC. So they started recruiting in Pennsylvania, New Jersey and New York.
"They had five guys come in from Pennsylvania who were better. And there was a difference. I don't think they were better athletes than we were but they played basketball a different way. They penetrated the ball harder and they played rougher. We were more slow; they ran with it better."
Shrader's two sons, Eric and Mark, played hoops in college — Eric at Maryland under Driesell and Mark at Virginia Tech under Charlie Moir.
In the final half of his senior year, Shrader started playing a lot of golf with some of his buddies on the Blue Devils' golf team.
"I started playing golf because everything else was over with. I really got into it," he said.
Since, he's been a virtual golfaholic.
As a trainee with Gulf Oil, Shrader and his wife, Shirley, lived in Staunton when the two boys were born.
"I started playing a lot of golf at Ingleside there and I was on the club's golf committee at 23 years old," he said. "Then I went to the Washington, D.C., area where I joined Chantilly National. We came back here in 1991 when Gulf become Chevron."
When he aged into the senior level, Shrader became a major competitor in area and state senior events. He has done most of his damage since turning 70 in the super senior class, winning major titles all over the state.
The tall, trim Shrader has basically "outlasted" many of his peers.
"The only time I play golf riding a cart is in a tournament, where you have to," said Shrader, who conceded he's better than his current 10-handicap, which he admits is still inflated from some big numbers from the winter months.
"Walking and playing golf helps a lot! I've been very, very fortunate that I was able to do that. And I do like to play. I like to come out here."
Shrader estimated he's played close to 10,000 rounds in his life.
He first shot his age 12 years ago at 69.
"I don't even pay attention to it anymore," he said. "I shot 80 today and I'm 81. I'd rather win the game.
"The big thing is I keep the ball in play. I can hit it 225 yards and I've always been fairly good around the greens. I keep it in play and scratch around there and score."
His best score ever? It's a slam dunk. Shirley, his wife of 59 years, also is hooked on golf. She plays every Tuesday and Thursday and sometimes on weekends with her group at RCC.
"It was a perfect hookup between us," Shrader said of his wife, who is two years younger. "She hasn't said to me, 'no, you're not going to the golf course today.'
"When we met, she didn't play anything. When we were dating sometimes you would go bowling and play touch football, and she was the worst in everything that we did. She couldn't hit a moving ball to save her life.
"But the first time she hit a golf ball she had a one-piece swing. I was totally shocked! And she just fell in love with it because that was something she could do better than a whole bunch of the girls. I mean she can play with about anybody."
Except the family Hall of Famer.