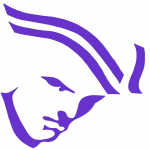 The championship trophy for the Region 5D girls tennis tournament did not get packed for Albemarle High School's trip from Charlottesville to Roanoke's Rivers Edge courts for Wednesday's post-match ceremony.
No problem. It's not going anywhere.
Albemarle put its name on the hardware with a 5-0 victory over Patrick Henry to claim the title it last won in 2018.
PH (10-2) tested Albemarle at several positions, but this battle of Patriots went to the visitors in slightly more than one hour.
"They're a nice team, all the way through their lineup," PH coach Paul Kelly said.
"And they're nice kids too."
PH's Marella Hudson provided plenty of fight in the No. 1 singles match.
The junior matched strokes with Albemarle's Mia Shen, who was leading 6-3, 4-3 when the match was halted after the visitors clinched their fifth singles point.
Hudson, who played volleyball for PH in March and April, could see Shen again in next week's region singles tournament, also at Rivers Edge.
"She absolutely has a chance," Kelly said. "I think their games are very similar. Marella has a chance for sure.
"She had not played a ton. She came right off the volleyball court to the tennis court. I gave her a chance to take a few days off and she was out here the first day of practice."
Shen used a lethal forehand to put Hudson in a defensive mode. She also concluded one long rally with a running one-handed crosscourt backhand volley at the net.
"I don't see that all the time," Hudson said.
The PH junior will file Wednesday's experience away and adjust next week.
"It's a lot different competition than we usually play," Hudson said. "I just have to be consistent and keep my head in the game."
Emma Paitrick, Lilian Peskova, Natalie Assink, Sarah Beiter and Lexi Warren all won in straight sets (9-0) for Albemarle, which lost 9-0 both times this season to local rival Western Albemarle.
PH's Sarah Riddle and Sophie Dewire pushed their opponents to 6-4 sets at No. 3 and No. 6, respectively.
"We expect good competition every time, especially in a regional final," Albemarle coach Ian Lyons said. "They put up a good fight. We had to bring our best tennis today."
Kelly was happy just to get the 2021 season played after the 2020 schedule was canceled by COVID-19.
"I'm absolutely thrilled to be out here with these kids," the PH coach said. "Two or three months ago, we didn't know what was going to happen, and here we are."