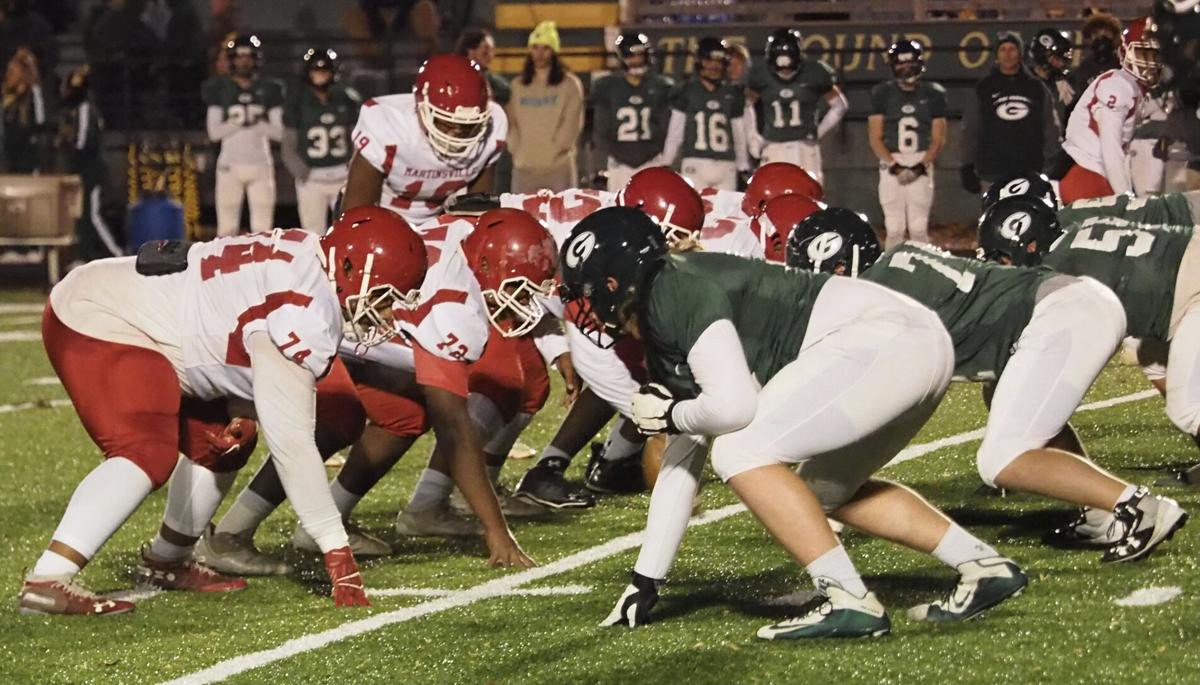 On the first chilly Friday night of this football season, Glenvar's offense eventually got onto a bit of a hot streak.
The top-seeded Highlanders settled for a field goal on their first drive, then scored touchdowns on their next three on the way to a 38-0 win over visiting Martinsville in the Region 2C semifinals.
It sets up a rematch with defending Class 2 state champion Appomattox County. The Raiders, who advanced Friday by topping Radford, eliminated Glenvar in last season's region final.
That will be the game Glenvar has been preparing for all season, and coach Kevin Clifford said there is work that needs to be done before Appomattox arrives next week.
"We executed all right," Clifford said. "I don't think we executed as well as we did last week.
"But we did what we needed to do. We bent a little bit, but we didn't break. We won 38-0, we need to correct the mistakes we made next week in practice and then we move on."
Glenvar quarterback Aiden Wolk passed for 208 yards and four TDs — two of those to wideout Dagan Williams. Wolk, who missed Glenvar's regular-season game with Martinsville, also scored on a 5-yard run in the second quarter.
Running back Kyle Hanks had 132 rushing yards and also caught a 21-yard TD pass from Wolk in the third quarter.
"That (scoring run) was really good, but we have some stuff to clean up," said Aidan Custer, who plays on both the offensive and defensive lines. "We'll come back Monday, and prepare for (Appomattox). That's what we always say: "Who's next?"
Both teams also had to adapt to the coldest weather of this football season. Temperatures that read in the mid-30s most of the night, gave players their first chance this year to play in frosty conditions. Custer said preparing for cold weather is just one more factor that players have to keep in mind.
"You have to concentrate a little bit more," he said. "When you're cold, you might not want to hit someone because you don't want that sharp pain in your body. But we all knew it was going to be cold, and we were ready for it."
Martinsville (5-6) had opportunities to keep the game close in the first half, but turnovers and drive-hampering penalties cost the Bulldogs, who returned to the playoffs for the first time since 2017. Martinsville was either in or near Glenvar territory on four successive drives in the first half.
Twice, the drives ended due to lost fumbles. Another drive ended when the Bulldogs turned the ball over on downs.
Martinsville's best chance to score came early in the second quarter, when a long run by Izayveous Martin appeared to have the Bulldogs inside the 10-yard line. However, a holding call down field nullified the long run."
"When you're playing a good team and make mistakes like that, they will take advantage of it," Martinsville coach Bobby Martin said. "I have respect for what (Glenvar) does.
"We just couldn't get on a run tonight."
The Bulldogs finished with 137 yards of total offense. Quarterback Rashaun Dickerson and running back Latrell Hairston rushed for 33 yards apiece.
Despite the results on Friday, teaching the second round of postseason was a big jump for Martinsville, which opted out of playing in the covid-delayed 2020 season last spring. Martin said that last year's restrictions also meant that practices and offseason workouts were canceled.
"We weren't allowed to lift weights, no conditioning — nothing," Martin said. "I've yet to have an offseason with these guys yet.
"For these guys to do what they did — I'm just so proud of them."