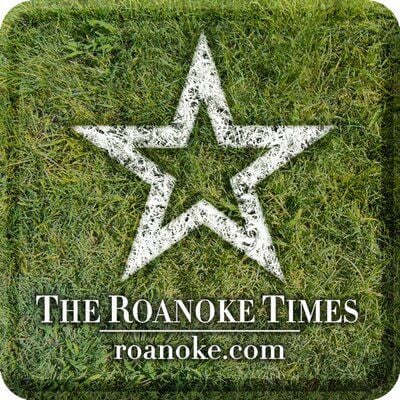 The last decade had not been a kind one to Cave Spring when it came to its football rivalry with its south Roanoke County neighbor Hidden Valley.
The Knights had dropped each of the past nine meetings, with five of those games being heartbreakers decided by a single possession , and had not emerged victorious in the series since a win way back in 2010.
Cave Spring finally was able to exorcise its demons Friday night, although it was another nail-biter that came down to the last minute, with a thrilling 17-14 victory over the host Titans.
Cave Spring had a seemingly comfortable 17-0 lead until the Titans mounted a furious rally by scoring two touchdowns in quick succession late in the game before the Knights were ultimately able to close out the win.
For Cave Spring coach Tim Fulton, the streak-breaking victory was the perfect cap to a season that has been unlike any other.
"What I just told the kids is we've been working and working for years, many times we've found a way to not be successful in this game and it's been a long time just trying to finally get around that corner," Fulton said. "We might have went the rough way around the corner, but tonight we were finally able to make it happen."
Hidden Valley only managed 71 yards of offense in the first half and turned the ball over three times, while the Knights used a punishing ground game to rack up 136 rushing yards and jump out to a 14-0 lead at halftime.
Landon Altizer punched the ball in on runs of 26 and 7 yards, while Skylor Griffiths and Chris Hall added 40 rushing yards each.
After a scoreless third quarter, the Knights then tacked on a field goal early in the fourth quarter to stretch their advantage to 17-0. They appeared to be coasting to the win before Sam Dragovich and the Titans flipped the script and added another chapter of exhilarating finishes between the two squads.
Dragovich connected with Joey Strong on passes of 27 and 34 yards before finding Tyler McDaniel in the end zone with a 14-yard pass to cap a seven-play, 87-yard drive.
The score cut the deficit to 17-7 with 4:53 remaining, and the Titans immediately followed it up with a successful onside kick.
Hidden Valley was unable to score on that possession but quickly forced a Cave Spring punt, and the Titans found quick-strike success once again on the ensuing drive.
Dragovich hit Steven Robertson for 35 yards on the first play and then again found paydirt on an 18-yard pass to McDaniel, cutting the deficit to 17-14. Suddenly it began to seem like the Titans were going to improbably steal yet another win from their rivals.
However, Cave Spring recovered the ensuing onside kick attempt with 2:48 left to play and managed to run out the clock despite never recording a first down.
When the win was assured, the Knights stormed the field and a decade's worth of frustrations finally melted away.
"You end on a high note right here, you love seeing your seniors have success and go out like this," Fulton said. "They have gone through years of misery against these guys. To get this finally taken care of, I am really thrilled for them.
"Hopefully we can start practice this summer and use this as a springboard heading into next year.
Cave Spring lineman Jordan Akerson mentioned that the team couldn't help but think of the struggles against the Titans when the game tightened up in the fourth quarter. Akerson was a large part of the reason Cave Spring had such a dominant showing up front and in the run game.
"It's like you start reminiscing and seeing those same games replay in your head, but we just had to go out and make the plays we needed to make," Akerson said. "It's a blessing to be able to go out like this, and I couldn't be more proud of my team."
Cave Spring 17, Hidden Valley 14
Hidden Valley 0 0 0 14 — 14
CS — Altizer 27 rush (Mitchem kick)
CS — Altizer 6 rush (Mitchem kick)
HV — McDaniel 14 yard pass from Dragovich (Dragovich kick)
HV — McDaniel 18 yard pass from Dragovich (Dragovich kick)
Rushes-yards 48-197 19-23
Comp-Att-Int 3-4-0 18-33-2
RUSHING — Cave Spring, Griffiths 22-77, Hall 15-58, Altizer 9-57, Reeves 2-5. Hidden Valley, Dragovich 9-6, LaTempa 8-13, 2-4.
PASSING — Cave Spring, Griffiths 3-4-0-72. Hidden Valley, Dragovich 18-33-2-269.
RECEIVING — Cave Spring, Cooper 2-25, Reeves 1-47. Hidden Valley, McDaniel 4-55, Strong 4-70, Robertson 3-57, Carroll 2-18, Dunnings 2-20, Banks 1-22, Simmons 1-17, Pardon 1-10.