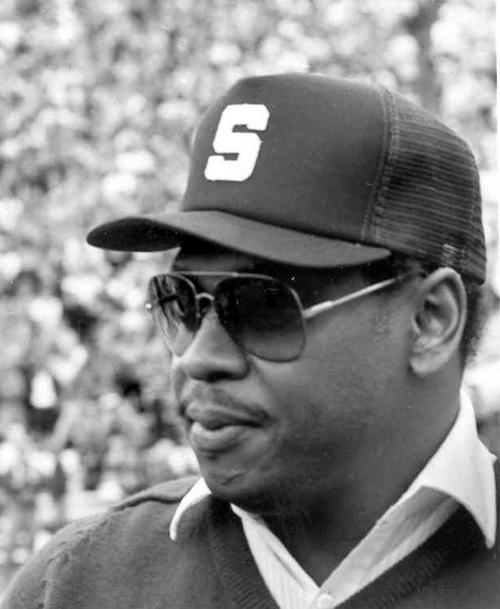 As a young lad whose father attended Michigan State University, one college football game stood out above all the others in my boyhood household.
It was the 1966 "Game of the Century" between undefeated MSU and unbeaten Notre Dame at Spartan Stadium in East Lansing.
The game resonated in Roanoke, too, as former Lucy Addison star Charles "Mad Dog" Thornhill was an extremely hard-hitting, All-Big Ten Conference linebacker for Michigan State coach Duffy Daugherty
MSU was 9-0, and Notre Dame was 8-0 when they lined up in front of a crowd of 80,011 for the late-November game.
Neither team was headed to a bowl game.
The Big Ten had a rule preventing a team from playing in the Rose Bowl in back-to-back seasons, and Michigan State had gone to Pasadena the previous year as the conference champion.
Notre Dame did not play in bowl games at that time.
That meant the winner of the game almost certainly would be crowned as the national champion by the wire services that conducted the national polls.
Only there was no winner.
The game ended in a 10-10 tie after Notre Dame rallied from a 10-0 deficit.
Notre Dame had the ball at its 30-yard line with a minute and a half to play, but head coach Ara Parseghian — who had lost his starting quarterback and star running back — chose to run out the clock rather than challenge a defense led by Bubba Smith, George Webster and Thornhill.
Michigan State fans, including the guy who paid our family's mortgage, later referred to Notre Dame as the "Figh[ty]ing" Irish.
Parseghian took heat for the rest of his career, but even former Michigan State players such as Thornhill had to concede that the Notre Dame coach did what was best for his team.
The Irish whipped Southern California 51-0 the next week and were awarded the national title by The Associated Press and United Press International.
The football record books are full of games that ended in a tie. Some feel less like a tie than others.
ESPN produced a documentary several years ago highlighting such a miraculous comeback by Harvard against Ivy League rival Yale that the Crimson's campus newspaper proclaimed "Harvard Beats Yale 29-29."
Some games deserve to end in a tie.
Virginia Tech coach Frank Beamer famously celebrated a missed field goal by Wake Forest and the end of four scoreless quarters in a 2014 game in Winston-Salem.
He wasn't celebrating afterward as Wake won 6-3 on a field goal in the second overtime.
Overtime is now played to break ties at just about every level of football. The last ties in VHSL football showed up on teams' won-lost records in 1986. Prior to that, there were plenty. Here are some selected highlights:
• Unbeaten seasons marred only by a tied game are very infrequent in the Timesland record books.
Consider the 1961 Cave Spring Knights.
Bill Edmunds coached Cave Spring to a 10-0 record in 1960 and the Knights finished unbeaten the next year.
However, the boys from Southwest Roanoke County tied three opponents — Covington (6-6), then William Byrd (13-13) and Martinsville (14-14) in back-to-back games — winding up with a very unusual 7-0-3 record.
The Magicians' first game in 1907 ended in an 11-11 tie against Randolph-Macon Academy. The season ended with a 0-0 tie against E.C. Glass.
We're not sure who the cameras caught celebrating after that one.
Jefferson took its share of long trips back in the day. The rides must have been taxing.
Road games against Woodrow Wilson of Portsmouth in 1936 and 1942, Maury of Norfolk in 1940, and Thomas Jefferson of Richmond in 1944 ended in scoreless ties.
Longtime coach Rudy Rohrdanz posted a 6-1-4 in his second season in 1942 and a 2-4-4 record at Jefferson with back-to-back 0-0 games against William Byrd and George Washington-Danville when he returned to his job after World War II in 1946.
• Pete Brewbaker won more than 200 games as head coach at Lexington High between 1938 and 1976, but before that he coached some close games at William Fleming.
Brewbaker's 1936 Fleming team finished 1-4-3. The three ties came in the first four games. All were 0-0 final scores.
• The winner of the Patrick Henry-William Fleming game receives the Noel C. Taylor Trophy, which could have been split down the middle a few times.
The two city rivals played to a tie three times from 1977-84.
• Parry McCluer won the 1986 Group A Division I title but not before starting the season 1-2-1 with a 0-0 tie against Amherst County.
• Dick Foutz coached exactly 100 games at Franklin County and might still rank No. 1 on the school's career victory list had 13 of those not ended in a tie. Foutz's Eagles tied three games in three of his 10 seasons in Rocky Mount.
Get in the game with our Prep Sports Newsletter
Sent weekly directly to your inbox!