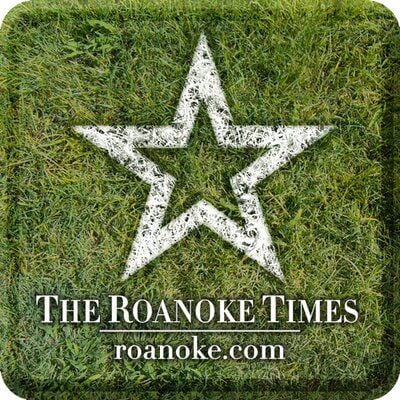 ROCKY MOUNT — The loose ball from a William Fleming fumble rolled agonzingly through the end zone with a Franklin County defender ready to pounce.
For a William Fleming team trying to nail down a playoff berth, it looked like a nightmare.
To 14-year-old Jordan Philpott, however, it was a dream come true.
The ball glanced off an official's foot and rolled back toward the goal line. Philpott cradled it on the turf for the go-ahead score in the first quarter as Fleming went on to ring up a 41-27 Blue Ridge District victory over the Eagles.
Fleming (4-2) clinched a spot in the Region 5D playoffs for the second year in a row under third-year coach Jamar Lovelace.
"Due to COVID, this whole offseason I think everybody's banded real tight together," Lovelace said. "We're real appreciative of this moment. We almost didn't have this season."
Philpott began the year on Fleming's JV team. Friday, he found himself in the spotlight when he gave the Colonels a 14-7 lead as quarterback Dashawn Lewis fumbled while heading to the end zone on a short run.
"I just saw the ball pop out and my first thought was just to go for it," Philpott said. "I've never scored a touchdown before. This is a great feeling in my heart.
"That was for my mama too. She's just the lady who gave me lots of knowledge and I love her."
Philpott's TD put a big grin on Lovelace's face.
"That freshman lineman, before the Lord Botetourt game, we pulled him off the JV bus," the Fleming coach said. "He's been starting ever since so he's had to grow up real fast. I'm proud he was able to have that moment."
Lewis owned the rest of the game.
The junior rushed for 107 yards on 22 carries and completed 20 of 28 passes for another 287 yards as the Colonels rolled up 535 yards in total offense.
Lewis scored on a 20-yard run in the second quarter and tossed a 6-yard pass to Louis English for a 34-14 lead early in the third period as Fleming was never seriously threatened.
"He's a real smart kid," Lovelace said of his junior QB. "He's a 4.0-GPA guy. We trust him a whole lot." We knew going into the season that he would take care of the offense.
"He's a very calm guy. He never gets too high. He never gets too low."
English, a sure-handed sophomore, had eight receptions for 129 yards. Jacob Henderson added eight catches for 114 yards as Lewis picked his targets.
Senior running back Deuce Anderson rushed for 95 yards on just seven carries, including a 51-yard TD in the fourth quarter for a 41-21 lead that iced the victory.
Franklin County coach J.R. Edwards was impressed with Fleming.
"They did a phenomenal job," he said. "Coach Lovelace did a phenomenal job of attacking the discipline when he first came in over there, and boy, it just shows. They played clean, crisp, very good football."
Franklin County (4-2) self-destructed.
After Jayron Smith — who ran for 140 yards on 14 carries — put the Eagles up 7-0 on a 65-yard TD run on the second play of the game, Franklin County lost two fumbles and failed to recover a short kickoff by Fleming, all in the first quarter.
The visitors blew out to a 28-7 lead, and the Eagles couldn't recover.
Sophomore QB Eli Foutz scored on a 1-yard run and threw a 45-yard TD pass to Josh Luckett, but the damage was already done.
"Just too many mistakes," Edwards said. "We had too many self-inflicted wounds. We had a problem keeping our mouths closed tonight, and that hurt us. You can't play undisciplined football."