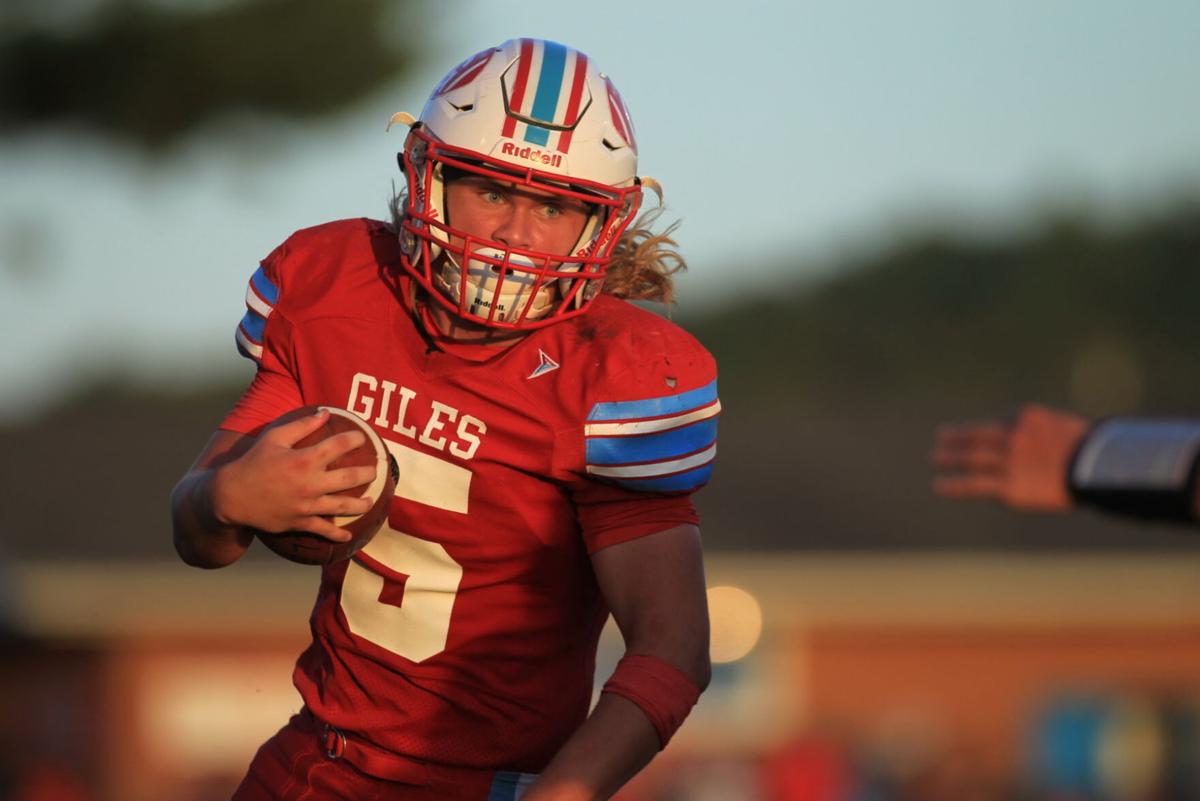 Giles High School has run a successful down-and-out.
That's down to Class 1 and out of the Three Rivers District.
Giles won its case Wednesday with the Virginia High School League alignment appeals committee by a 5-0 vote, paving the way for the Spartans to leave the Class 2 ranks and join the Mountain Empire District and Region 1C beginning with the 2021-22 school year.
Giles failed by a 15-7 vote in its first appeal with a different alignment committee in August, but the school prevailed Wednesday after presenting its case to a five-member board composed of school superintendents from across the state.
The VHSL Executive Committee must finalize Wednesday's vote when it meets Sept. 23, but unless an appeal is filed against the decision, Giles' move is a done deal.
Giles' enrollment was two students over the maximum limit of 475 for qualifying for Class 1 based on the March 2020 Average Daily Membership numbers the VHSL uses for determining the classification for each school.
The 2020-21 school year marks the halfway point of the current four-year cycle, but the VHSL allows schools to petition at mid-cycle.
Giles based its appeal on future declining enrollment, which athletic director Steve Wilson projects to be close to 460 students in grades 9-12 in 2021-22.
Wilson said Giles filed the same appeal it did last month and that the school administration did not lobby any committee members.
"I wasn't sure who was on it and wasn't really sure how to find out," Wilson said. "I felt let the appeal run its course and see what happens. I felt pretty good about our numbers. We're going to be there. It's where we fit. Our numbers will be below."
Giles' appeal included a request to join the Mountain Empire District while continuing to play its existing football schedule in 2021 and 2022.
No action was taken on that request, Wilson said. The VHSL Executive Committee will meet in three weeks.
"I was informed the other day that's probably an Executive Committee decision," the Giles AD said.
Giles' entry into the Mountain Empire means all seven MED schools — Auburn, Bland County, Fort Chiswell, Galax, George Wythe, Giles and Grayson County — will be in Class 1.
Fort Chiswell's declining enrollment will allow the Pioneers to move to Class 1 next year. The move also will place Giles in the same enrollment division as its county rival, Narrows.
Giles was an MED member from 1990-93 after leaving the old New River District. The Spartans won their second VHSL football championship as a MED member in 1993.
Giles competes in all Class 2 sports except wrestling and indoor track and field.
In the last two years, MED schools have won Class 1 state championships in boys basketball (Auburn, co-champion), baseball (Auburn), softball (Auburn), volleyball (Auburn), boys cross country (Auburn), girls cross country (George Wythe, Auburn), boys soccer (Galax), girls soccer (Auburn) and golf (George Wythe).
"I think we fit well. You've got a lot of the old New River District. That was a great district back in the day," Wilson said. "We've played these schools on a regular basis in multiple sports."
Giles' impending departure from the Three Rivers leaves that district with six schools: Alleghany, Carroll County, Floyd County, Glenvar, James River and Radford.
Giles and Fort Chiswell also will compete in the postseason in Region 1C, which includes Pioneer District members Bath County, Covington, Craig County, Eastern Montgomery, Highland, Narrows and Parry McCluer.
None of the Pioneer schools has an ADM of more than 300 students.
• Region 4B's proposal to divide Class 4 into eight regions instead of four was shot down by a 5-0 vote.
The regional breakdown initially presented by the alignment committee calls for Region 4B to have 20 schools. Region 4C includes 16 schools with 13 in Region 4A and only eight in Region 4D.
An eight-region setup would mean only two teams from each region would qualify for the football playoffs and only the region champion would advance to the state tournament in other team sports.
• Buffalo Gap in Augusta County won 4-1 to drop from Class 2 to Class 1 and join Region 1B.
• Caroline won 4-1 to drop from Class 4 to Class 3, joining Region 3B.
Get in the game with our Prep Sports Newsletter
Sent weekly directly to your inbox!