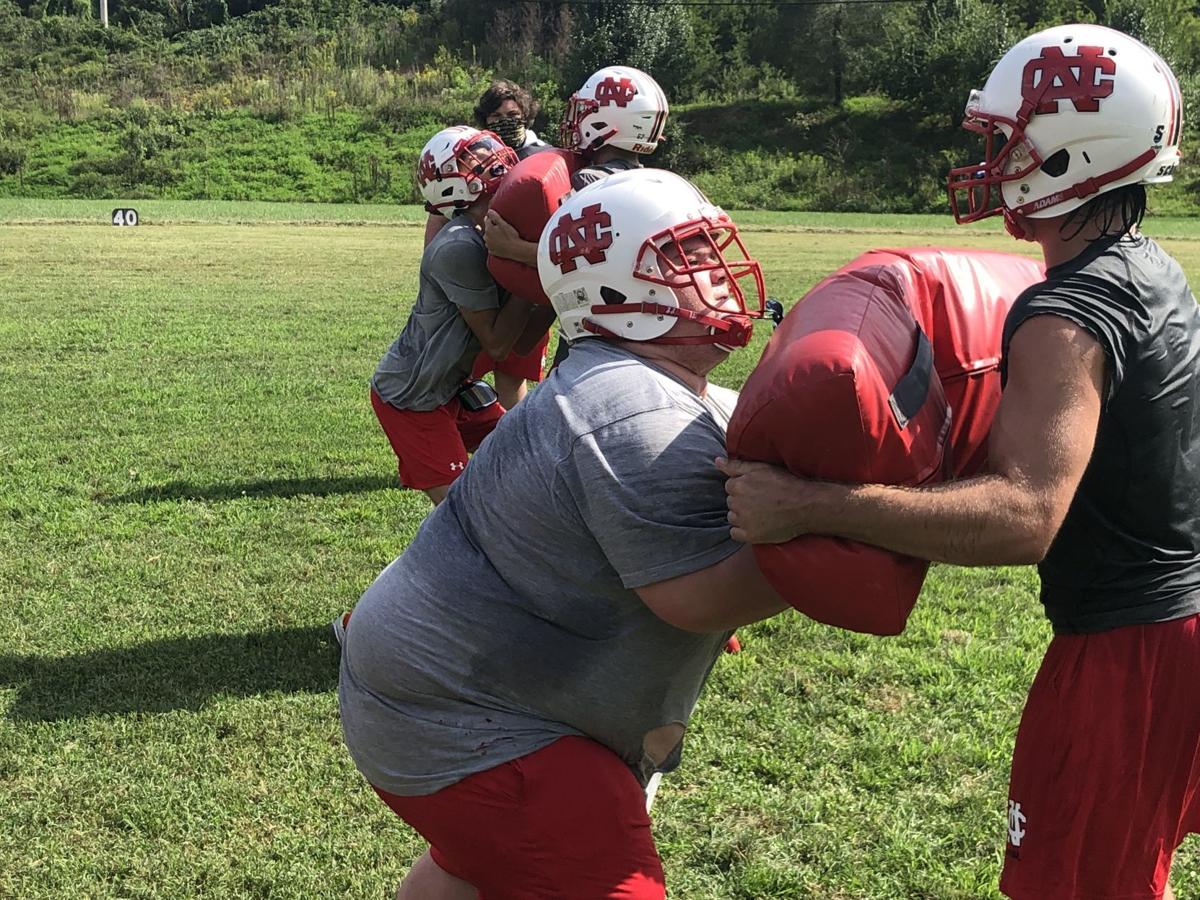 North Cross will not be able to defend its 2019 VISAA Division II football championship.
But the Raiders will be able to take the field in 2020.
While the VHSL has postponed its fall football season because of the COVID-19 pandemic until at least February, and crosstown rival Roanoke Catholic hopes to play in the winter, North Cross has an eight-game schedule that begins in two weeks.
The Raiders will play at home Sept. 18 against the Virginia Spartans, a Roanoke Valley-based team composed of homeschool students.
The schedule also includes games against Fork Union Military Academy, Fishburne Military Academy, Fredericksburg Christian, St. Michael the Archangel and a team from Maryland.
North Cross will play six home games and make road trips to FUMA and Fredericksburg.
The Raiders' 21-man roster opened practice this week, a welcome relief even in 90-degree weather.
"We're super fortunate that we get to play," North Cross senior James Jackson said. "I was kind of scared at first that I wouldn't be able to be with my teammates and have a season with them, but now that I know we have a season, it's super relieving."
Jackson, a wide receiver and linebacker who has committed to Virginia, said he would not have played football as a senior if the season had been moved to the winter because he plans to enroll early at UVa.
Jackson transferred to North Cross from Pulaski County, where his former teammates are practicing for a season that has been compressed into a narrow winter window, if it happens at all.
"I've talked to some of them," he said. "They're still working hard. I feel for them. If that was me in their shoes, I would be real upset."
North Cross also will play a limited number of volleyball and boys soccer games this fall in addition to a full cross country schedule.
Raiders athletic director Blair Trail said not enough opponents were available to play girls tennis and field hockey.
Trail said spectators at North Cross events will be subject to measures aimed at mitigating the spread of coronavirus.
"We're asking everybody to wear masks and social-distance," she said. "We're trying to decide if we want to tape off the bleachers."
North Cross, which begins school Tuesday, has regular testing in place for its students. Trail said a positive test for an athlete would mean temporarily shutting down that sport.
"We have a return-to-play manual," the North Cross AD said. "If someone tests positive, we'll probably have to put the whole team in quarantine for two weeks."
North Cross coach Stephen Alexander said the consequences of a positive test have his players' attention.
"The truth is, they're acting safer on the weekends because they're playing football," he said.
"We're taking every measure to make sure that's a possibility."
"Practice is one thing. Playing games is one thing. The more sensitive times for us are travel, locker rooms, indoor times."
Despite North Cross being the only Timesland team still planning to play football this fall, Alexander said he does not expect a rush of players wanting to transfer to the Roanoke County private school.
"The school is pretty full," he said. "I don't anticipate that being a big factor. We've got some new guys, but they were all in the pipeline well before any of this happened.
"We're just appreciative to have the opportunity to have a chance to play. We're going to do the best we can to be careful."