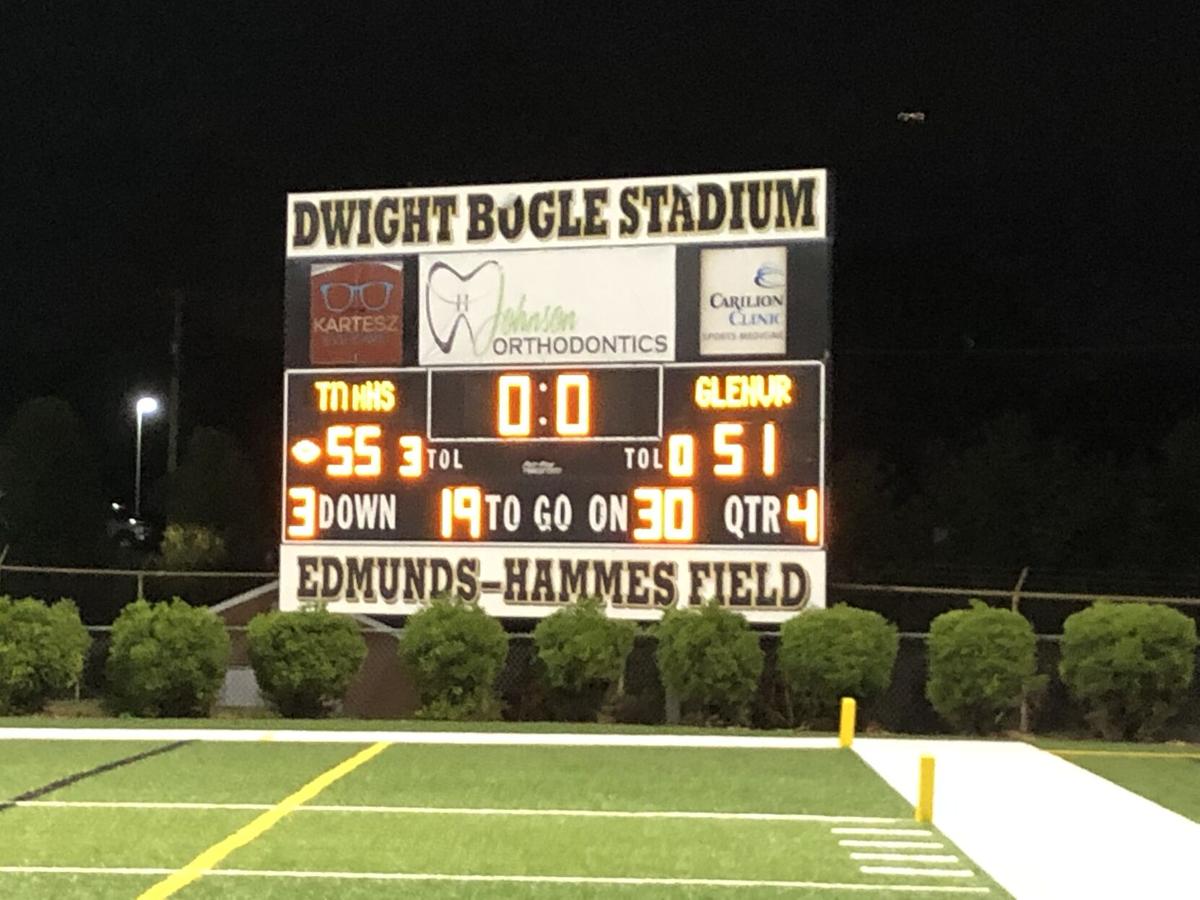 Glenvar at Hidden Valley, Sept. 16, 2021
It might not have been the Game of the Century, but when it was over Thursday night the numbers on the scoreboard added up to more than 100.
Ultimately it took Sam Dragovich's fifth touchdown pass of the game — a 46-yarder to Ashton Carroll with 1 minute 33 seconds to play — and Joey Strong's game-sealing interception for unbeaten Hidden Valley to escape with a 55-51 nondistrict thriller at Dwight Bogle Stadium
The statistics were staggering:
One thousand, seventy-one yards total offense, 611 by Glenvar.
Seventy points scored in the first half, in which Hidden Valley led at one stage 42-21.
Four lead changes in the fourth quarter with three TDs in a span of 55 seconds.
"Defense was optional tonight," Hidden Valley coach Scott Weaver said. "I've never in my life scored 42 points in a half and been terrified to lose."
The prospect became real when Glenvar's Carl Muse kicked a 28-yard field goal to put Glenvar ahead for the first time all night at 44-42 with 4:04 to play.
Then it was time for everyone to fasten their seat belts.
Hidden Valley went back up 48-44 on a 25-yard TD pass from Dragovich to Braxton Dunnings with 2:28 remaining.
Glenvar answered on the next play after the kickoff when Dagan Williams caught a short pass from Aiden Wolk and turned it into an 80-yard TD and a 51-48 lead.
Hidden Valley took possession on its 19 and needed just three plays to cover the field as Carroll caught a pass over the middle, bounced off a tackle and scored the game-winner in the battle of previously unbeaten teams.
"I told Coach that this particular route was wide open and he trusted me, and Sam threw a perfect pass," said Carroll, who scored the game's first TD on a 40-yard reverse.
"It was just designed to get a first down right there because the safety was about 10 or 12 yards off. I caught it and I didn't know the safety was that close to me. I just bounced off of him and took it to the crib."
All that was left for Hidden Valley's defense was to make a play.
Strong did it when he intercepted Wolk's pass deep over the middle on a second-and-5 call from the Titans' 48.
"My whole goal was to stay as deep as possible, [let] nothing behind me," Strong said. "That's just how we practiced it. It came up perfect."
Wolk said he did not quite get the ball where he wanted it.
"I put that on me," the Glenvar senior said. "[The receiver] was cutting open. He was going right behind him. I just underthrew it a little bit."
Dragovich passed for 376 yards, and the Titans needed all of them.
The senior had TD passes of 63 and 25 yards to Dunnings, 29 and 46 yards to Carroll and 3 yards to Strong. Dragovich also scored on a 3-yard run
Dunnings also had a 69-yard interception return for a TD for a 28-18 lead in the first half.
"They were better than us tonight," Glenvar coach Kevin Clifford said. "They made more plays. We gave them way too much in the first half.
"At the end of the day, our kids could have quit. We were down three scores in the middle of the second quarter. I've never given up 55 points. It's on me. I've got to do a better job."
Wolk completed 23 of 32 passes for a whopping 426 yards and four TDs while rushing for 88 yards on 22 carries for Glenvar (3-1).
Ten completions went to 5-foot-5 junior Jackson Swanson for 211 yards, including a 69-yard catch for the Highlanders' first TD in the first quarter.
Williams caught seven passes for another 161 yards and two fourth-quarter TDs for Glenvar.
Kyle Hanks rushed for 111 yards on 21 carries and scored on a pair of 2-yard runs for the Highlanders.
Losing for the first time this season was bitter, but it wasn't all bad for Wolk.
"Yeah, it was fun," he said.
But it was Hidden Valley that walked away with a 4-0 record, falling just shy of the single-game school record for points set Sept. 16, 2016, in a 61-21 win over Liberty.
"Going into the season nobody believed in us," Strong said. "Now that we're undefeated we're just proving the doubters wrong."