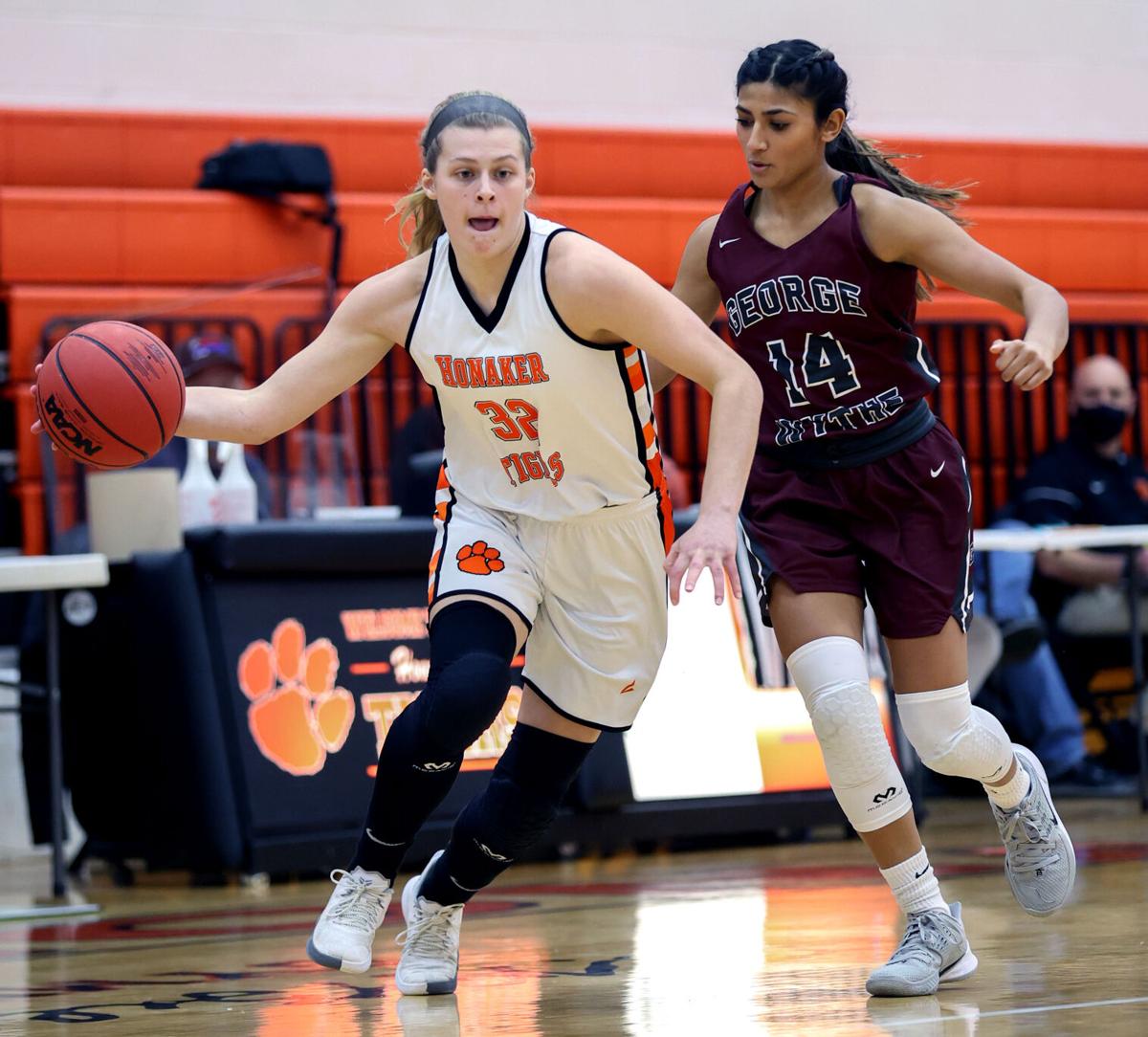 HONAKER — The game was everything a state semifinal should be as Honaker held off George Wythe 53-47 on Friday night and earned a spot in the VHSL Class 1 girls basketball final.
With the Tigers holding on to a fragile 48-47 lead, Halle Hilton found the range on a deep 3-pointer that seemed to take the wind out of the sails of the previously undefeated Maroons.
"I just knew we had to have a big shot," an excited Hilton said. "I hesitated before taking it, I took my time and set my feet. It was probably the happiest moment I've had."
It was the first 3 of the night for Hilton, who finished with 11 points, all coming in the second half for last season's co-state champions.
"A big shot for Halle. She stepped up," Honaker coach Misty Miller said. "She has at different times throughout the whole year. I'm super proud of her. She also had a big rebound late, that was as big as the 3-pointer, she just came in clutch at the end and made two big plays."
Honaker came into the contest averaging 68 points per game, but George Wythe (16-1) slowed the pace and was very deliberate on offense.
"I looked at film last year [a 65-59 Honaker win in the postseason], we didn't make them play much defense, we jacked some shots up," George Wythe coach Doug Campbell said.
"They got some run outs, we wanted to try to control the tempo and make them play more defense tonight and hopefully make it a one- or two-possession game late, which we did. They hit a big shot and a few more bounces went their way, that's the way this game goes."
The Maroons' last lead was early in the game at 7-6 after a basket by Meleah Kirtner. It was tied three times in the first half, but George Wythe could never retake the lead.
Each time Honaker (13-0) threatened to get some breathing room, the Maroons nailed a trey to get right back in it. Paeton Phillippi canned four of George Wythe's nine 3-pointers.
"George Wythe came out with their A-game," said Honaker senior LeeAnna McNulty. "We knew they would come back with a vengeance because we ended their season last year.
"We had a lot of respect for them. We knew we had to play up to our capabilities to win the game."
Four players reached double figures for Honaker. McNulty (17 points), Akilah Boyd (14 points), Hilton (11 points), and Kylie Vance (11 points) were all effective offensively. Lara McClanahan led Honaker's effort on the glass with 12 boards and also delivered five assists.
"I told the girls composure would be the key," Coach Miller said. "That's what I kept trying to preach, every timeout. Handle the ball with care and take care of business the way we need to, and that's what they did."
Seniors Kirtner (17 points) and Phillippi (14 points) led the Maroons.
"I can't fault my girls' effort, they've been through a lot," Campbell said. "We're blessed to play 17 games; we came over here and gave everything we had.
"It's a true blessing to be in this spot and even play this season. There's some teams that didn't get that chance. I told my girls to hold their heads high. It's all about the journey."
Honaker hosts Riverheads (10-5) in a rare Sunday state final with tipoff slated for 3 p.m.
"This win is great, but the season isn't over," McNulty said. "We're proud of winning this game but we have to come in hungry and ready on Sunday."